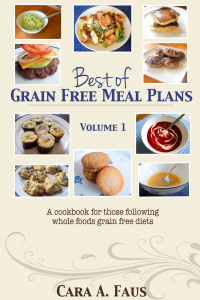 Ever since I released Grain Free Meal Plans in January of 2011, I've been getting requests for the recipes in cookbook format.  It took me a while, but I finally got a full color in print cookbook made!  My favorite thing about cookbooks is having color pictures for inspiration.  The awesome thing about grain free cooking is the beauty of whole foods really shines through.
I've been getting great feedback in person (I keep a stack of books in my car now for people who are interested!) and online, thanks guys!
Read more about the Grain Free Meal Plan Cookbook and purchase the in-print book or e-book here.
As I was going through the recipes I realized I couldn't include every recipe I wanted to, so I made this Volume 1, Volume 2 will be full of even more favorites in the future!
Want to see a sample? Click here.
Want to help me out? If you've purchased this book, either in print or in e-book format, would you go over to Amazon and leave me an honest review?  Also, if you could share this on Facebook or Pinterest it would help me a ton also!
5 Delicious Keto FatBombs
Sign up to get my 5 Best Keto Fatbomb Recipes sent right to your inbox! Plus a bonus pizza recipe :)