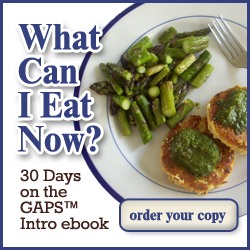 April is Autism Awareness Month!  To celebrate our children, I'm putting my What Can I Eat Now? 30 Days on the GAPS Intro E-book on sale for the whole month.  Use coupon code AUTISM for 30% off the whole month of April 2012.  Purchase here
Why the sale? Because the GAPS Diet, specifically the intro diet, has been hands down the most effective thing we have tried for my daughter's autism.  I want to help you help your family!  Read more about the GAPS Intro diet here, the Gut-Brain connection here, and see tons of GAPS and Grain Free Recipes here.
My little one has been on the GAPS diet for over 2 years now, and I've seen so much progress. I'm going to try to write an update post for you sometime this month.  Stay tuned!
21 Easy and Delicious Grain-Free Meals
Curious about eating grain-free? I want to show you how easy and delicious it can be!
Try our best-selling meal plans... for free!
Just enter your information and I'll email it to you right away.