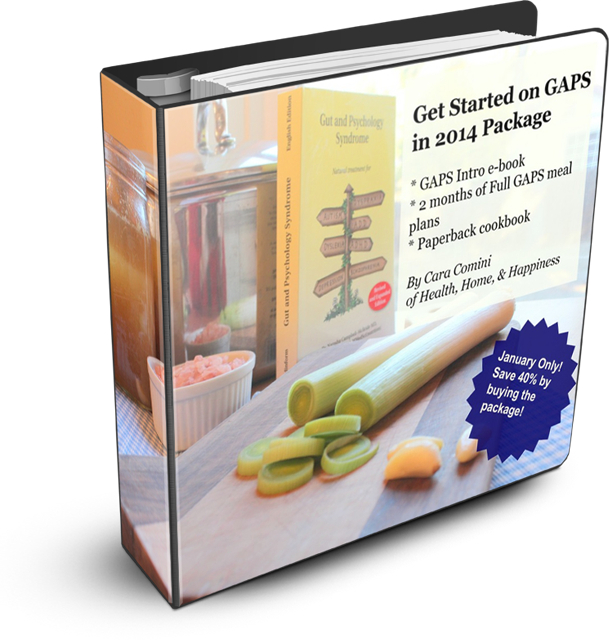 Is 2014 the year you are going to start the GAPS diet? GAPS is an intense healing diet that families all over the world are using to heal and help chronic conditions – everything from eczema to ADD to autism to arthritis.
The idea of simple dietary changes being used for significant improvement and healing in these disorders is fascinating!  From the outside, someone who is not dealing with these health conditions might not understand the appeal of such a radical dietary change. But those who deal with chronic conditions day in and day out understand that the incessant pain and itchiness of eczema, sensory disruption of autism or sensory processing disorder, daily limiting of what you can eat from a dairy or gluten allergy, or chronic pain of arthritis, a temporary diet change seems like it might be a good thing to try!
Temporary? Yes, temporary! For most, the GAPS diet is a temporary change!  The amount of time varies from person to person, but for our family we were done in 6 weeks (eczema for my son and dairy allergy for me) and two years for my daughter (autism).
I used the GAPS diet in my family for over 2 years
I started the GAPS diet in 2009 with my family, and because I found it so overwhelming to figure out from patches of information in the GAPS book, on web pages, and in Yahoo groups, as soon as I was able I put all the information I learned into printable e-books, guides, and meal plans to make the path simpler for you.
2014 GAPS Starter Kit – January Only!
Just available in January 2014, I have a starter kit to help you get started on the GAPS diet.  Included in this instantly downloadable kit are some best selling, most useful favorites, all bundled together for a substantial savings!
What Can I Eat Now? 30 Days on the GAPS Intro e-book!  Step-by-step, day-by-day, progress through the GAPS intro, read time-saving tips, use the daily checklists to make sure you're getting what's recommended, and learn from other people's frequently asked questions.
Winter 2 full month of meal plans – a month of meal plans suitable for the full GAPS diet, perfect to use while transitioning onto GAPS intro.
Spring 2 full month of meal plans – a full month of meal plans suitable for the full GAPS diet, perfect as you transition off GAPS intro and are ready for full-GAPS-friendly seasonal recipes!
GAPS Freezer Guide – a printable guide for freezer cooking on the GAPS diet, specifically for busy GAPS families!  Meals are made in block segments, rather than one monster cooking day, to divide up with friends or do yourself during nap time rather than one full exhausting day. Printable recipe cards are designed to remind you of the ingredients included in the recipes (for those with food allergies and sensitivities) and easily provide the re-heater with instructions
Paperback Cookbook -A handy paperback guide of GAPS legal recipes and full color pictures of every recipe for quick reference.  The recipes are favorites from the meal plan, 80 in total! *** This is NOT the GAPS book, I don't have the ability to re-sell that book, you can find it here though.
$90 value Just $50 – only available January 2014!
Just what's needed!
"Your e-book is exactly what I have needed for preparation, encouragement, hope, options, helpful hints, etc. It is an answer to my prayers.  I have the utmost respect for you and your organization/energy/ability to be able to document, create and market your experience – all while caring for your young children in such a time/energy intensive way. I have not had time for anything other than managing withdrawal and all it takes to prepare food – but I now see it will probably get a lot better. I am viewing this as an investment into the future of my boys and to quit last week when it was SO HARD would have been a long term loss. I may have given up without the e-book. "  – Customer Jeni
Written by a mom who did it too
These meal plans and guides are written by a mom who put her family on GAPS, so the recipes are simple, and the advice is tried and true. I know I get exasperated by well-meaning natural health practitioners who suggest a major life change like GAPS, but then don't have any experience actually making it work! This mom does!
GFCF to GAPS!
"Thanks so much for writing this book! I've been wanting to put my daughter on the GAPS diet for a while now but have been putting off starting for obvious reasons.  We're already GFCF but eat a lot of cane sugar, fruit, rice, spelt, and corn. Your book is already making me feel MUCH MUCH better about the prospect of starting this diet.  Thank you thank you thank you!" – Heather L

One month of meal plans for all 4 Seasons – Go (or stay) Grain and gluten free in 2014!
Are you looking for seasonal meal plan guidance, 100s of GAPS friendly, grain and gluten free (dairy optional) recipes, and grocery lists?  The Go Grain Free in 2014 Meal Plan Package is put together with you in mind! You might want to just use the meal plans as starting points, or use the same one for the 3 months of each season so it's familiar to your family.  (find all 12 months here) – this starter set contains Winter 2, Fall 2, Spring 2, and Summer 2! Plus the bonus: Holiday meal plans as well!
The Meal Plans
Easy to reference meal plans with recipes for each meal on a daily sheet, a weekly overview to post on your fridge, grocery lists, recipe index, and preparation instructions. Ferments, condiments, chicken stock, and more staples are worked into the menu daily to keep your pantry stocked and to spread the work out every day.
Grain free
Gluten free
Full GAPS friendly
SCD Friendly
GFCF
Dairy optional
Pork/shellfish free
Printable, easy to keep in a 3-ring binder
Grocery lists allow easy shopping and are grouped by category
3 meals a day, 7 days a week, 4 weeks a month!
Bonus! Free Holiday Meal Plans!
Holiday meal plans cover preparation instructions, recipes for grain free versions of classic favorites, full menus, grocery lists, and even ideas for what to do with leftovers!
Christmas
Hanukkah
New Year's
Valentine's
St Patrick's Day
Easter
4th of July/BBQs
Birthday parties
$75 Value  just $40! January 2014 only!

Testimonial
 "This is such a great resource for me!  Thank you for providing a wealth of information, especially in subjects that are hard to find (like bf while on GAPS intro).  I use your recipes daily, and I am always thumbing through the previous months, so I am really excited to hear that you will have a cookbook available.  Thank you for making the recipes easy to follow, simple, and useful for those of us with basic ingredients at home.  That is a tremendous help when cooking for a family of five with all the little ones under 5!  Blessings to you, Cara, and keep up the good work you share!" – Marisa
P.S.
Both of these packages are only available during January 2014!  I know you will appreciate getting started now, so I want to help you to start your 2014 goals early in the year!
Grain Free Meal Plans 4-month Package

GAPS Starter Kit Package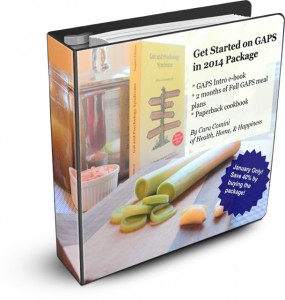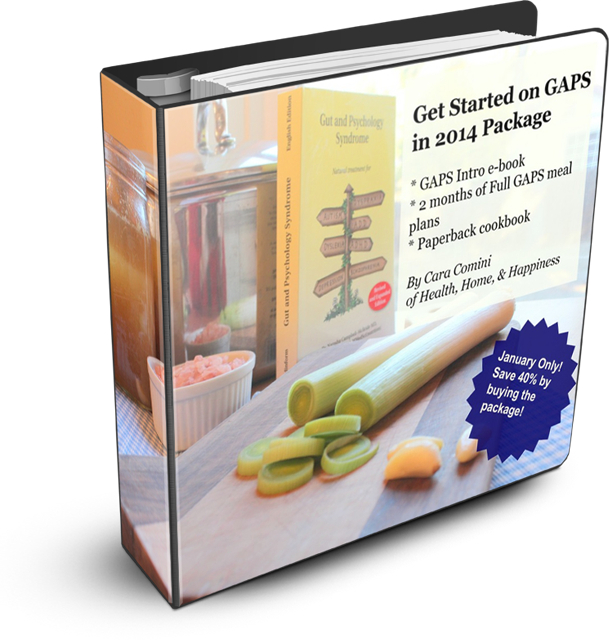 Please follow and like us: