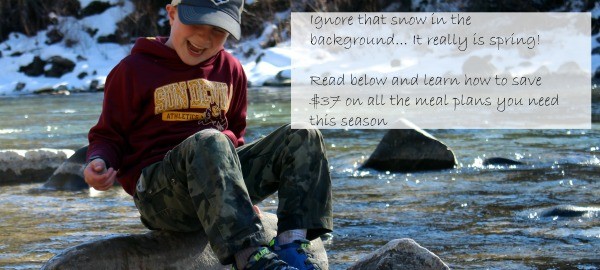 Spring Promotion! Hurry! This only lasts til Tuesday!
This week is spring break for my kids, and my sister was visiting from Arizona. I spent the week planning hikes, planning a trip to the hotsprings, and planning a schedule that worked for everyone… and I was thankful that I already have grain-free meal plans ready to go so I didn't have to plan that too!
You're a busy person, whether it's balancing career and family life, spring sports for the kiddos, or spring cleaning – I know how it goes!
You want to be involved in your kids' lives and the community, so a meal plan with shopping lists sounds like the perfect solution to the 'what's for dinner?!' question.
I've got that covered for ya!
This week I'm selling a package just for you, just for spring! It includes 3 months of spring meal plans (3 meals a day plus snacks), the freezer cooking guide (a stocked freezer is the key to avoiding the 'I don't have anything to feed the family' panic), and the Best of Grain-Free Meal Plans full color cookbook.
*** This package is all in digital format for immediate download, to save on your computer and print it or reference as often as you need it***
The best part? That it's all over 50% off when you buy this package! That's right!  Buy this spring package now for just $34, normally this would be $71— making this a $37 discount!
Hurry! This offer is only good until next Tuesday, March 17th, 2015.
Buy now by clicking below:
What exactly is included?
(all products are delivered digitally – binder is shown as a suggestion to print and place in a binder)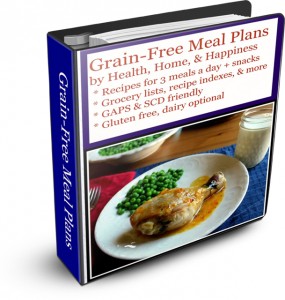 Weekly overviews that can be posted on your fridge for easy reference and to answer the , 'mom! What's for dinner?!' question
Recipes for every dish served in easy printable format.
Recipes for busy families that are GAPS and SCD friendly, gluten free and casein free, and with optional dairy for those who do eat dairy.
 3 meals a day, 7 days a week included, plus snacks for 4 weeks every month!
Grocery lists and recipe indexes for easy reference.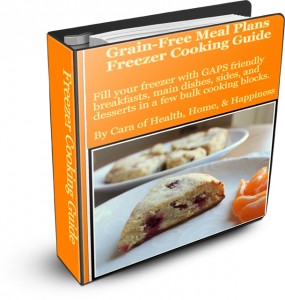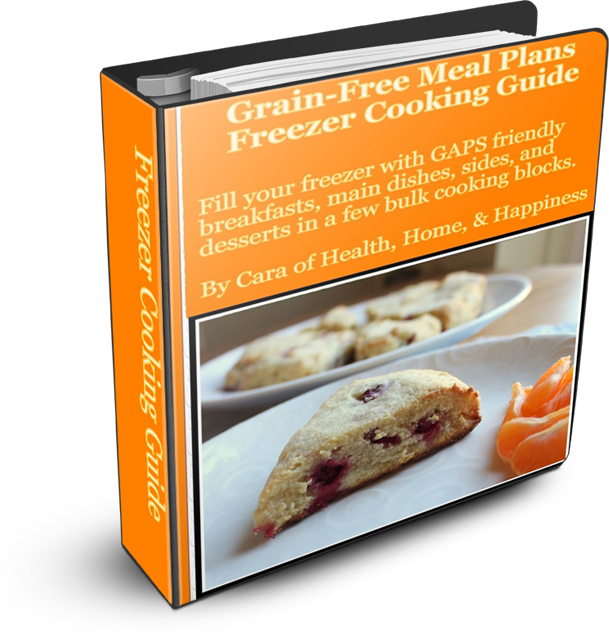 Rather than requiring one long 10-12 hour cooking day, there are 5 sections that take 2-3 hours each so bulk cooking can be spread out over a weekend, a week of nap times, evenings, or however fits in your schedule.  I know as a mother with young children, one with special needs, I do not have 10 hours to dedicate to the kitchen in a single swoop!
Small kitchen friendly.  We have done GAPS in small apartment kitchens, so I take space limitations into account with these instructions.
Clean up tips! I love to cook, but cleaning up notsomuch.  Tips to save dishes are scattered throughout the book.
Print-out re-heating instructions easily attach to your frozen meals to remind anyone how to reheat the meal.
Serving instructions and side dish suggestions are printed on the heating instructions.
Dairy free options for all meals.
Index of recipes included
Shopping list included
BONUS:
Best of Grain-Free Meal Plans Full Color Cookbook
All of the 70+ recipes in this book are not only tested to be child friendly, but they also offer clear instructions for beginning cooks, use ingredients and preparation techniques that can realistically fit into a busy household, and have color photographs that make the reader excited to try grain free meals!
All this is normally $71 total, but this week is available for just $34… A $37 savings to have all your meal planning done for all of spring!
30-Day Money Back Guarantee!
Not sure if this is for you? I offer a no-questions-asked money back guarantee! If this doesn't work out, simply email me within 30 days of purchase and receive your full refund!
Please follow and like us: