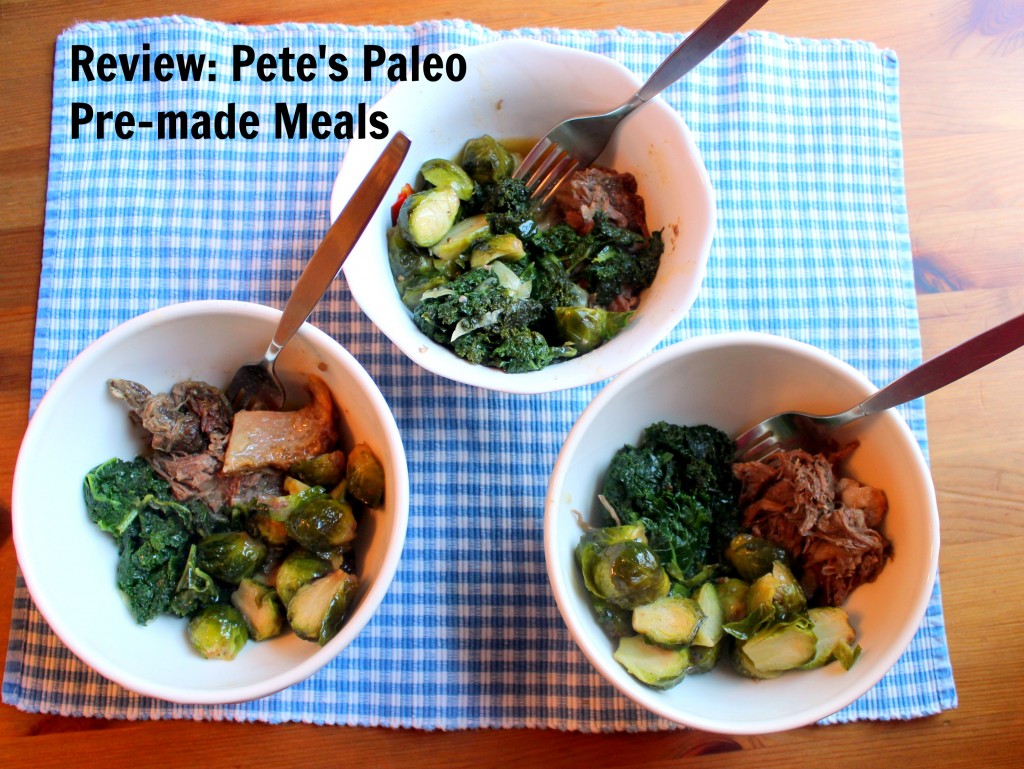 How many times have you thought to yourself, 'Oh man, it's 5:30, and I haven't even started dinner, and there a million other things that need to get done still!'
I've thought that many times, that's why I was so excited to find Pete's Paleo! Us Real Foodies aren't willing to sacrifice our family's health by ordering in pizza, take-out, or microwave dinners, so until now, we did just go ahead and stop what we were doing to prepare homemade meals for our family. With love, for sure, I do love providing the nutrients my family needs to grow and be healthy, don't get me wrong. But if I can outsource it occasionally, that can free me up to do other things as well!
I got a chance to try Pete's Paleo Meals recently, and they are amazing!  I ordered *two* of the 10 meals/5 Snacks to feed the 3 of us, and it's working fantastically. I love that Pete's Paleo did all the work for me and sourced high quality organic ingredients, cooked them to restaurant-quality perfection, and then portioned them out.
I'll admit, when I saw the packages come, I thought there was no way those would fill us up! It turns out that single portions packaged out look much smaller than they do on the plate- 2 servings is actually perfect for the 3 or us, no leftovers, but everyone's full.
The snacks were in small bags, individually portioned, and on was a "Paleo Treat' seriously the most delicious cookie/candy I've ever had.  These are GAPS friendly!
I ordered this week because I was excited about the concept and wanted to try them out for you. I love cooking, but sometimes there are other things that I'd like to get to also (I'm on a clean-out-my-house kick right now), so having dinner taken care of for the week and virtually nothing to clean up after dinner, is giving me a ton of extra time this week.
How it works:
To order: Click here and then up on the top menu is PETE'S PALEO MEALS and from there choose Nationwide Delivery.  I like the 10 meals/5 Snacks option.
If you desire, double the protein, and opt for no pork, no duck, or no snacks.
If I really had no time to cook (new baby, recovering from an illness, moving, etc) I'd order one a week, but for just around the house to supplement our normal cooking, 10 will easily last us 2 weeks.
Order before Wednesday, they ship the week's meals out Wednesday of that week packed in dry ice. I got mine Friday afternoon, and it was cold, the ice packs were still frozen.
To Store: Each meal is contained in a labeled brown bag, which comes chilled with dry ice and you keep in the fridge.  If you have a way to heat up food at work, you could even just take the bag for lunch- how easy is that? I have them lined up on the bottom shelf of my fridge.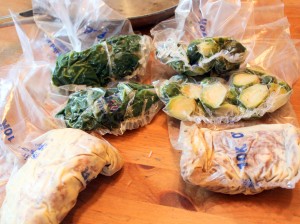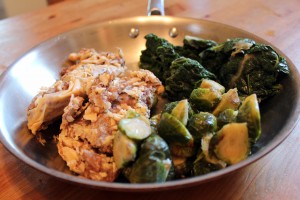 To Re-Heat: I get out a 12-inch stainless steel skillet that has a cover (see one I like here) and then place the three different items into different spots on the skillet, cover, and heat on medium-low for about 20 minutes, and then serve right from the pan.  This has worked perfectly!
Week 1:
Bacon Dashi greens with cauliflower and pork butt
Confit turkey breast, roast turnips and skillet greens
Mushroom, carrot, rutabaga, chicken game stew
San Marzano tomatoes and chicken with spaghetti squash and sweet potatoes
Roasted garlic grass fed beef kebobs, pickled cabbage and braised black pepper fennel
Grass fed ground beef in a tomatillo green chili with carrots and paprika rutabaga
Curried jidori chicken with broccoli,  and snap peas
Grass fed clove braised beef, butternut squash and beets with greens
Sauteed U-15 shrimp, turnips with broccoli and mashed rutabaga
Grass fed skirt steak , delicate squash and Suzie's cauliflower blend
Pete's Paleo is perfect for:
Anyone who wants to try out Paleo without learning how to cook
Those already eating grain free but are going through a busy time in their lives and didn't get a chance to stock the freezer themselves
Sending to a clean-eating family when a new baby arrives
A family where only one person is eating grain or gluten free and the others aren't
Or to just ease the cooking burden (I'm sure I'm not the only one who just needs a break from cooking 3 meals a day every day!) for a time.
Click here to sign up before Monday night for a Thurs/Fri Delivery!
21 Easy and Delicious Grain-Free Meals
Curious about eating grain-free? I want to show you how easy and delicious it can be!
Try our best-selling meal plans... for free!
Just enter your information and I'll email it to you right away.