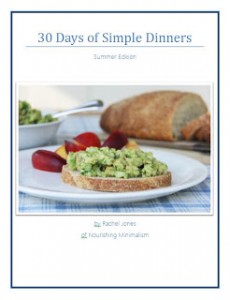 30 Days of Simple Dinners by Rachel Jones of Nourishing Minimalism is a fantastic e-book for families who love real food but want a cookbook with recipes that won't take all day in the kitchen and are simple to prepare.
Even the most dedicated foodie who loves experimenting in the kitchen also has many nights where dinner needs to be made without a big production.
That's what I love about 30 days of Simple Dinners!  It's the cookbook every busy mom who wants to serve nourishing food without fuss needs!
One of my favorite recipes from the book: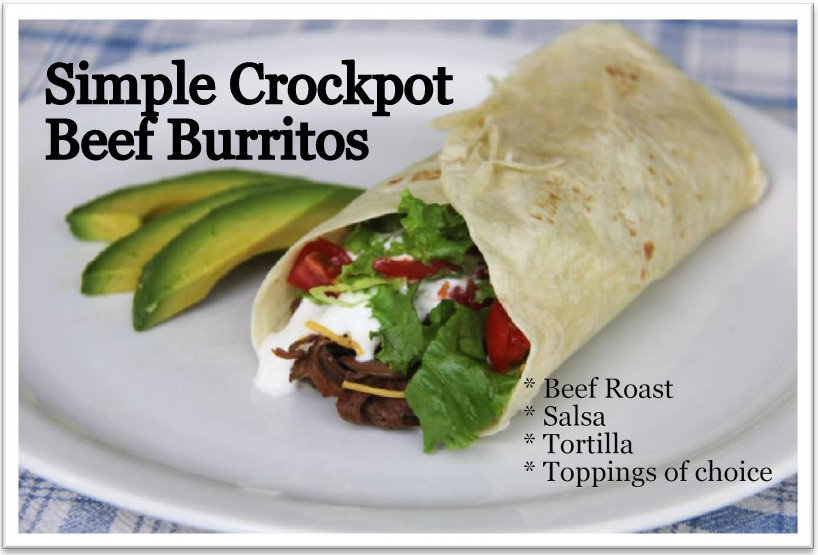 Crockpot Shredded Beef Burritos
My children love burritos!  They like theirs with a tortilla, I just eat the meat and toppings as a burrito bowl with a fork.  This crockpot recipe is so simple and filling that it's perfect for nights that you're out at church group or soccer practice. 
Prep Time: 5 minutes
Cook Time 8-14 hours
Ingredients:
3-4 pound beef roast
1 cup salsa
Directions:
Place thawed roast in crockpot, top with salsa. Cook on high for 8 hours or low for 14 hours. After cooking, shred using 2 forks. Serve hot with your favorite burrito toppings.
Want to find more great, simple, family friendly recipes like this one? Click here to purchase Simple Suppers: 30 Minamalist Meals!
Grain-Free Holiday Desserts, Breakfasts, and Side Dishes
Candied Butternut Squash, Zesty Lime Custard, Honey-Sweetened Pecan Pie, Slow Cooker Cranberry Sauce, and 10 more holiday recipes that you'll love for the way they taste and the way they make you feel.