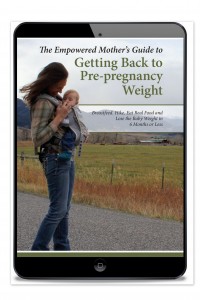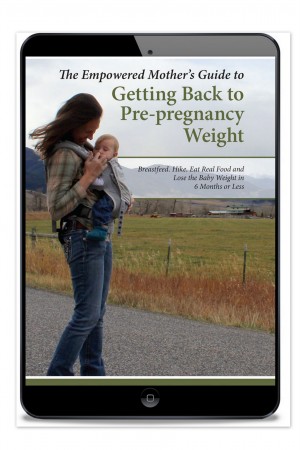 Breastfeed. Hike. Eat Real Food.  And get back to your pre-pregnancy weight in 6 months or less.
An e-book by Cara Comini of Health Home and Happiness
As pregnancy progresses and we get closer to meeting our baby, it's so wonderfully exciting!  What will our lives look like as this sweet little one joins our family?
And the question that's in the back of a lot of mom's minds, as the scale inches up and up, "How am I going to lose all this extra weight?!"
This book is for the women who want to take some simple steps and dissolve the pregnancy weight in the first 6 months after giving birth.  This is about building habits, and eating the nutrients that we need and our infants need to be healthy, and allowing for 'hungry days' and occasional treats without setting bad habits.
Losing weight is empowering. This is how to do it without beating yourself up or harming yourself through restricting too much.
After having 3 children, I've gained between 45 and 60 lbs in each pregnancy, and have gotten back to, or below, my prepregnancy weight by 6 months each time.  This book is for real moms, with real bodies, who just want to enjoy how it feels to not carry around those extra pounds.
I'm 5′ 8.5 inches, 145 lbs, and a size 8.  I'm right in the middle of the healthy BMI. I don't look like a model, and I don't aspire to. I enjoy hiking and playing sports with my kids.  This is and more fun easier to do when I'm not hauling around an extra 20-30 lbs.
It feels good to put those pre-pregnancy clothes back on. (oh, hello there! I haven't seen you in a year!)
It feels good when people who haven't seen you in a few months say, 'You sure don't LOOK like you had a baby a few months ago."
And when they card you buying wine, when they didn't 3 months before.
It feels good to look good, and lose the weight safely.
What's in this book
Chapters include:
Gaining weight while pregnant, for real moms, not an idealized version your doctor gave you.
Exercise while pregnant, what feels good, what doesn't.
The first 6 weeks after birth, and why resting will help your weight loss.
Nutrition needed for Breastfeeding.
Exercise that Works into Family Life.
About that Hunger…
Calorie Counting
Portion Size
Snacking
5 Sample Menus, with calorie counts
Sleep
Cheat Days/Hungry Days
Food Allergies Avoidance – for your infant and how they relate to weight loss
3 Superfoods for getting your pre-baby-body back
Mood Improvement strategies that work
Maintaining weight loss when you've reached your goal weight but still are breastfeeding
Maintaining weight loss after weaning
Other issues: Thyroid, autoimmune
Family Habits
Good nutrition habits in your nursling as they wean.
Who is this book for?
This book is for moms who are generally healthy and free from major medical issues, who want to lose the weight they gained with pregnancy without sacrificing their mood, milk supply, or family time.  Ideally you'll be familiar with the whole foods movement, and why eating fat doesn't make you fat, but that's not a requirement.
As always, consult with your healthcare provider before changing your diet or exercise program.
Who is this book not for?
Those with major medical issues- I touch on things like thyroid and autoimmune issues, but the book is for women who are generally healthy.
Vegetarians or vegans. I advocate eating meat throughout the book and animal products are found in the menus and recipes as well, there are many other weight loss books that focus on animal product free eating.
Anyone looking for a quick fix or magic pill.
Those who are not breastfeeding. Most of this book centers around women who are lactating, and the nutrition that they require. I know not everyone can breastfeed, but this book is specifically for breastfeeding (or exclusively pumping) mothers.

It's Easier To Start Sooner Rather than Later
When you're looking to lose the pregnancy  weight, it's easier to not fall into bad habits of poor nutrition, eating more than you need, and not being able to fit exercise into your life.
Let me show you how to get the ball rolling with:
Making sure you get enough rest and really allow yourself to recover from childbirth FIRST.
Exercise that you do with the family – for the purpose of well being more than calorie burning.
Portion-size checks, complete with pictures of meals.
Sleep tips, and why pretending to be super mom is harming your health and your ability to lose weight.
If this isn't for you, just reply to your confirmation email within 30 days of purchase and request a refund, and I'm happy to refund your money, no questions asked!  I want everyone to be happy with their purchase, so purchase at no risk to you!

Please follow and like us: