Print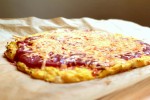 Spaghetti Squash Pizza Crust (GAPS, Paleo, Gluten Free)
Another great use for spaghetti squash - this is our favorite grain-free pizza crust recipe
Total Time
1
hour
15
minutes
For the crust:

One spaghetti squash

cooked

1/2

teaspoon

sea salt

1/4

teaspoon

freshly ground black pepper

1

pinch

turmeric

optional

2

eggs

1/4

cup

shredded smoked gouda cheese

For the toppings:

Sugar free tomato sauce

1

cup

shredded smoked gouda

or mozarella cheese

Any other pizza toppings of choice
Preheat oven to 375 degrees.

Use a fork to separate the spaghetti squash strands. Scoop the pulp into a very clean dish cloth or cheesecloth square and sprinkle with sea salt. Gather the cloth to make a ball of spaghetti squash, and then twist the top to squeeze out as much liquid as possible. This removes excess water and gives us a pizza crust that holds together.

After squeezing, turn the cloth inside out and dump the spaghetti squash into a bowl. Add pepper, turmeric, eggs, and 1/4 cup gouda cheese. Mix well with a fork.

Cover a baking sheet with parchment paper (don't skip this!) and press squash mixture into a crust shape.

Top with sauce, cheese, and toppings.

Bake for 25 minutes, or until crust is set and cheese is melted.