Print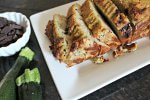 Sweet Grain-Free Zucchini Bread
This delicious moist zucchini bread is flecked with zucchini and studded with homemade chocolate chips. The dates give it a slight caramel flavor.
Total Time
1
hour
15
minutes
Preheat oven to 375* F

In a small bowl, soak pitted dates in hot water and allow to soften for 5 minutes.

Line a loaf pan with parchment paper, or grease it well with coconut oil.

In a mixing bowl, combine almond flour, coconut flour, eggs, shredded zucchini, honey, and sea salt. Stir well, until all the clumps of coconut flour are broken up.

After combining all of the above, drain dates and use a knife to cut chop the now-soft dates into small pieces.

Stir chopped dates into the bread batter, and then stir in the chocolate chips.

Spread the batter into the prepared loaf pan.

Bake for 45 minutes, checking for doneness by inserting a toothpick or knife into the center of the loaf. If the toothpick comes out clean, the loaf is done. If the batter sticks to it and is still wet, cook for an additional 15 minutes.

Allow to cool slightly before slicing.

Enjoy!