Print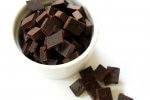 Honey-Sweetened Chocolate Chips (Chunks)
These rich dark chocolate chips are not only cost effective, but they also are free of corn, dairy, soy, and refined sugar!
In a double boiler, melt cocoa butter over simmering water.

Once cocoa butter is melted, keep over the heat and stir in cocoa powder, honey, vanilla and salt, stirring until completely smooth.

Pour chocolate mixture into a silicone pan, or a a parchment-lined pan. Allow to come to room temperature on the counter, and then transfer to the fridge to continue hardening.

Once hard, pop out of the pan and peel off parchment paper if necessary, and cut into chunks.

Use anywhere chocolate chips are called for in a recipe.
These chips should stay solid at room temperature, but they will melt in warm conditions. Keep in a cool place, or chilled in the refrigerator.
This recipe used cocoa wafers linked to above, if using a different cocoa butter you may need to add more or less cocoa powder to get the correct consistency.