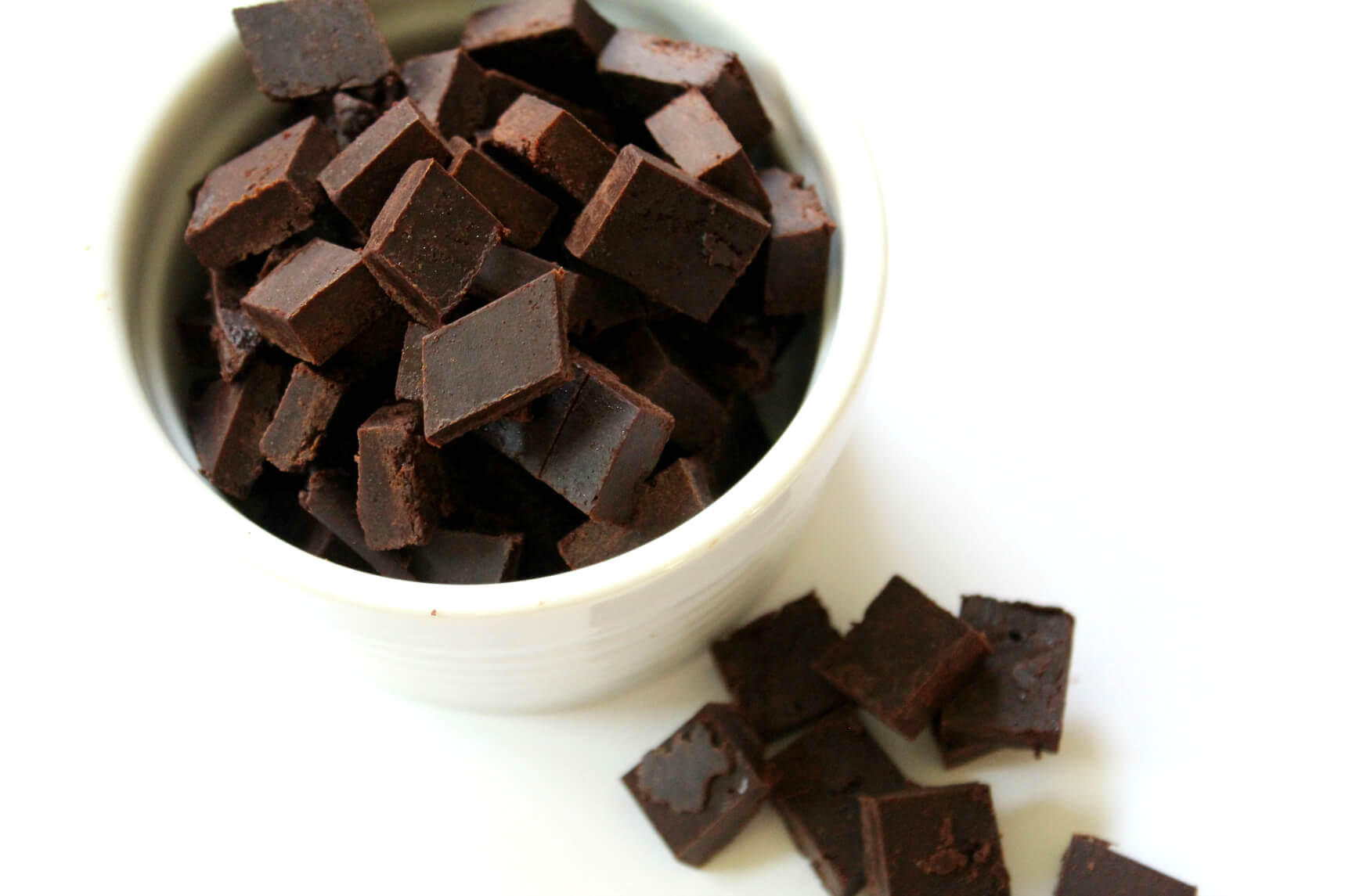 This chocolate recipe does not require the use of a candy thermometer.  These homemade chocolate chips are made by combining cocoa butter, cocoa powder, honey or sugar, vanilla, and just a touch of salt over the even gentle heat of a double boiler until it melts.  Then it is cooled into a sheet, chopped into chunks, and enjoyed on its own or in recipes.
Having honey-sweetened chocolate is a treat for those on the GAPS diet, or those who have other dietary restrictions such as soy, dairy, and corn. These chocolate chunks are rich, smooth, sweet, and delicious, just as chocolate should be.  This recipe is also easy and is considerably less expensive than allergy-friendly chocolate chips at the store.
Cocoa is allowed on the GAPS diet after the initial digestive trouble has passed.
Fair-Trade Cocoa
For a food that produces love-chemicals and symbolizes love and care around the world, the industry of chocolate can be heartbreaking.  To avoid slave and child labor, we choose fair-trade cocoa powder. 
Fair trade chocolate is a partnership between food brands and an outside agency that evaluates the growing and production of chocolate to ensure fair labor practices are followed.  By making our own chocolate, we're able to support ethical chocolate companies as well. 
Chocolate Chip Success
When making chocolate, or melting it, cooling it, or re-warming it you don't want to shock it.  This can cause the sugar crystals to clump quickly into a grainy solid mess rather than gradually solidifying into smooth chocolate.  We talk about this more in my soon-to-be released e-book Candy Making Without Corn Syrup, but in general the less fussing with candy you do during the making process, the better.  Once it's mixed and smooth, pour it where you want it to solidify and then leave it alone.
Always follow directions carefully, in this case you'll want to melt the cocoa butter before adding the rest of the ingredients.
If your chocolate does become grainy, it will still work great in any recipe that you melt it in.  Or you can re-melt it and re-do, just add a tablespoon of water or coffee as you re-melt it to prevent it from getting too dry.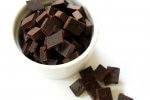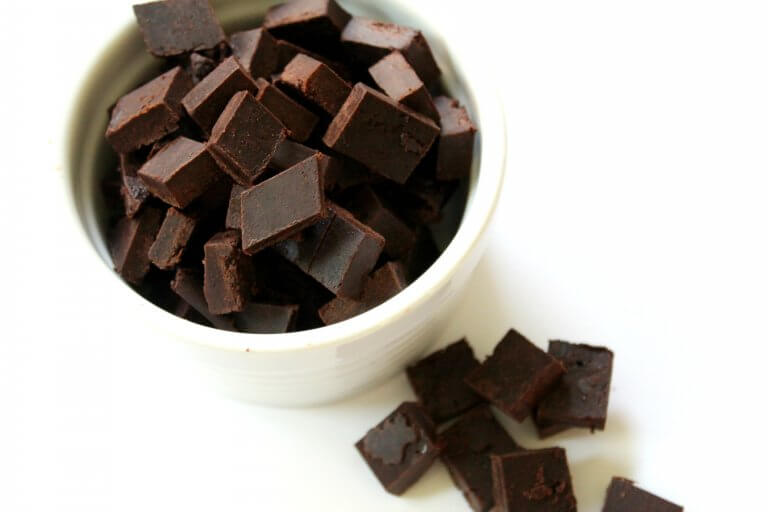 Honey-Sweetened Chocolate Chips (Chunks)
These rich dark chocolate chips are not only cost effective, but they also are free of corn, dairy, soy, and refined sugar!
Print
Instructions
In a double boiler, melt cocoa butter over simmering water.

Once cocoa butter is melted, keep over the heat and stir in cocoa powder, honey, vanilla and salt, stirring until completely smooth.

Pour chocolate mixture into a silicone pan, or a a parchment-lined pan. Allow to come to room temperature on the counter, and then transfer to the fridge to continue hardening.

Once hard, pop out of the pan and peel off parchment paper if necessary, and cut into chunks.

Use anywhere chocolate chips are called for in a recipe.
Recipe Notes
These chips should stay solid at room temperature, but they will melt in warm conditions. Keep in a cool place, or chilled in the refrigerator.
This recipe used cocoa wafers linked to above, if using a different cocoa butter you may need to add more or less cocoa powder to get the correct consistency.
Baking with homemade chocolate chips
How do these look in cookies? Well, I'm glad you asked! They do melt a bit, the absence of soy lecithin that is found in most chocolate chips makes these GAPS legal, and also a tad more melty ;)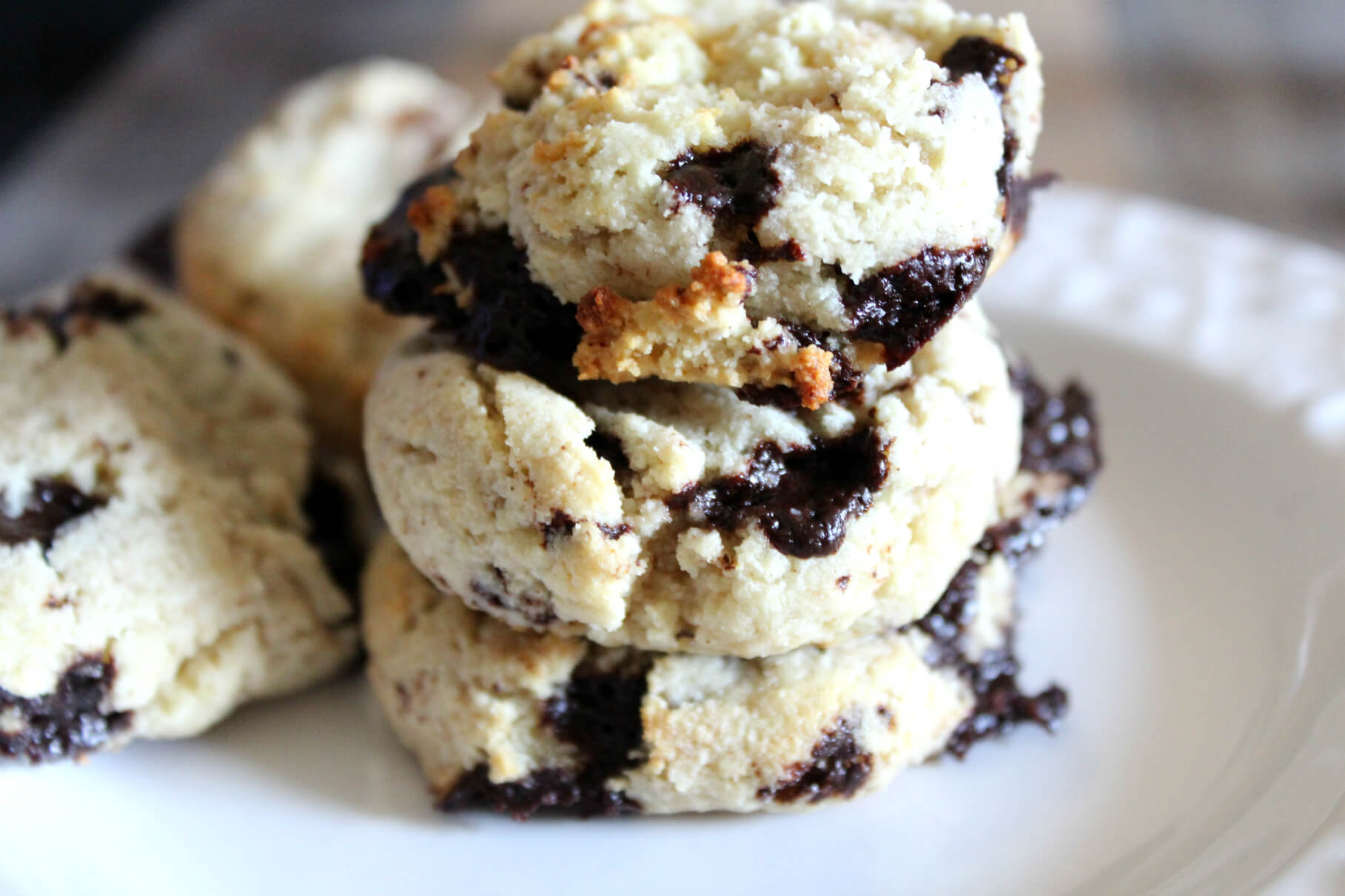 Not too bad, right? Who are we kidding? These are absolutely amazing!
Click here for the Almond Flour Honey-Sweetened Chocolate Chip Cookie Recipe. 
5 Delicious Keto FatBombs
Sign up to get my 5 Best Keto Fatbomb Recipes sent right to your inbox! Plus a bonus pizza recipe :)
Please follow and like us: