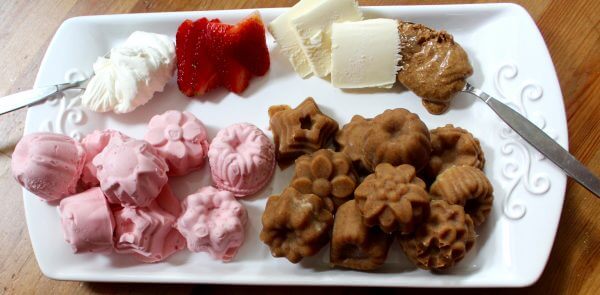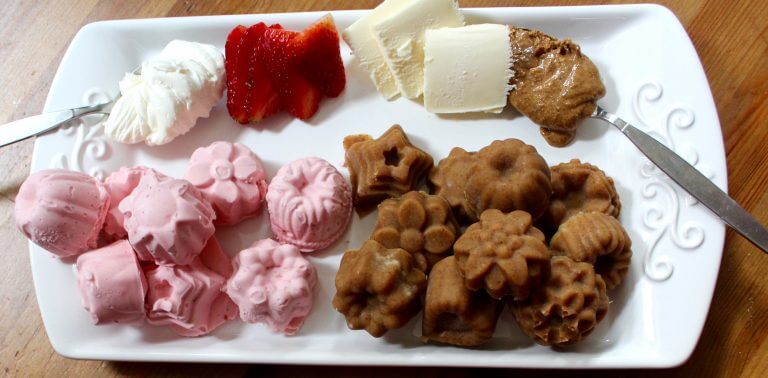 After a generation or two of avoiding fat, we are introducing it back into our diet with beautiful results.  When we consume natural, whole-food fats our whole body benefits.  Those who are eating a high-fat, low-carb diet, paleo, or whole foods diet may even struggle to consume enough calories- that's where fat bombs come in.  These little pockets of delicious fat are packed with energy, essential fatty acids, and are the ideal way to consume fat-soluble vitamins.
Benefits of fat found in fat bombs
Our skin loves the fatty acids, which help reduce aging lines and give us a youthful glow (source), and omega 3 fatty acids may play a role in the prevention of skin cancer (source).  We feel full longer after eating, and have a long-lasting energy source to draw from for prolonged energy (source).  Those on a ketogenic diet are kept in a state of ketosis by carefully including more fat than protein, and very few carbohydrates (more info found here).
The state of ketosis suppresses appetite for easier fat loss and calorie restriction (source), reduces or eliminates seizures in many with seizure disorders* (source), balances hormones in some with hormone imbalances including PCOS (source), and has many other benefits (read more).
*Note about seizure disorders: Use of the ketogenic diet to control epilepsy requires more strict measuring and balancing of macronutrients than other forms of keto. Medical supervision is recommended.
I personally have seen children go from many seizures a day even on medication to being seizure-free on the ketogenic diet.  There is lots of documented research about ketogenic diets in children and adults and seizures, but still many families and even adults with epilepsy do not realize this is an effective option because it is not often talked about other than a last resort by the mainstream medical community.
Essential fatty acids are essential for all your body systems, especially your brain.
Why would you want to eat extra fat?
Forget the notion that fat makes you fat- there is even evidence that you can 'spot reduce' stubborn abdominal fat by following a low-carb/high-fat diet calorie-restricted diet (source).
Fat, Keto, Macros, and Weight Loss
When doing keto for weight loss, you want to stay in a calorie deficit. On keto carbs are a hard limit (usually 20-30 net carbs a day).  Protein is a goal (try to meet your protein macro- usually .75 g per pound of goal body weight).  And fat fills in the rest of your calories.
Keto is a high fat, moderate protein, and very low carb diet. High fat does not mean unlimited fat! But still, if you're going to have a treat, you will probably have more room to add calories in your 'fat' budget than in your 'carb' budget. That's where fat bombs come in. They are sweet creamy treats, that are still low in carbs.
There will be times on keto where you burn out staying under your calorie goals. For women this is often the PMS week.  The advantage of using fat bombs over carby treats is that even if you over-eat your calories in the 'fat' category, you will still be in ketosis.  If you stay in ketosis, you will have a much easier time getting back into weight-loss mode since keto is a natural appetite suppressant and naturally lowers insulin, carb cravings, and boosts your energy.
Easy Way to Get Extra Calories on GAPS or Keto
It's not uncommon for people who are trying the GAPS diet for digestive issues to have concerns about losing more weight, especially if they are underweight to start with.  In that case, making fat bombs from GAPS-legal ingredients can be a flavorful and satisfying way to pack in extra calories, along with the healing benefits of healthy fats.
Nutbutter Cup Fat Bombs
These are my children's favorite recipe for fat bombs.  They taste like the inside of a peanutbutter cup and can be made with peanutbutter or any kind of nut butter- even sunbutter.
You'll notice that I included stevia in these, which is not strictly GAPS legal but in our experience some people tolerate stevia well on the GAPS diet.  Stevia is especially useful for those reacting to carbohydrates and is a more natural alternative to other sugar-free sweeteners.  Honey can be used in its place, though that will increase the carbohydrate count for those watching carbs.
These taste best when kept in the freezer as a frozen treat.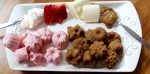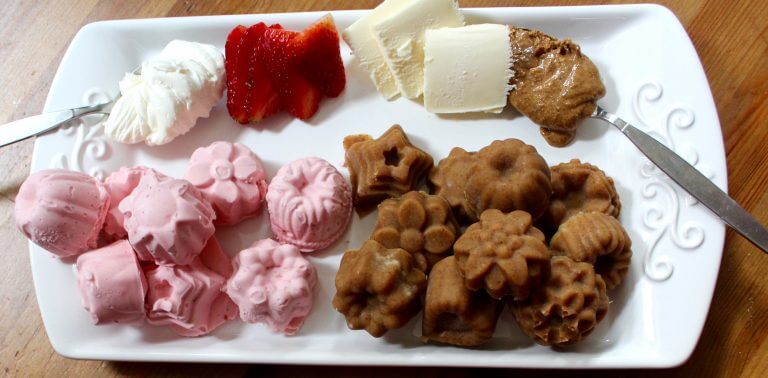 Nutbutter Cup Fat Bombs
These delicious treats provide a serving of healthy healing fats and are low carbohydrate for those limiting carbohydrates.
Print
Instructions
If your nutbutter has separated, make sure to mix the oil in well or the fat bombs will be too soft.

Combine nutbutter, softened butter or coconut oil, stevia or honey, and sea salt in a small bowl with a fork, or in the food processor with the circular blade.

If using a silicone candy mold (pictures show

this candy mold

and the recipe fits perfectly), place mold on a tray or large plate to easily transfer it to the freezer after filling.

Once combined, pour into silicone candy mold or into a parchment-lined loaf pan or small casserole dish.

Freeze for 1 hour or until firm but not completely solid, and then cut into 12 pieces if you didn't use a candy mold.

Store in the freezer, covered and enjoy as desired!
Recipe Notes
Using a food scale to measure weight rather than volume of nutbutter and coconut oil can save time and dirty dishes, and makes it easy to calculate exact nutrition data if needed. This is the food scale that I use.
Nutrition data used butter and stevia.
Nutrition Facts
Nutbutter Cup Fat Bombs
Amount Per Serving (1 g)
Calories 127
Calories from Fat 117
% Daily Value*
Fat 13g20%
Cholesterol 20mg7%
Sodium 160mg7%
Carbohydrates 2g1%
Protein 2g4%
* Percent Daily Values are based on a 2000 calorie diet.
More Fat Bomb Recipes: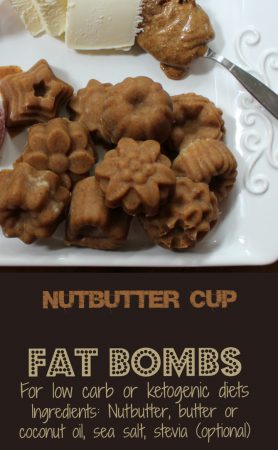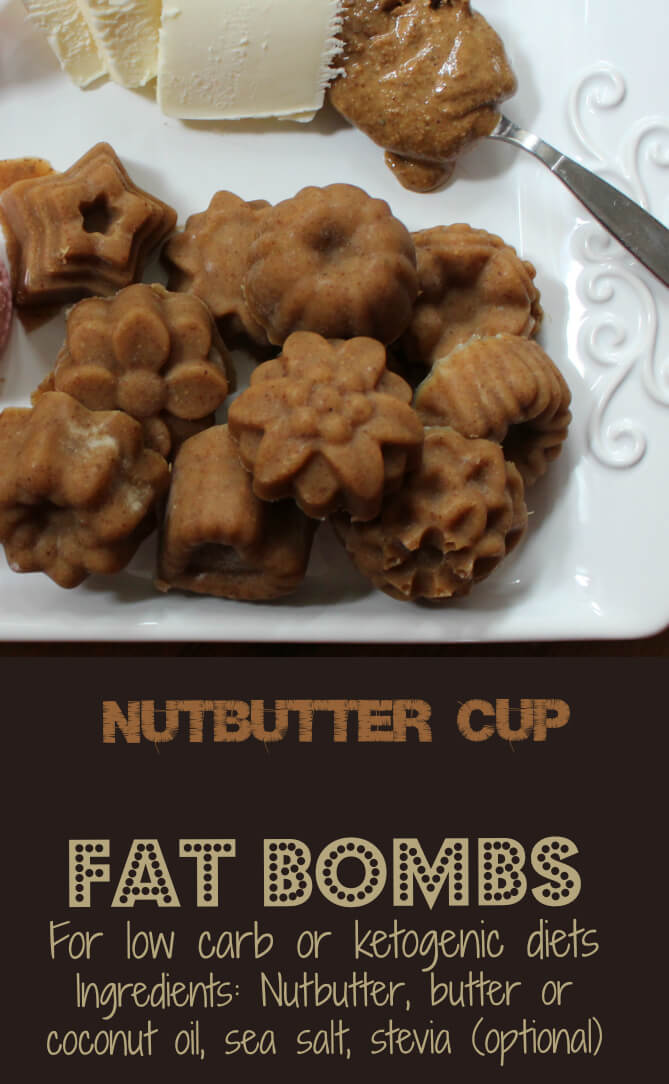 Please follow and like us: