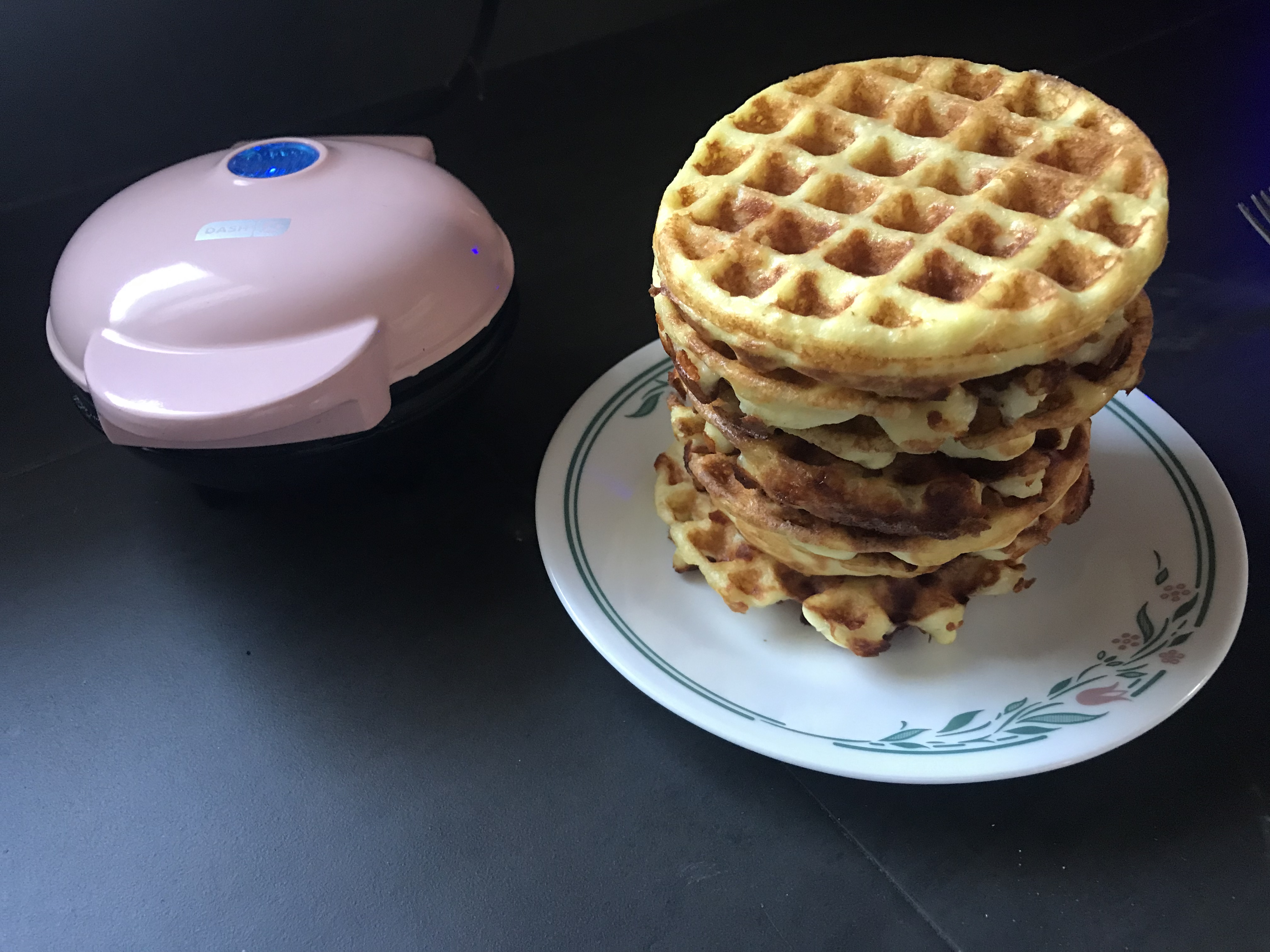 What if I told you… that these waffles are low-carb, gluten-free, delicious, and made with only 2 ingredients? Too good to be true, right? No, not at all!  You've gotta try these chaffles ASAP! And the good news is that you probably already have these ingredients in your fridge.
The 'chaffle' as they're called – cheese and egg waffle – craze has hit hard! They're making a daily appearance in lunchboxes of low-carb kiddos everywhere, and they're becoming sandwich bread, pizza crust, a vehicle for low-carb dips, and more!
How to make chaffles
Chaffles are super easy to make! First, preheat a waffle iron (for cute little eggo-sized waffles that fit in a sandwich bag or toaster use the Dash Mini Waffle Maker). As the waffle iron preheats, mix a ratio of 1/2 cup shredded cheese to 1 egg.  Here I used 2 cups of mozarella and 4 eggs.  Scoop 2 tablespoons of the 'batter' on the preheated waffle iron and then cook for 4-5 minutes, or until the waffle starts to brown and releases easily.  Pop off, allow to cool, and top as desired!

Nonstick Waffle Irons
I do use nonstick waffle irons.  Nonstick waffle irons are something that makes my life easier, and it's a trade off with our health that I'm willing to take.  Sometimes perfectionism gets in the way of progress, and for me using a nonstick waffle iron is part of not getting caught up in perfectionism.
This recipe could be tried in an old-fashioned cast iron waffle iron that is heated over the stove – I have cooked cheese crisps on cast iron before, so I think this could work well if you're patient and willing to fiddle with it!
Chancakes (cheese and egg pancakes)
If you don't have a waffle maker and want to try these, you can make them as pancakes! You won't get the same cheesy ridges, but chancakes can be used for the same things chaffles are!
You'll want to mix the batter the same way, preheating (and possibly lightly greasing with butter) a stainless steel or cast iron skillet well over medium-high heat.  Then spoon 2 tablespoons into the skillet, giving plenty of room for spread between chancakes.  Once they start to firm up around the edges (3-4 min), use a thin metal spatula to flip and cook on the other side for an additional 3 minutes before serving.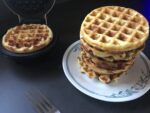 Low Carb Egg-and-Cheese Waffles
These 'chaffles' - cheese and egg waffles - are a fantastic keto or carnivore diet hack! They are easy to make, versatile, and can be reheated in the toaster!
Print
Ingredients
2

each

Eggs

1

cup

shredded cheese

Mozzarella pictured, any combination of cheddar, parmesan, mozzarella, etc works!
Instructions
Preheat waffle iron well.

As waffle iron preheats, mix the eggs and cheese with a fork.

Pour 2 tablespoons (about 1/4 the 'batter') onto the mini waffle maker. Be careful not to overfill, the egg will expand as it cooks!

Close waffle maker and cook for 3-4 minutes. If the waffle doesn't easily release, cook for an additional 60-90 seconds until it releases from the waffle maker easily.

Enjoy your fresh hot chaffle and repeat with the remaining batter!
Nutrition Facts
Low Carb Egg-and-Cheese Waffles
Amount Per Serving (1 g)
Calories 85
Calories from Fat 54
% Daily Value*
Fat 6g9%
Cholesterol 24mg8%
Sodium 176mg7%
Potassium 21mg1%
Carbohydrates 1g0%
Protein 6g12%
Vitamin A 189IU4%
Calcium 141mg14%
Iron 1mg6%
* Percent Daily Values are based on a 2000 calorie diet.
Chaffle toppings and serving suggestions
Toppings are what make these chaffles super fun, though they're also delicious right off the waffle maker!
Top classically with butter and enjoy.
Fry an egg and thin sausage patty and place between two chaffles for a hearty breakfast sandwich.
Spread with liver pate for a nutrient-dense gourmet treat.
Top with red sauce or pesto and more cheese and then broil for mini pizzas!
Use as burger buns for your next hamburger.
I don't get it, but my daughter loves them spread with peanutbutter as a peanutbutter sandwich.
They are great sandwich bread for meat-based sandwiches! Spread with mayo and mustard, and fill with all your favorite sandwich fillings for an easy and delicious meal on the go.
Brown beef and add taco seasoning, then use an undercooked chaffle as the 'taco shell'.
Top with garlic and butter and broil for a minute for cheesy low carb garlic bread.
And there are so many more uses!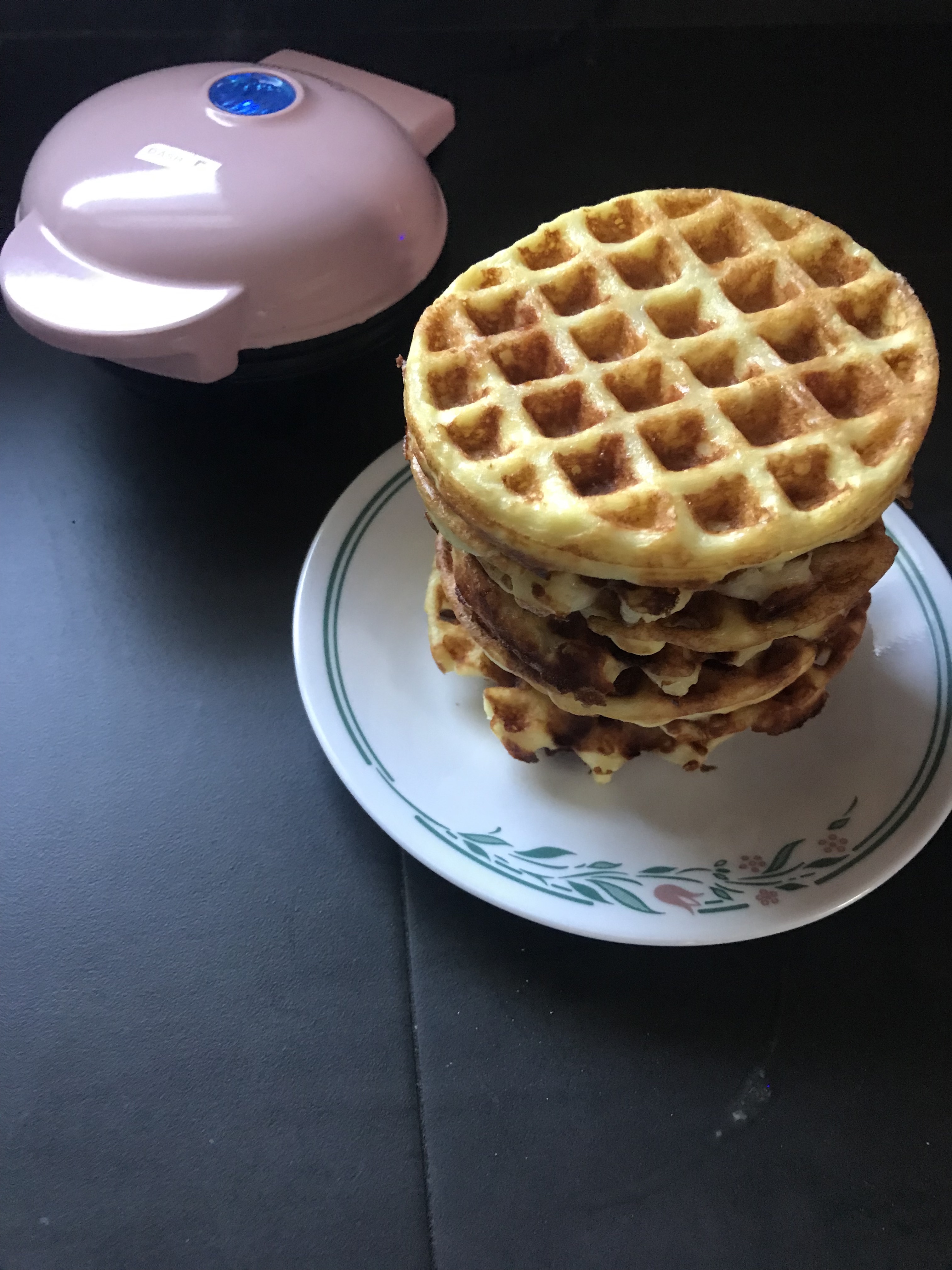 Other waffles we've made…
(coconut and almond flour based)
Please follow and like us: