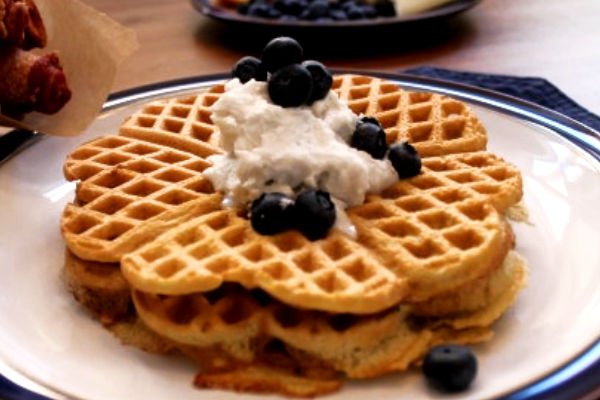 Waking up to the beep of the waffle iron signaling that a golden delicious waffle is ready is a Saturday morning memory that lasts a lifetime.  Just because you are avoiding grains doesn't meal that this tradition has to stop! These coconut flour waffles are delicious, can be topped with delicious toppings like coconut whipped cream and blueberries, and even make a great sandwich bread when used as leftovers.
I like to make this batter in the blender, but it can easily be mixed in a bowl with a whisk or fork if desired.  It produces waffles that are light and fluffy, they're family favorites!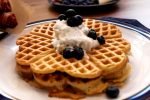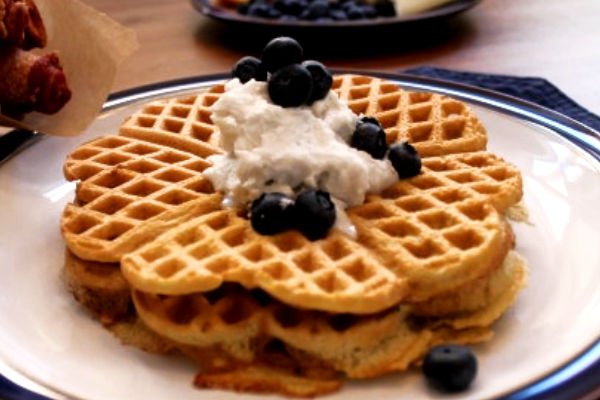 Coconut Flour Waffles
Print
Instructions
In a blender, combine melted fat, coconut flour, eggs, vanilla and honey.

Blend until coconut flour is evenly distributed, using a spatula to free any pockets from the bottom or side of the blender.  Add in the apple sauce and salt and blend again until well combined.

Allow to sit for 5 minutes so the coconut flour can absorb the liquid.

Preheat waffle iron, grease generously with coconut oil.  Use a serving spoon or 1/8 cup measuring cup distribute the batter on the iron and cook 3-4 minutes, or until golden brown.
Nutrition Facts
Coconut Flour Waffles
Amount Per Serving (1 waffle)
Calories 196
Calories from Fat 126
% Daily Value*
Fat 14g22%
Cholesterol 163mg54%
Sodium 170mg7%
Potassium 68mg2%
Carbohydrates 10g3%
Protein 6g12%
Vitamin A 240IU5%
Calcium 25mg3%
Iron 0.9mg5%
* Percent Daily Values are based on a 2000 calorie diet.
Troubleshooting and notes: 
If the waffles stick, make sure you are greasing the waffle iron well (even if it is nonstick) between each waffle.
The apple sauce can be omitted, or replaced with baked, pureed squash.  The fruit or squash provides moisture and helps the waffles to be less dense and a little bit more sweet.
If your waffles crumble, make sure you're allowing the batter to sit for 5-10 minutes to absorb the liquid.
To freeze: Lay flat on a baking sheet and then combine into a zip-top bag once frozen, or stack, separated by squares of parchment paper, and freeze in the zip-top bag.
Top with coconut whipped cream for a special treat.  The fats in the whipped cream along with protein in the eggs in the waffles make this a surprisingly nutrient-dense breakfast that won't give you a carb-crash and will stick with you all morning :)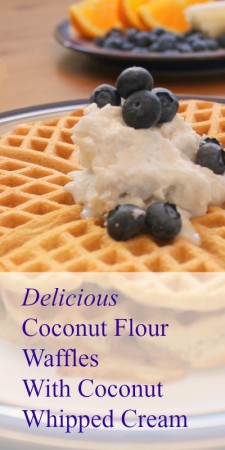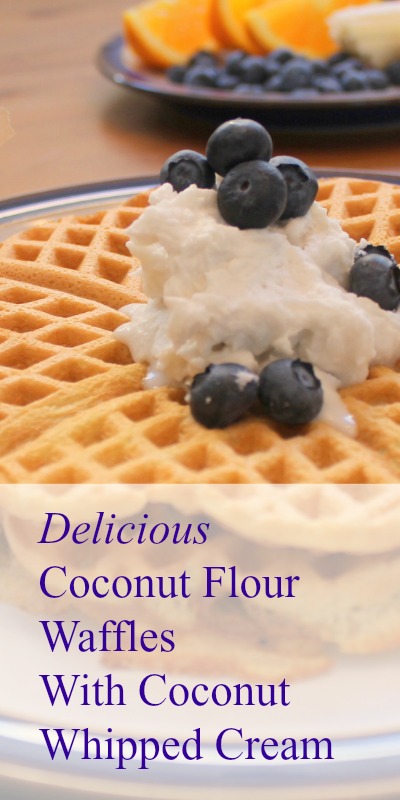 Free Ebook this month only: 20 Grain-Free Breakfast Recipes
20 Delicious Breakfast Recipes suitable for GAPS and Paleo diets!
Please follow and like us: