Congratulations! You're ready for the soup challenge happening in fall of 2022!
Did you get to this page without signing up?  Get your checklist to keep you on track and loads of new recipes
Soup soup soup – easy to digest, nourishing, frugal, and full of amazing health benefits! Plus it's easy! Putting it in the crock pot in the morning not only fills the house with a delicious aroma all day, but it also means that you just need to make a side dish for dinner.
On this challenge, we eat soup every day and plan to continue all winter. But we start with just October and go from there.  I normally use this little crockpot if we're having a side, or I use a bigger one if we're just eating the soup and possibly a salad.  If I didn't start the crockpot in the morning, I toss it all in my stock pot, where most soups will cook in about an hour.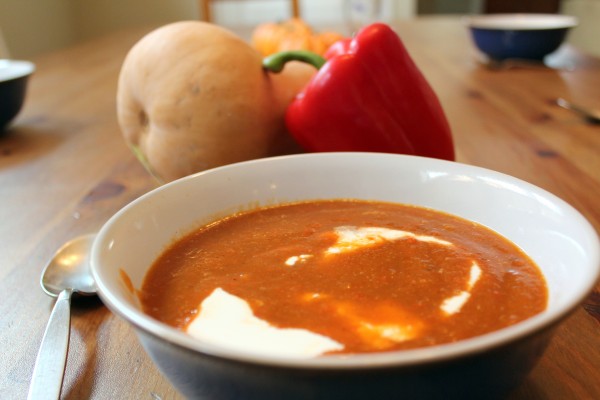 Soup Challenge results:
We've been doing this for years, and I LOVE hearing the results that you all start seeing about a week in! In previous years you have reported:
Better sleep, even for previously restless sleepers
Smooth skin- This is the #1 email I get from you! It's the broth, baby… broth is so good for skin!
Kids that are calmer during meal time since they're starting their meals with a warm nourishing food
Kids that branch out and try foods you never thought they would!
Grocery savings! – Some of you report over $100 in grocery savings just by adding soup to each meal!
Get your checklist to keep you on track and loads of new recipes
Serving Leftovers
For any soup that is left over after dinner, store in a quart or pint mason jar in the fridge.  Then you can  re-heat it in the microwave or in a small saucepan.  It's not uncommon for us to have 1-2 servings left over, so this can be a quick lunch for the toddler and I, or can be re-heated and go in thermoses.
You might be surprised to see that I use my microwave, but it really helps use up leftovers without making more dirty dishes.  Of course you can simmer on the stovetop in a small saucepan and that is a great option as well- I usually do this for dinner, but for lunch we'll microwave and move on with the day :)

Get your checklist to keep you on track and loads of new recipes
Toppings
In addition to providing easy-to-digest amino acids, vitamins, and minerals, we can also add a drizzle or sprinkle of flavor-boosting ingredients. These toppings make the soups beautiful, and they add healthy fats, antioxidants, and more!
Fresh Pressed olive oil provides healthy fats, and if we drizzle it on top, it retains all the benefits of raw olive oil.  I use olive oil from the Fresh Pressed Olive Oil Club, and you can sign up here and get your first bottle free!
Coconut milk is a dairy-free creamy source of medium-chain fatty acids.  When we generously top soup with coconut milk, it becomes filling enough to make into a meal.
Raw cream can be cultured with kefir grains, and then provides a probiotic boost in addition to healthy fats.
Bacon bits (save a couple slices from breakfast!) give an unmistakable taste and crouton-like texture to pureed soup.
Fresh herbs provide antioxidants and other healing compounds.  Keep a container garden on your windowsill, or try some of the fresh herbs available in the produce section in your grocery store.
A squeeze of lemon lightens up a heavy soup and can be combined with any of the more rich toppings above.

Delicious Soup Recipes
There are lots of soups available on my recipe page, you can check it out here.
Get your checklist to keep you on track and loads of new recipes
Here are some of our favorites.  Don't worry, I'll be emailing you a new recipe every day, so if you don't have time to check them all out now you won't miss out.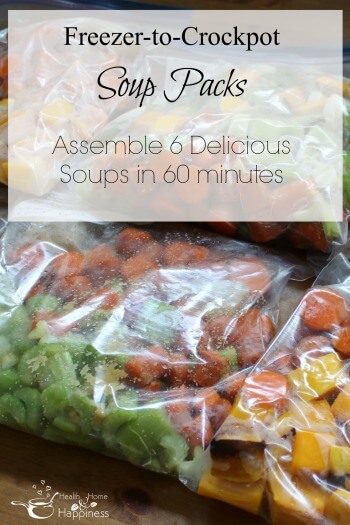 For those who are short on time and need to prep ahead, make Soup Packs to toss in the freezer, and just add water and simmer for 45 minutes before serving.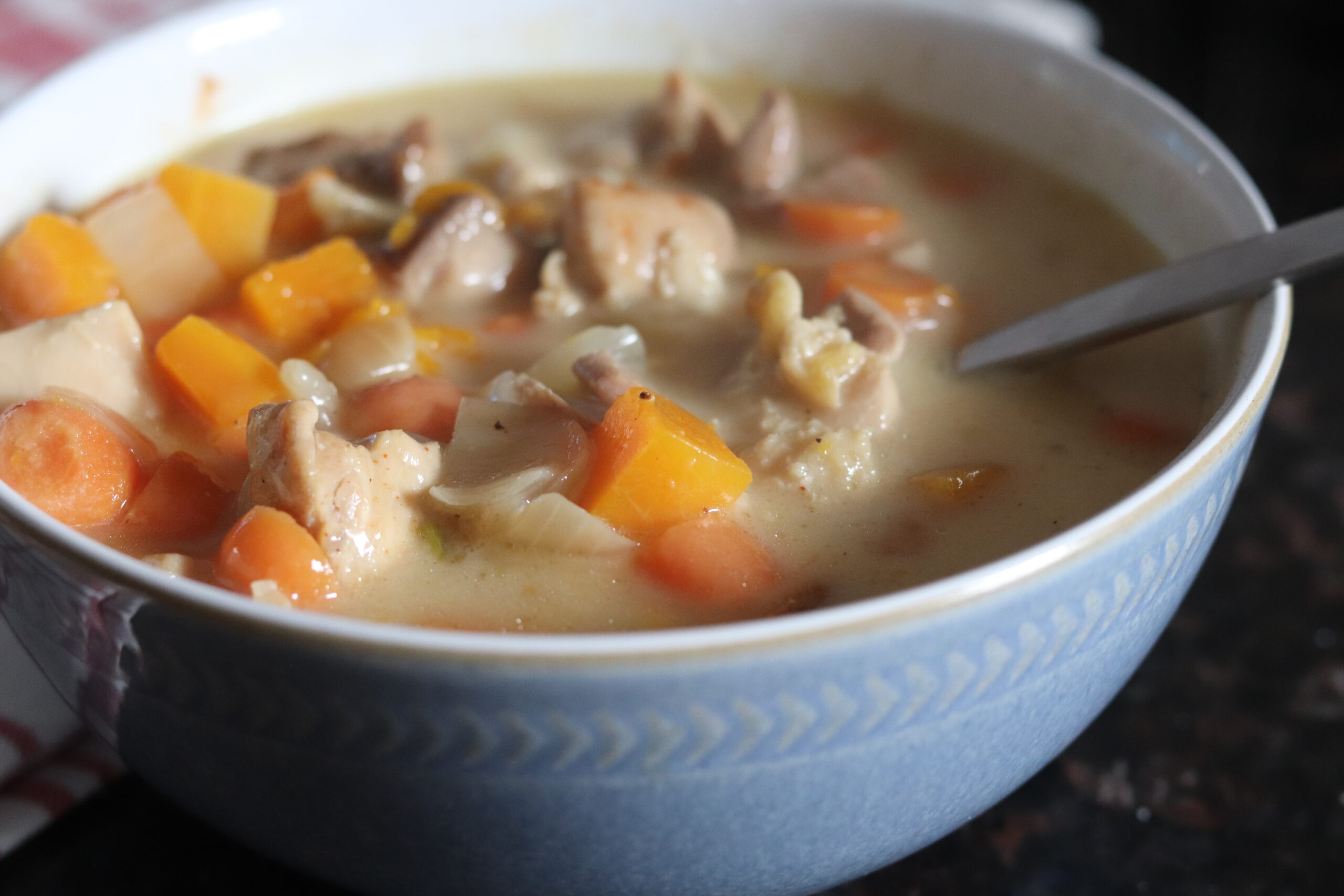 Use-What-You-Have Soup Formula
Serves 4 or 6 as a main dish, depending on the size of your crockpot
Veggie Base – Fill your crockpot 3/4 full with bite sized pieces of your base veggie: Carrots, onions, hard winter squash, celery root potatoes, sweet potatoes, or any combination of these
Veggie flavor and color – Add about a cup of green onions, shallots, peppers – anything you want to give it flavor and a little more color or texture.
Herbs and spices – Add about 1/2 teaspoon per quart of liquid of salt, 2-3 cloves of garlic, or to taste.  Fresh or powdered ginger is delicious.  Check out The Flavor Bible for perfect spice combinations for your veggies.
Acidity- add one lemon juiced, or a splash of apple cider vinegar before serving
Meat – For already cooked meat, add just before serving so it doesn't get tough in the crockpot.
Toppings – Top each bowl with fresh herbs, coconut milk, milk kefir, yogurt, heavy cream, cheese, hot sauce, salsa, or crackers.  This can really dress up a bowl of soup and doesn't take very long to do.
Stock- I make this easy chicken stock on Sundays, boil it down until it's about 4 cups of liquid, add 1/4 cup of gelatin to the reduced stock, and let it firm up in the fridge.  Then cut it into cubes, this much stock does a week's worth of soup for our family.  I use 2-3 cubes per crockpot full of soup.  If you don't boil it down to stock cubes, use 3-6 cups of stock per batch of soup.
Water – Fill the crockpot with water after adding the rest of the ingredients.  It should be at least 3/4 full, be sure to leave about 1″ or so at the top so it doesn't bubble over.
Cook- Cook in a crockpot on low for 8-10 hours, or on high for 4-6.  If you don't have time to allow for crockpotting, simmer on the stove for 30-60 minutes in a stock pot.
Adding variety: You can cook chicken stock down to a reduction sauce to use on meats (we love it with meatballs), I'll post my recipe soon. You also can enjoy it pureed (I puree before I add the meat) with an immersion blender or with big chunks.  Soup daily doesn't have to be boring, but it IS frugal and has amazing health benefits!
Enjoy!
Please follow and like us: