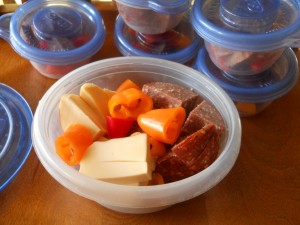 What can I send with my child for lunch?
Once you're reasonably sure that your child won't cheat on GAPS, you may wonder how exactly you should pack her lunch box or snack.  My little one did a trial at a special needs preschool this fall and I packed her little snack every day.  At first it was quite a novelty with her teachers, 'I've never had a child bring scrambled eggs for snack before' but soon it becomes routine.
I also like to have packed lunch available for impromptu trips to the zoo, pool, or for the babysitter to give the kids. My favorite part is that I can clean up the kitchen after breakfast, and it stays tidy until dinner time :)
You can see that I use plastic containers to pack… they're light, inexpensive, and if they get broken or accidentally thrown away it's okay.  Plastic is something I compromise on to streamline my life.
Some packable lunch ideas:
Crepes (recipe in the cookbook) with nutbutter or cream cheese
Salmon or tuna salad wrapped in lettuce leaves
Cut up summer sausage (buy here), cheese, and sliced sweet peppers (shown above)
Salmon patties with herbed yogurt or tahini sauce to dip
Hearty white bean chili packed in a thermos and topped with avocado
Chicken pepper poppers with sliced veggies
Jerky and sliced fruit
Savory yogurt with chicken and avocado
Coconut flour waffles made into sandwiches- this is a great way to use liver pate
See? With a few containers, packing food for your GAPS family can be simple and delicious.  What are your favorite GAPS traveling foods?