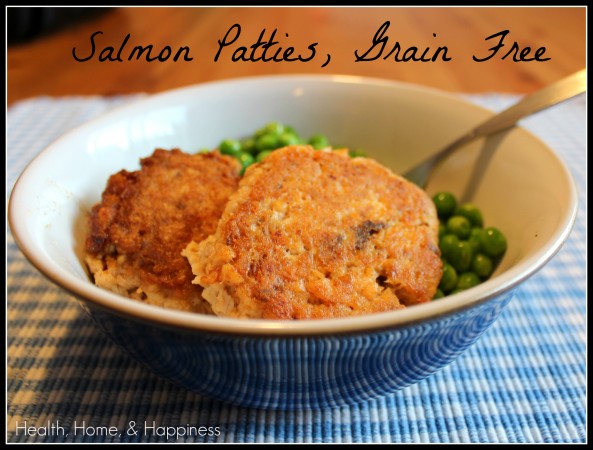 This meal is fast- a whole foods equivalent of boxed macaroni and cheese.  One bowl to mix, a pan to fry, and you're ready to eat!  I found wild canned salmon at Costco (Kirkland brand) for 9.99 for 3 cans. We used two here, so this is a little more expensive than mac n' cheese, but also much richer in the good fats, calcium, and protein.
Two 10-ounce cans of wild caught salmon
Two eggs
1/4 cup shredded coconut to hold together (and make GAPS friendly) breadcrumbs could also be used.
Use a fork to mix, form into patties with your hands, and fry in 2 tablespoons palm kernel oil or coconut oil or butter on medium-high heat. Flip once browned, about 5 minutes on each side.
Cost breakdown: About $8 to feed our family of 4. Not too bad!


21 Easy and Delicious Grain-Free Meals
Curious about eating grain-free? I want to show you how easy and delicious it can be!
Try our best-selling meal plans... for free!
Just enter your information and I'll email it to you right away.