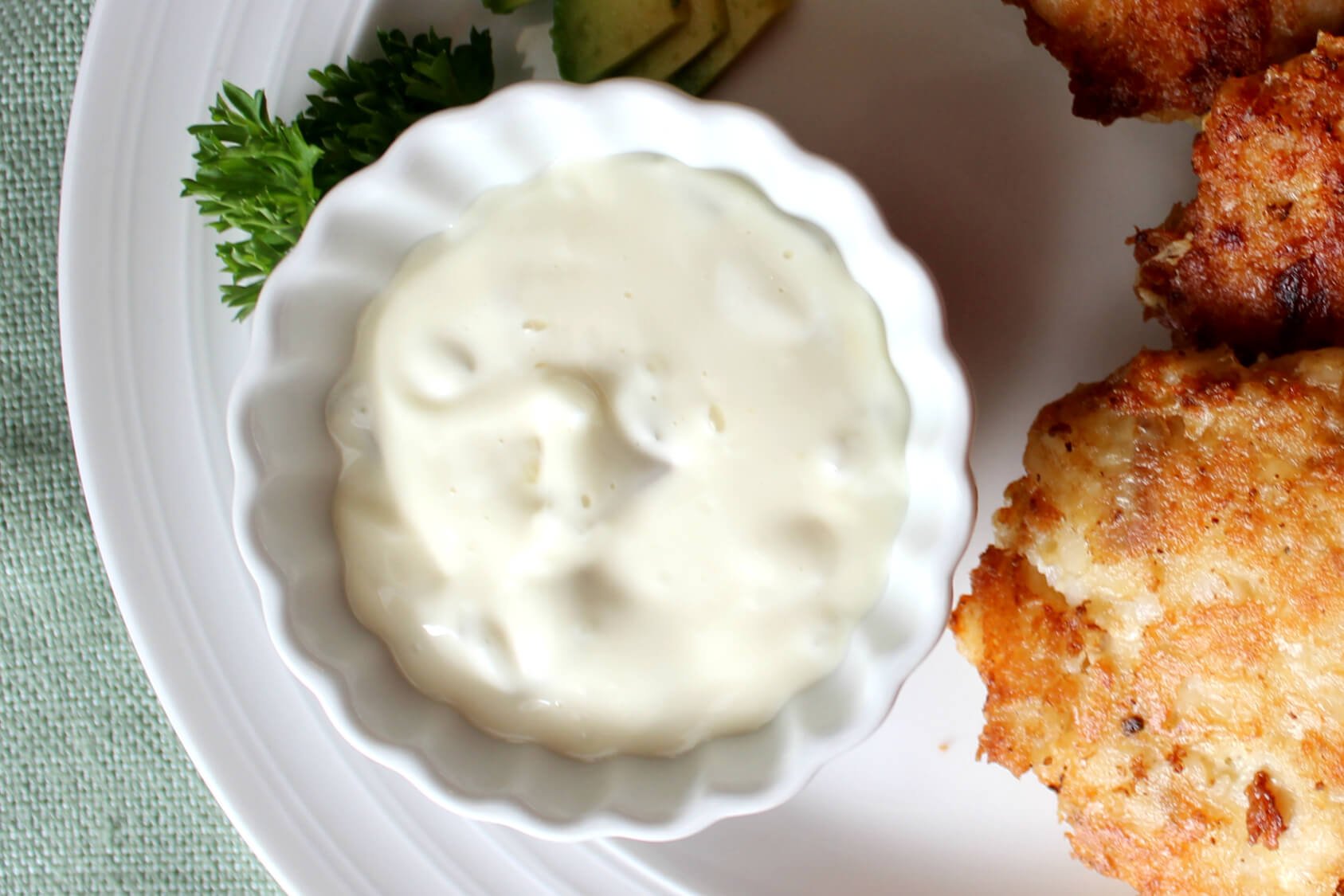 Tartar sauce is easy to make at home, and with the addition of healthy GMO-Free 1 avocado oil mayonnaise and lactofermented pickles rather than inflammatory canola and/or soy oil.  2  In addition, pasteurized pickles that often contain yellow dye 05, which is linked to increased risk of cancer 3, asthma 4, and other reactions.

Simple & Yummy Paleo Tartar Sauce for Fish
Rich and tangy, this healthy sauce is perfect for all fish and seafood.
Cuisine:
Paleo, GAPS, SCD, Gluten Free
Ingredients
1 cup avocado oil mayonnaise (buy here) (2-minute recipe here)
1 lactofermented pickle, diced (recipe)
1 thick slice white onion, diced (about 1 tablespoon)
½ teaspoon sea salt
1 pinch freshly ground black pepper
1 lemon, juiced
Directions
Combine all ingredients.
Serve with grilled fish, fish patties, or any seafood.
Store any leftovers in the fridge, covered, for up to 1 week.
Notes
You can find lactofermented pickles in the refrigerator section of most health food stores.
OTHER HOMEMADE SAUCES
These sauces, dips, and condiments all add good things to your diet.  They're so healthy you won't even mind if your toddler decides to sneak a few sips out of the dip container rather than use it for its intended purpose.
References
1.   https://en.wikipedia.org/wiki/List_of_genetically_modified_crops
2.  https://www.ncbi.nlm.nih.gov/pmc/articles/PMC4511588/
3.  https://www.ncbi.nlm.nih.gov/pubmed/28229641
4.  https://www.ncbi.nlm.nih.gov/pubmed/2239641
Grain-Free Holiday Desserts, Breakfasts, and Side Dishes
Candied Butternut Squash, Zesty Lime Custard, Honey-Sweetened Pecan Pie, Slow Cooker Cranberry Sauce, and 10 more holiday recipes that you'll love for the way they taste and the way they make you feel.