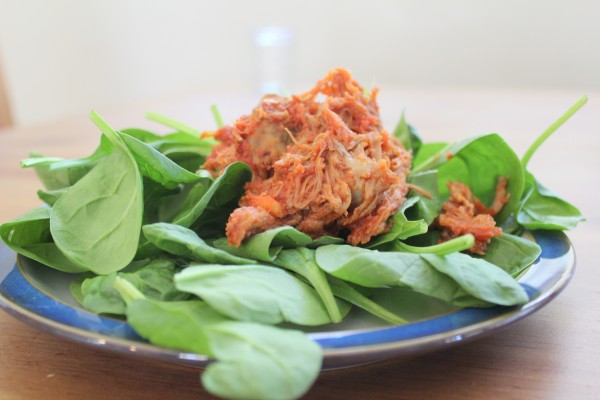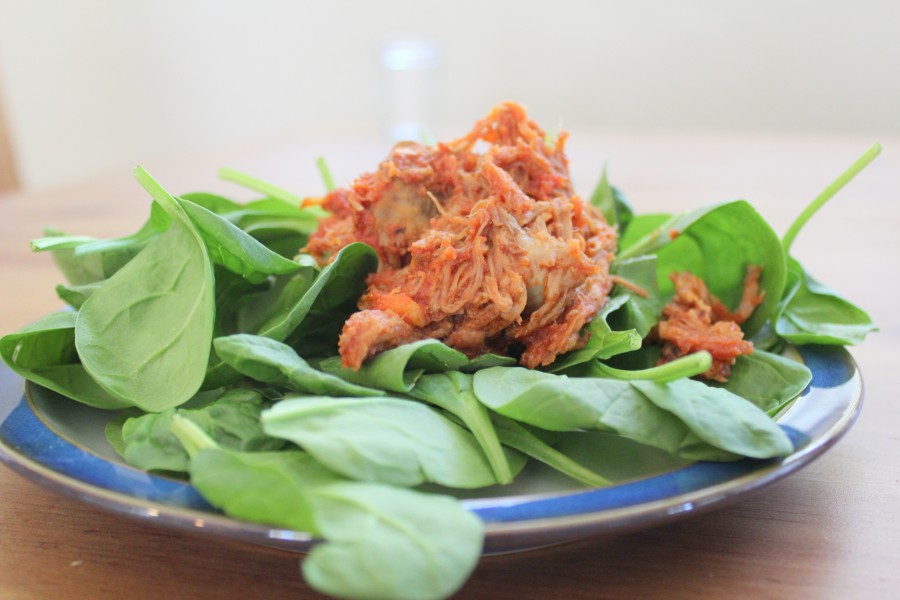 Pulled pork, a protein-rich comfort food that can be made in a big batch and used all week long – this recipe is perfect for busy weekends or week nights since it's made right in the crockpot.
For the barbeque sauce:
3 tomatoes, diced
1 white onion, diced
4 cloves of garlic, diced
1 (6 ounce) can of tomato paste
1 cup chicken stock
2 tbsp mustard
2 tbsp apple cider vinegar
1 tbsp extra virgin olive oil
2 tbsp smoked paprika
1 tsp sea salt
1 tsp cayenne pepper
1 can of diced pineapple (20 ounces)
For the pork:
2 tablespoons sea salt
1 tablespoon black pepper
1 tablespoon cayenne pepper
2-3lbs boneless pork roast
To serve:
1 pound baby spinach
To make the barbeque sauce, combine the diced tomatoes, white onion, garlic, tomato paste, chicken stock, mustard, apple cider vinegar, olive oil, paprika, sea salt, cayenne pepper, and pineapple in a medium saucepan. Mix with a fork. Cook on the stovetop over medium heat until simmering, stirring every few minutes. Reduce heat to medium low and cover, cooking for 60 minutes. Puree with an immersion blender. Store in a quart-sized mason jar in the fridge, overnight if possible to allow flavors to meld.
To make the pork: Mix sea salt, black pepper, and cayenne pepper in a small bowl. Place pork roast in slow cooker and rub the salt and pepper mixture into the meat. Sprinkle any of the rub that remains over the top of the pork and cook on low for 8-10 hours, or high for 4-6 hours. Turn off slow cooker and remove cooked pork to a cutting board. Use two forks to shred the pork. Discard the drippings from the pork, and add shredded pork back to the slow cooker. Dump in entire recipe of barbeque sauce, and heat on high for 1 hour or until heated through.
Serve by placing baby spinach on a plate or in a bowl, and topping with the hot shredded pork.
Refrigerate three cups of meat (or more) for tomorrow's lunch and freeze the rest of the leftovers in meal-sized portions in freezer-proof containers or zip-top bags.
Yield: 8 servings
Tip
A bed of greens is a fast and healthy alternative to previous grain bases for meals. Use micro greens, baby spinach, diced cabbage or broccoli to give variety and replace rice, noodles, or bread.
Want to eat recipes like this every night? What if I told you that it's really not that difficult to make grain-free delicious home-cooked meals each night?

This recipe is part of my Grain-Free Meal Plan – my meal plan that delivers delicious easy-to-make food packed full of flavor and nutrition to your table every day.  We don't only do dinners like most other meal plans – no we give you seasonal recipes and a plan for 3 meals a day, 7 days a week PLUS a page of Craving Busters so that you're never tempted to stray away from your healthy eating goals.

Want to learn more? Click here to learn more.
Please follow and like us: