You may look at grassfed beef and think that it's way more expensive than you can afford.  You've seen ads for Butcher Box and don't know what to put in your box, or how to make your butcher box affordable.  There are some great deals with Butcher Box, and I"m going to show you how I make monthly meat delivery work for my family of 5 with delicious meat we can't wait to use, and substantial savings over supermarket conventional prices!
Ground beef and roasts are the name of the game when you're looking to save money on high quality food. Today I'm going to show you how to get the most out of your ButcherBox.
First! Click here and you'll get $30 off your first Butcher Box + free shipping and access to the deals mentioned below!
What is ButcherBox? 
​ButcherBox​ delivers grass-fed beef, heritage breed pork, free-range organic chicken and wild-caught Alaskan sockeye salmon right to your door. And you never pay for shipping!
Plus this meat is delicious! When meat is sustainably raised, the flavors are better and the meat is easy to cook with without excessive rubs, marinades, or sauces.
Limited deal: Click here to sign up and get $30 off your first box! 
(available in the lower 48 states only!)
Truth: Grass fed and finished does cost more
Sustainably raised ButcherBox (or any kind of sustainably raised) meat is not going to be as cheap as factory farmed meat fattened up with GMO corn and soy, but it does work in with the average person's spending on food – especially if you're ditching a couple dinners out and cooking this deliciousness at home instead.
When stretching grocery money, Calories are king
In this case, to get the most bang for our buck, we want the lowest price per calorie.  Specialty cuts like ribeye and new york strips are delicious, but each calorie costs more. When we're choosing a nutrient-dense diet, we want the highest amount of
Where are nutrients found? In the fat! When you're buying good meat, you want to enjoy the fat as well!  We may choose leaner cuts of lower quality meat, due to toxins and hormones being stored in the fat, but for grassfed healthy animals, the fat is where it's at!
To 'Hack your ButcherBox' to get the most meat for your money: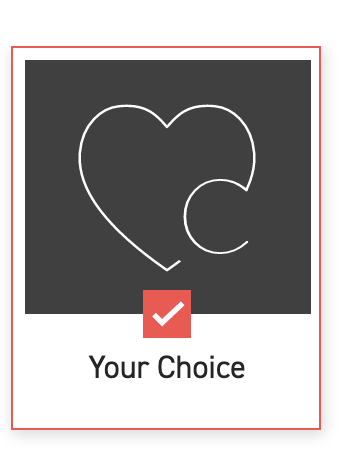 Build Your ButcherBox for the best value, step-by-step
 Click here, enter your email address to get the new-member bonus
Then click the Your Choice option (image above). This gives you about 20% more cuts of meat than the curated ButcherBox options.
 You'll get 12 options when you choose your own large box – for the most value, choose the more calorie-dense meats that you get most of per cut.
Add ground beef and bacon add ons in the 'member deals' section to further lower your price per pound.
Tips on filling your custom box:
Beef and pork are more calorie dense, so stretch further than chicken and sea food.
Look for items where you get 2 lbs or more per selection.
Wait and add ground beef and bacon as an 'add on' where you get more for your money (see below for details).
Roasts are your friend! You can usually get the most meat for your money with roasts. When you slow cook or cook in the Instant Pot they are easy and melt-in-your-mouth tender as well.
If you do have a special occasion coming up, go ahead and use a selection for a pack of steaks (I LOVE their New York Strips) or scallops or ribeye is always a good choice too!
This is example of what your Custom Butcher Box might look like: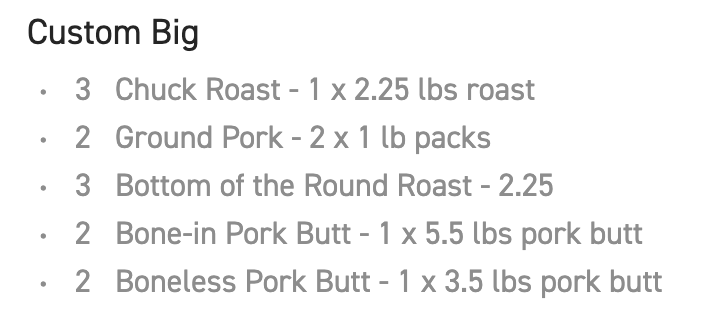 Add ons for extra savings:
The addons are where you'll find even more savings. The 'beef blast' isn't always there, but it's my favorite add on. Sometimes you can add on a 5-pound brisket, or other roasts that work out to less than $5/lb too.
Click these buttons for the add ons: 
And then add whatever you use most!
For us, we always add a bacon blast and ground beef blast.  Where else can you get sugar-free bacon or grassfed ground beef for $4.99/lb delivered?!  If steaks are your thing, look for a multi-pack of steaks like ribeye or NY Strip for superior savings.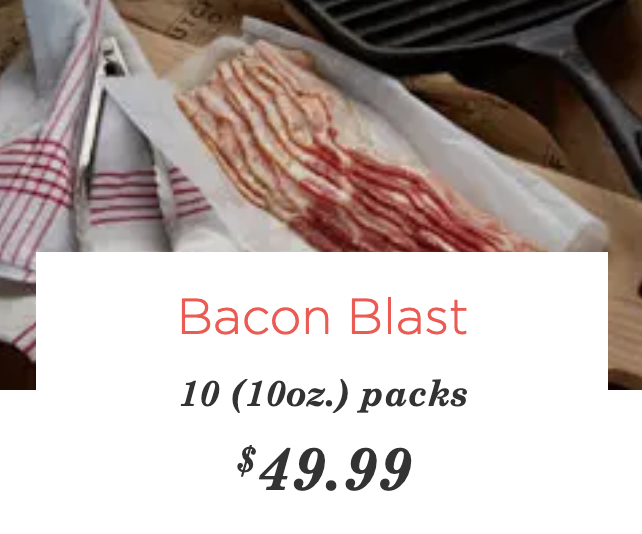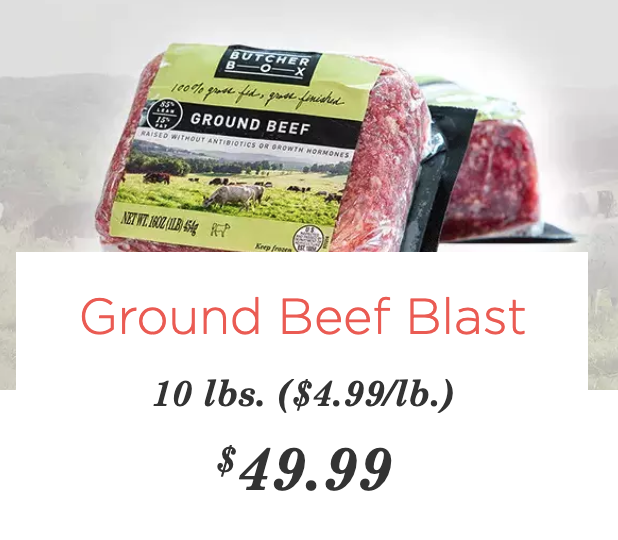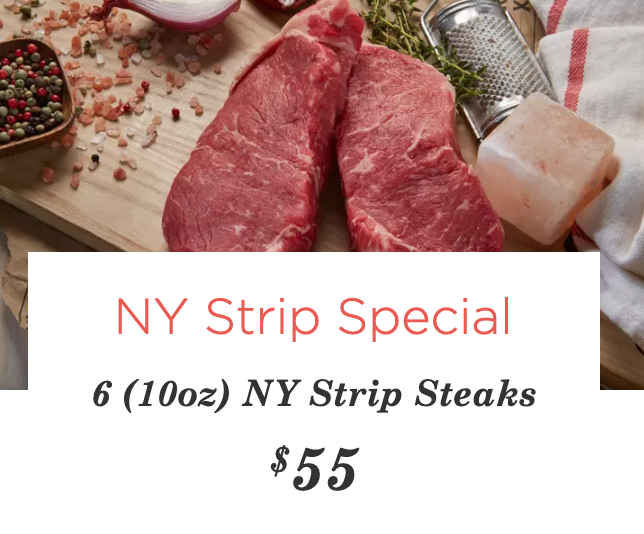 Note: They don't always have the same members specials, and you need to add them prior to each shipment going out – ButcherBox will email you to remind you that your shipment is coming close though.  Always scroll through all the members specials, new things are there each month and there are always fantastic delicious deals.
Check out and enjoy!
Then you can check out with FREE shipping (it's always free!) and you'll get your ButcherBox delivered to your door within the week!
Worried that it might come thawed, or you'll get the wrong stuff?
I had a box come thawed once (it was July and FedEx mixed up the delivery) and ButcherBox sent out a replacement box that same day that I let them know!  Their customer service really is fantastic.
A hard look at Butcher Box Cost numbers:
For the numbers people, I've broken down the above box into cost per calorie. A calorie isn't the end-all be all of nutrition, but for those of us feeding growing children, and eating a large amount of meat for health reasons we find that we just flat-out need calories, and we need them to come from food that nourishes us without causing inflammation.
If calories were our only goal, the standard American diet high in seed oils, corn syrup, and refined flour has us beat by a long shot as far as cost per calories goes. That is not the way to health, but a meat-based diet is one that people over and over are thriving on.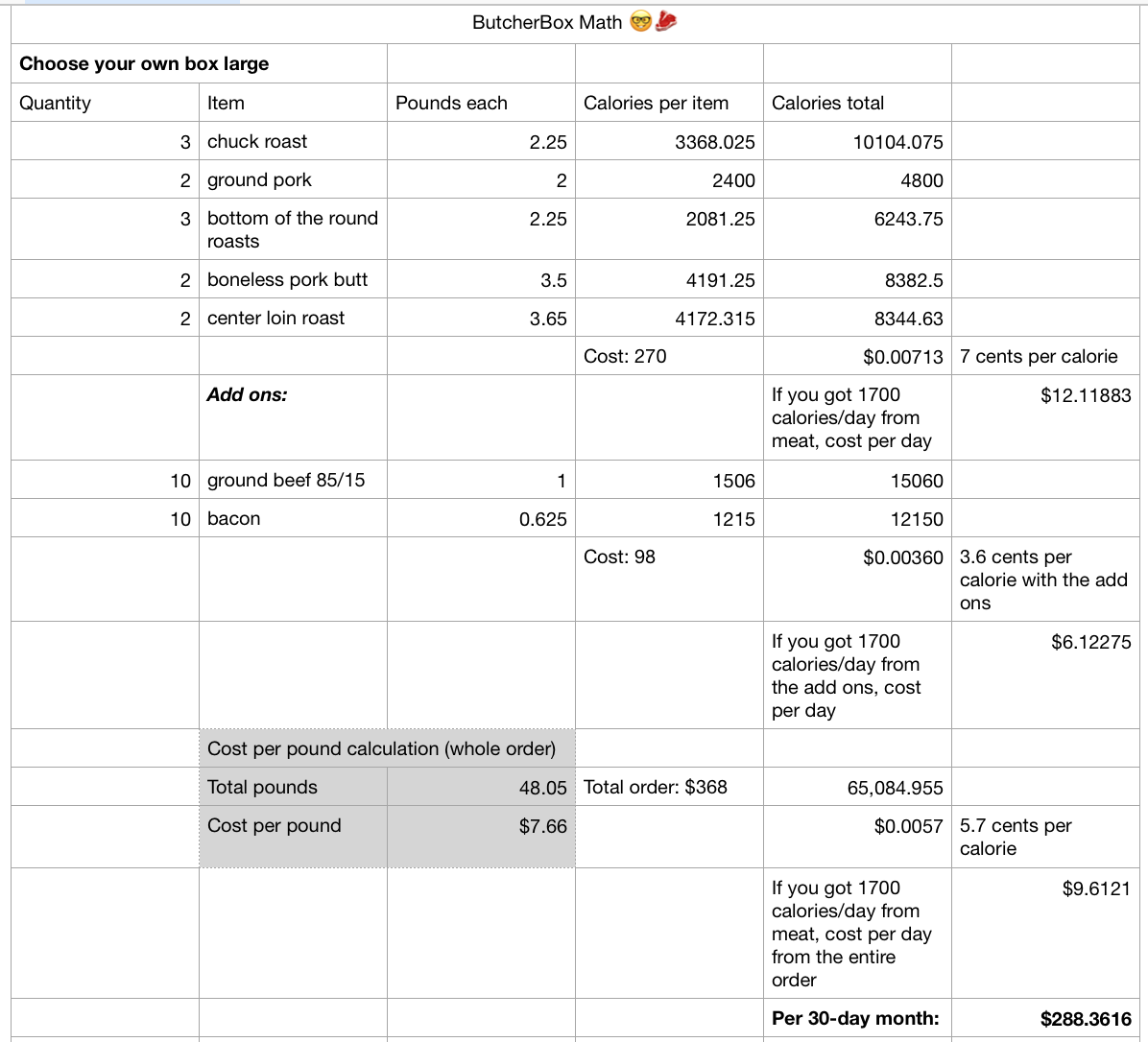 Plus the first box bonuses:
Click here to see what the current bonus is!
At the time of writing this, the promo was a free naturally raised 10-14 pound turkey in your first box that will arrive in plenty of time for Thanksgiving.
When you use my link(here), you can save $30 on your first box.
With those two first-box promotions, your cost per pound of meat, if you used all the add ons and cuts I showed above, would be less than $6/lb.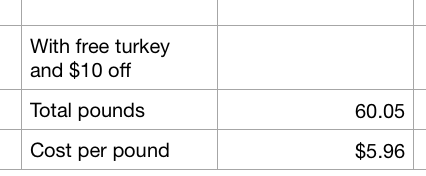 Please follow and like us: