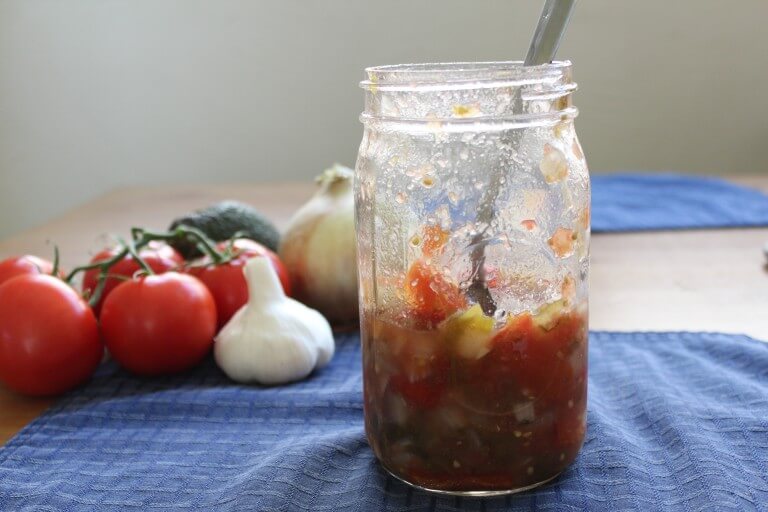 Cultured Salsa is easy to put together, and can be enjoyed fresh the day you make it.  And then cultured salsa can allowed to lacto-ferment for a day or two for the bonus of longer storage and the nutritional benefits of probiotics.
Read: Does Lacto-Fermented Food Have to Contain Lactose? 
Enjoy cultured salsa anywhere you would enjoy regular salsa- eggs, tacos, taco salad, nachos, or even to dip vegetables in.
You can add fruit for variety too- peach and pineapple (just add about 1 cup, chopped) are delicious additions when in season.
If you're in a pinch, you can also buy fresh salsa at the store and make this salsa from that. So fast, easy, and delicious!
This salsa will keep for weeks unopened after the initial fermentation.  Once you are using it (every time the jar is opened bacteria are introduced), it is best to be used up within one week.  Don't use this much salsa? Just do your initial fermentation in smaller jars that you can use in one week.
Caution: This live food tends to become carbonated, do your countertop fermentation with the jars in a shallow pan or casserole dish to contain the liquid if it leaks.  You may also want o 'burp' it before transferring to the fridge.  Just open the lid slightly and allow any gas to escape before closing tightly again for storage.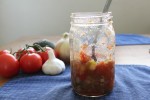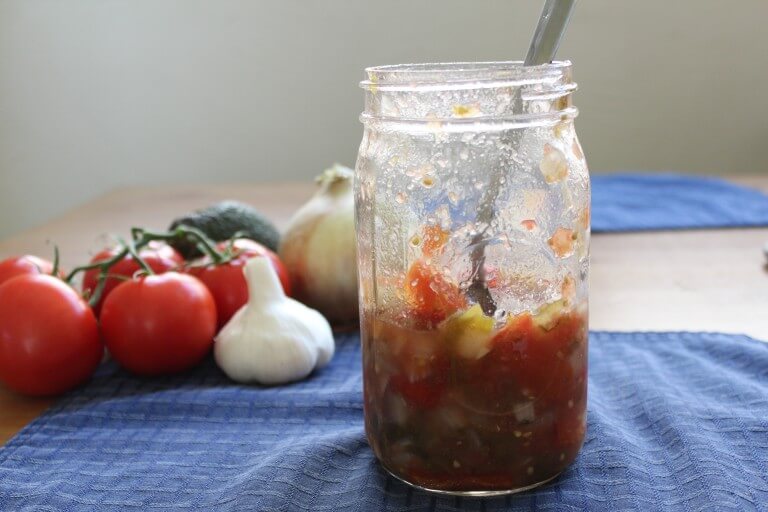 Easy Cultured Salsa
One of the more widely-accepted cultured vegetables, this lacto-fermented salsa is great on everything from eggs to tacos to nachos!
Print
Ingredients
8

medium roma tomatoes

or 3 cans of diced tomatoes

3

medium onions

6

large or 12 small chili peppers

hot or mild

12

cloves

garlic

peeled and crushed

1

bunch cilantro

chopped or 2 tablespoons dried

2

teaspoons

dried oregano

The juice of 4 lemons

1

tablespoon

sea salt

4

tablespoons

whey

optional

Filtered water as needed
Instructions
Chop tomatoes, discard seeds, and place in a bowl.

The following can be easily done by pulsing a food processor: Peel and dice onions, remove seeds of chilies under running water and dice (be careful to avoid burns, use gloves if necessary).

Mix chopped vegetables with remaining ingredients besides the water. Pack firmly into quart sized mason jars, adding filtered water if the juice does not cover the vegetables.

Salsa should be at least 1 inch below the top of the jar.

Cover tightly and allow to sit at room temperature for 1 day before transferring to the fridge.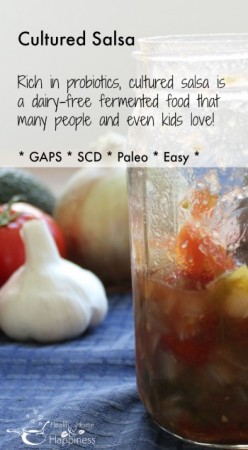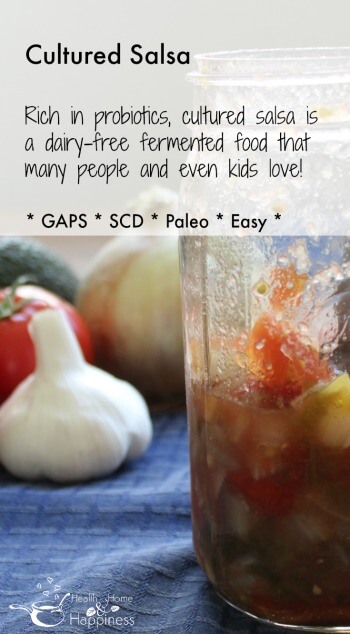 Learn how to heal leaky gut
60-page ebook of all my best GAPS Diet (Gut and Psychology Syndrome) articles all in one place.
Please follow and like us: