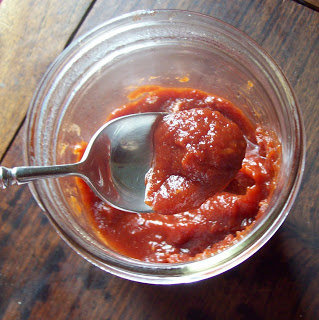 Easy! No corn syrup like supermarket ketchup, and it doesn't carry the health food store price tag.  Ketchup is a favorite for children and most adults due to the sweet taste- 'tomato syrup' is what I've heard it referred to among skeptics.  Thankfully, with this recipe you'll feel good about serving homemade ketchup as often as your family would like it.
Homemade ketchup
Easy Homemade Ketchup
Simple ketchup using honey rather than corn syrup to sweeten.
Cuisine:
GAPS, Gluten Free, Paleo, Corn Syrup Free
Ingredients
12 ounces tomato paste
4 teaspoons apple cider vinegar
½ teaspoon mustard powder
1 cup stock
¼ cup honey
½ teaspoon cinnamon
¼ teaspoon allspice
½ teaspoon sea salt (to taste)
¼ teaspoon paprika
2 cloves garlic, crushed
1 bay leaf
Directions
Combine all ingredients except the bay leaf in a medium saucepan over medium high heat, bring to a boil, stirring often. Add in bay leaf , reduce heat to medium-low, and allow the ketchup to simmer for 20 minutes or until desired thickness. If it quickly gets too thick, add in more stock to thin. Remove bay leaf.
OTHER HOMEMADE SAUCES

These sauces, dips, and condiments all add good things to your diet.  They're so healthy you won't even mind if your toddler decides to sneak a few sips out of the dip container rather than use it for its intended purpose.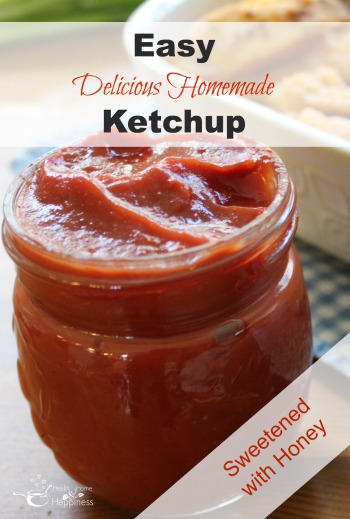 21 Easy and Delicious Grain-Free Meals
Curious about eating grain-free? I want to show you how easy and delicious it can be!
Try our best-selling meal plans... for free!
Just enter your information and I'll email it to you right away.