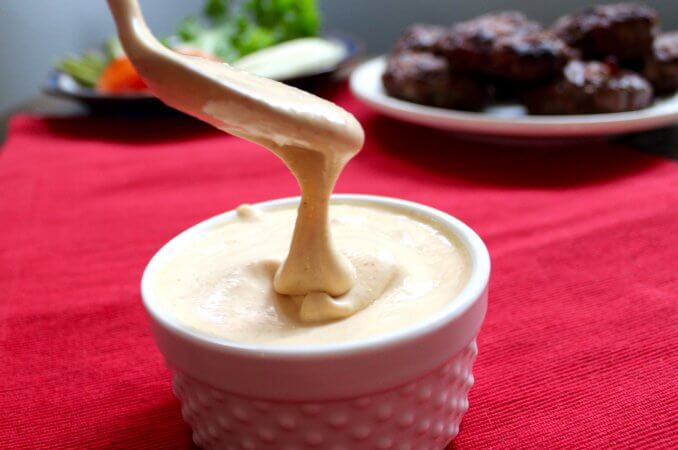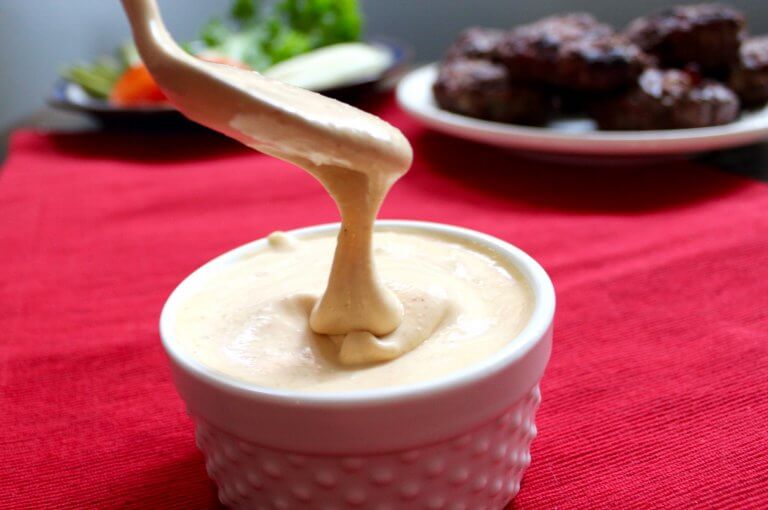 Sauces, dips, and toppings can change up the basics and make them fun again.  See below for why we want to avoid most restaurant and bottled burger sauces, and then try out this delicious and easy recipe this summer.
This burger sauce uses the traditional method of lactofermentation to allow it to keep in your fridge without preservatives.  We use real food ingredients that you most likely already have in your fridge, and the process is simple with an immersion blender.
We like to put homemade condiments in BPA-free squeeze bottles for easy storage, transport to picnics, and application by kids.
Don't limit this sauce only to burgers, it's also great to top grassfed hotdogs, and even dip chicken fingers in or dress a salad with.
Burger Sauce Ingredients
What exactly is IN that special sauce on fast food or restaurant burgers?
Let's look at a couple.  You can follow the links to the specific ingredients used and see for yourself.
(McDonalds) Soybean oil, corn syrup, preservatives, hydrolyzed soy, corn, and wheat.
(In-n-Out) The ingredients were really hard to track down, which is not a good sign for a company that claims they make everything 'fresh, the old fashioned way'.  They call their sauce a spread, and I always avoided it when we were frequent fliers at their drive through, getting 'protein style' hamburgers wrapped in lettuce.  Vani Hari's Food Babe team looked into it more and found that it includes corn syrup and yellow dye #5.
(Kraft Thousand Island Dressing) most burger sauces are essentially thousand island dressing, in theKraft version: Soybean oil, sugar, preservatives.
Avoid Sauce While Out
Avoiding sauces at most restaurants is an easy way to cut down on inflammatory PUFAs such as soybean oil, GMO corn syrup, empty calories from sugar, and preservatives.  Plain mustard is usually a safe condiment, and it even includes the super spice turmeric.
With this recipe you may find yourself eating at home more anyway, this sauce is delicious and what you need to spice up your burger routine.
Best Backyard Barbecue Burger Sauce Recipe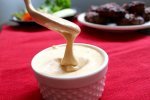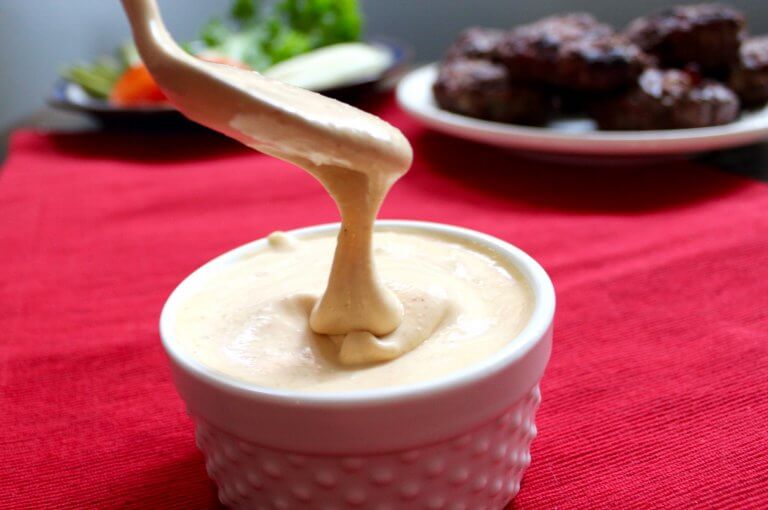 Backyard Barbecue Burger Sauce (Paleo, GAPS)
You'll love how much a simple sauce (that lasts well in the fridge due to the magic of fermentation!) dresses up the ordinary hamburger. You will see below that this sauce is made from a bunch of other condiments like mayo and lactofermented pickles- you can purchase most of these at the store, or spend a little more time and make them all at once so your fridge is stocked with condiments that promote health.
Print
Ingredients
1

cup

avocado oil mayonnaise

buy here (2-minute recipe here)

1/4

cup

ketchup

recipe here

1

small lactofermented pickle

diced (recipe here) (purchase from the health food store)

2

teaspoons

prepared yellow mustard

2

limes

juiced

4

cloves

garlic

crushed

1/2

small onion

diced

1

teaspoon

apple cider vinegar

to taste

1

teaspoon

unrefined sea salt

to taste

1/4

teaspoon

cayenne pepper

optional
Instructions
Combine all ingredients with a fork, whisk, or immersion blender.

Store covered in the fridge or in a squeeze bottle in the fridge.

Use on hamburgers, hot dogs, or even to dip vegetables in.

The beneficial probiotics in the pickle in this recipe keep this sauce from spoiling quickly, use within 2 weeks.
Other homemade sauces
These sauces, dips, and condiments all add good things to your diet.  They're so healthy you won't even mind if your toddler decides to sneak a few sips out of the dip container rather than use it for its intended purpose.

Serving Suggestion
Top grassfed hamburgers with this sauce, caramelized onions, and serve with grilled sweet potatoes for a fast and tasty summer meal.
Please follow and like us: