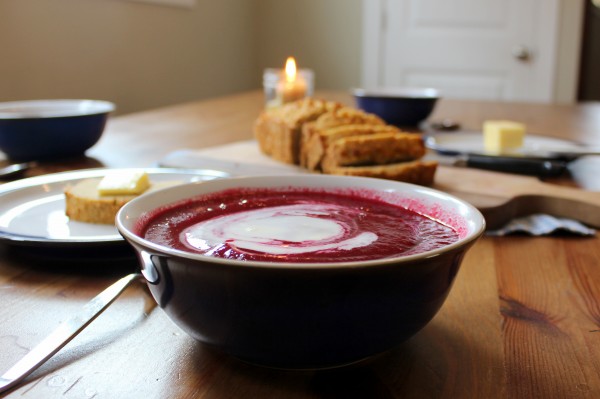 Chicken stock, especially with all the gelatinous parts of the chicken around the bone blended in, is too nourishing of a food to only eat during cold weather.  With cold soups we can get the health benefits year around.  Cold soup also makes a great lunch on the go when packed in a thermos (this is the one we use and like the best)
Cold Beet Soup
4 medium beets, peeled and chopped
4 carrots, peeled and chopped
3 cups stock, or more to thin the soup as desired
½ teaspoon sea salt, or to taste
¼ teaspoon pepper
¼ teaspoon cayenne pepper (optional)
¼ cup fresh dill, finely chopped (optional)
2 cloves garlic (add more to taste)
Cultured cream, to serve (optional)
Directions for cold beet soup:
Place the beets, carrots, and stock in a crock pot. Cook on low 8 hours or high 4 hours, until the beets are soft. Add remaining ingredients and puree in a food processor or blender.  Add more stock to thin as desired. Chill well and serve topped with yogurt or cultured cream as desired.  This soup is fantastic served with grain free zucchini muffins to use even more of your fresh garden produce!
Hot weather tip: Cold soups can be made entirely in the slow cooker, which can be placed out in a garage, laundry room, or other area where it will not heat up the house.  You can use the slow cooker for the chicken stock too- either grill or cook chicken in a crock pot, eat the meat and return the bones to the pot. Fill with filtered water and 1 teaspoon apple cider vinegar if desired to help draw minerals from the bones.  Cook on high for 8 hours or overnight on low.  Strain chicken stock into a glass container to store. Pull off any remaining meat and use that in sandwiches or on salad, pull off all the soft gelatinous bits and add these to the beet soup as you are pureeing.
21 Easy and Delicious Grain-Free Meals
Curious about eating grain-free? I want to show you how easy and delicious it can be!
Try our best-selling meal plans... for free!
Just enter your information and I'll email it to you right away.