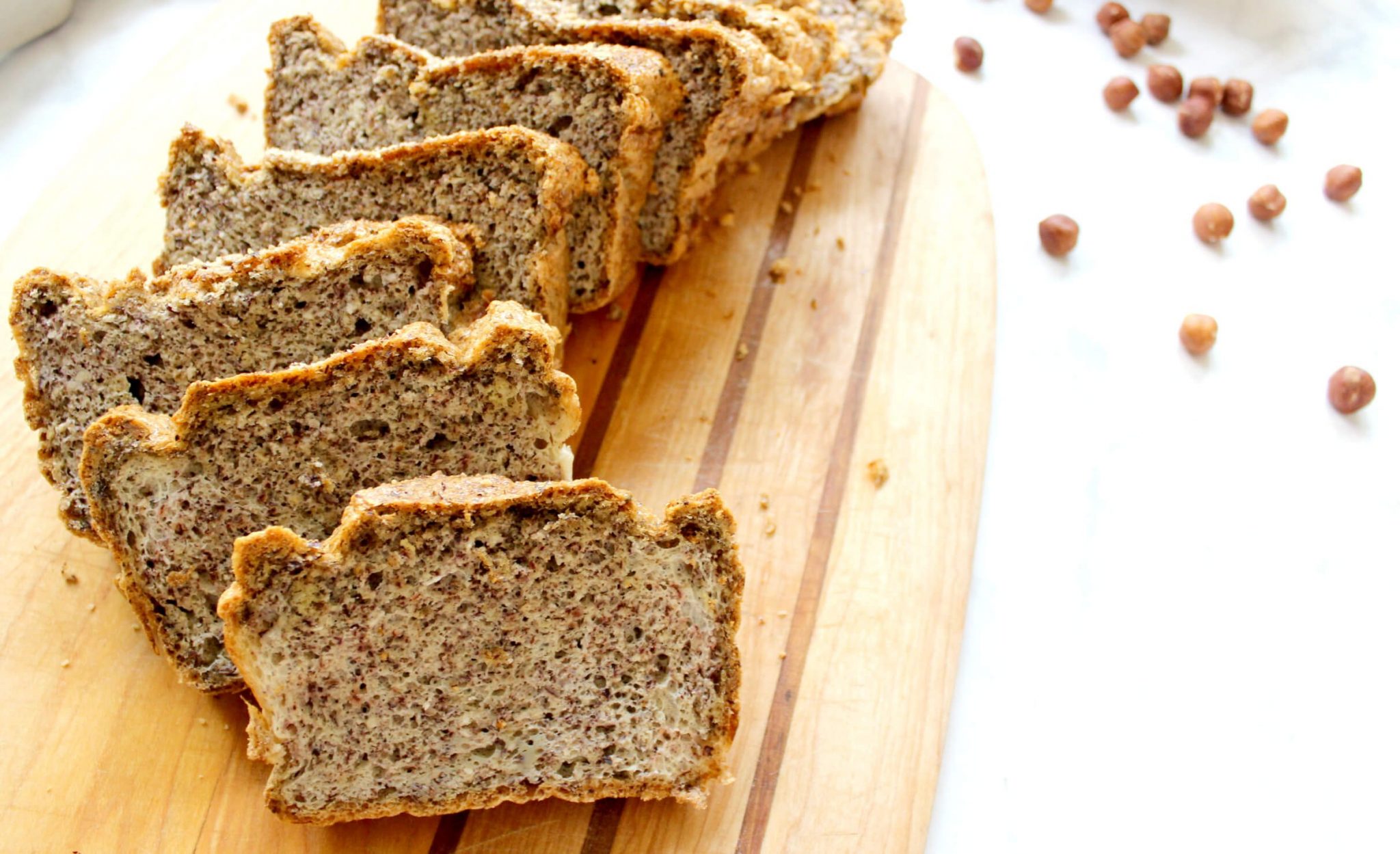 A bread that rises like bread as it bakes, and is light and fluffy rather than dense has been hard to find when cooking without grains or starches.  This low-carb bread is baked in a regular loaf pan and can make a full-sized sandwich, perfect for lunch boxes.  It holds together well, and is sturdy enough to make sandwiches on.
Here I'm using hazelnut flour, I prefer the slightly rich-sweet taste of hazelnut flour over almond flour, though almond flour can be used in the place of the hazelnut flour.  This bread can be dairy-free if you use coconut oil in place of the butter, but you'll want to add 1/4 teaspoon more salt.  I developed this recipe specifically for the dairy-free portion of our Keto Family Class.
Fathead dough is another 'low carb bread alternative' but it is more dense, and high in dairy.  While we don't avoid dairy completely, it's easy to get too dairy-heavy on keto, so we like to switch it up a bit.
This nut-based fluffy bread, which is lighter both in calories and feel, is a perfect easy recipe for your low-carb kitchen for sandwich building, making french toast, and even toasting and slathering with butter!
About the recipe:
You'll notice in the recipe separates out the eggs and whips the whites until stiff.  I typically don't do multi-bowl recipes, but the egg whites really give this bread a great rise.
Yes, because there are so many eggs in the recipe it does taste a little bit like egg, but it's not something that we mind at all. Adding a little sweetener (stevia used here) cuts the eggy taste, as does the richness of the hazelnuts.
About baked goods on keto:
Just like GAPS and Paleo, you are going to feel best on the ketogenic diet if your diet is not made up mostly of bread-like concoctions made from alternative flours.  That said, a thick slice of toast with loads of butter, or topped with a couple fried eggs and bacon does have its place in creating 'normality' in the ketogenic diet.
That's where this bread comes in.  Use it as a vehicle for healthy fats, proteins, and yes, vegetables.  Take care not to fall into the pattern of thinking that just because something is low carb, it necessarily is going to give you all the benefits of the ketogenic diet.
As I said before, you cannot live on keto brownies and expect to get the energy and brain-boosting properties of keto – the same goes for keto breads.  I want you to feel good, okay? :)
For my GAPSters, I recommend you limit baked goods, especially nut-based baked goods to a few times a week. Since you are healing your gut, not just using ketosis for fat loss or to boost your brain, it is even more important that the majority of your meals are made up of easy-to-digest proteins, fats, and vegetables.
Recipe: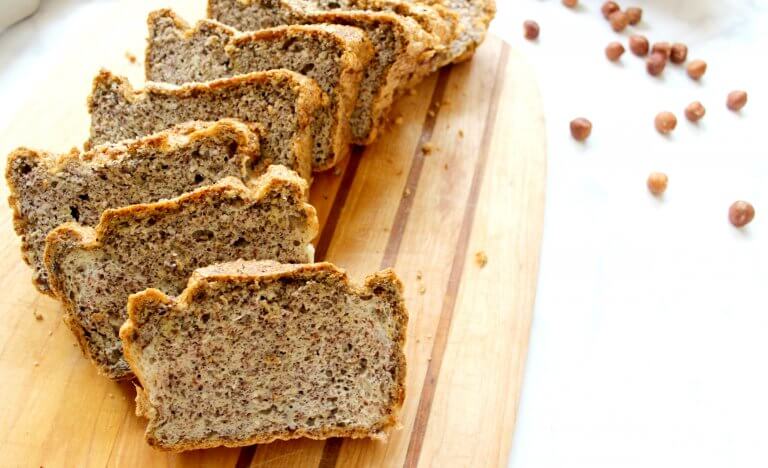 Keto Hazelnut Sandwich Bread (GAPS, Dairy-Free)
This light and fluffy bread is perfect for sandwiches, french toast, and even toasting!
Print
Ingredients
6

eggs

separated

1/8

teaspoon

cream of tartar

4

tablespoons

melted butter

ghee, or coconut oil (add 1/4 teaspoon salt if using coconut oil)

1-1/2

cups

hazelnut flour

find here

2

packets stevia

or equivalent of another no-carb sweetener

1/2

teaspoon

sea salt

Extra hazelnut flour to sprinkle the top of the loaf

optional
Instructions
Preheat oven to 375*F and prepare a loaf pan by greasing well with coconut oil, or (my preferred method) lining with parchment paper and then greasing that.

Whip the egg whites and cream of tartar (I like to use a whip attachment in a stand mixer) until stiff peaks form.

Mix the egg yolks, melted butter, hazelnut flour, stevia, and sea salt in a separate bowl until well combined. If it is too thick to mix well, add a little bit of the egg white (before whipping) to it until you can easily mix it.

Once the egg whites are fluffy, throughly but quickly and gently mix in the egg yolk mixture. You want the bread batter to be completely mixed through, but over mixing will cause the air pockets to deflate and your bread won't be as tall.

Pour batter into prepared loaf pan and smooth with a spatula. Batter should come up to about 1 inch below the top of the loaf pan; if there is extra, bake in a small custard cup or muffin pan. Sprinkle the top if desired with extra flour. We just sprinkle the top with flour to give it a more 'bread like' appearance.

Bake for 25-35 minutes, or until a knife inserted into the center of the loaf comes out clean. Allow to cool for 5 minutes in the pan, then remove from the pan and remove parchment paper and allow to cool completely on a metal cooling rack before slicing into 10 slices.
Recipe Notes
Standard-sized metal loaf pan is used for this recipe, I use this one.
Nutrition facts assume 10 slices of bread are cut per loaf.
Nutrition Facts
Keto Hazelnut Sandwich Bread (GAPS, Dairy-Free)
Amount Per Serving (1 slice)
Calories 167
Calories from Fat 144
% Daily Value*
Fat 16g25%
Carbohydrates 3g1%
Protein 6g12%
* Percent Daily Values are based on a 2000 calorie diet.
More keto baking:

Free Ebook this month only: 20 Grain-Free Breakfast Recipes
20 Delicious Breakfast Recipes suitable for GAPS and Paleo diets!
Please follow and like us: