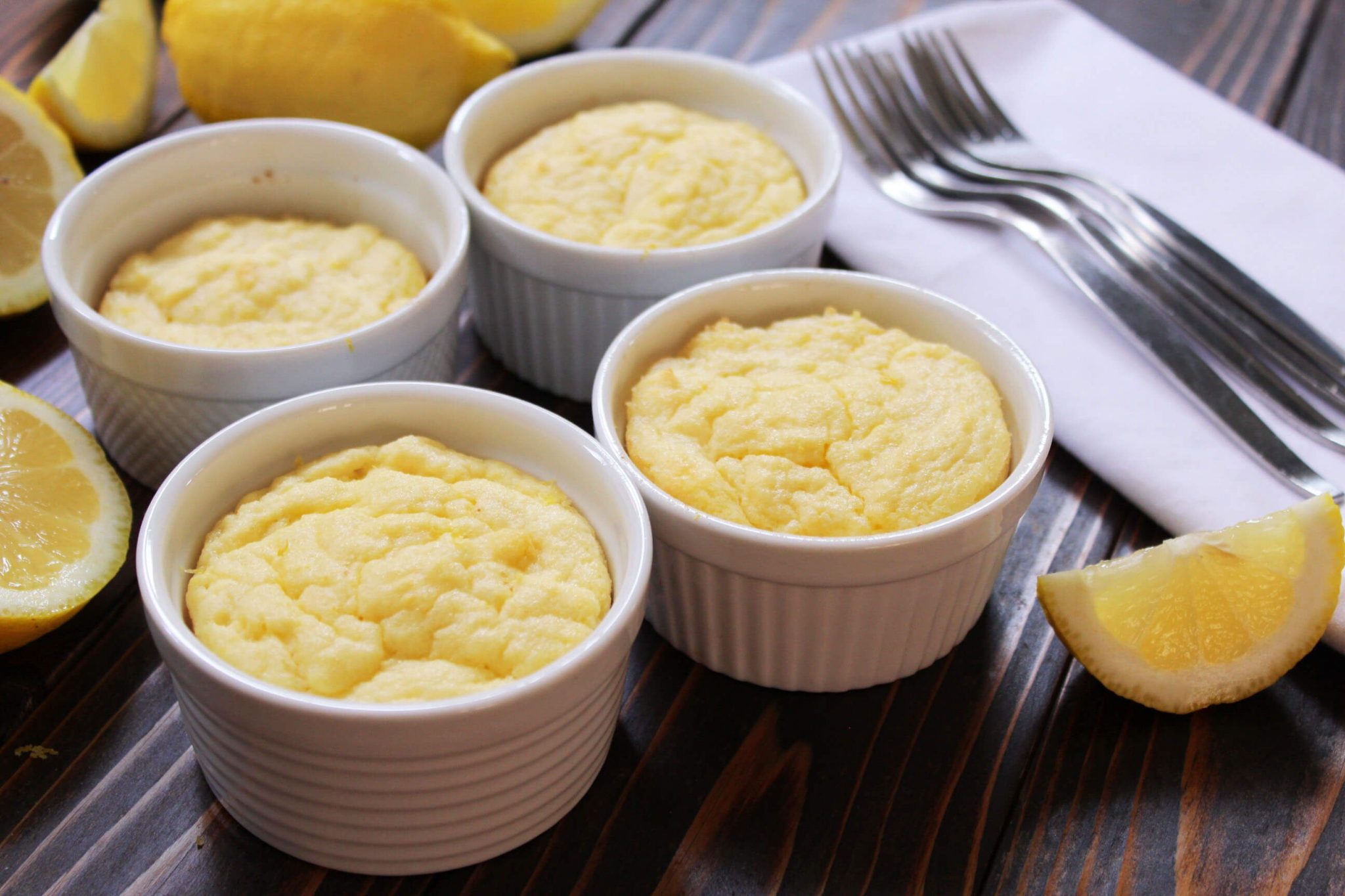 If you aren't familiar with mug cakes, they are delicious little no-fuss low-carb (2 net carb per cake) cakes that can be made in tiny batches.  I used ramekins here, but you could easily use a coffee mug to cook them in… hence the name :)
As I've talked about previously, we don't use erythritol in our kitchen, so the challenge for us was to come up with a cake that we could sweeten using stevia without having it taste weird.  Enter lemon cake!  Lemon goes well with both coconut and stevia, allowing us to make this with coconut flour and sweeten it with stevia.
New to keto? Learn more about the keto diet here
New to keto? Click here to see how the ketogenic diet works for weight loss, as well as other health benefits. You can also see exactly what you can and cannot eat, and learn the essentials of how to start!
GAPS Notes
If you need a quick gluten-free dairy-free cake, this is right for you as well! If you're not watching carbs, a mild raw honey (use 1 tablespoon per packet of stevia called for) works well in this recipe as well. You may need to increase the baking time a touch when using honey.
Heavy whipping cream is not GAPS-friendly since it contains lactose, so use coconut milk instead.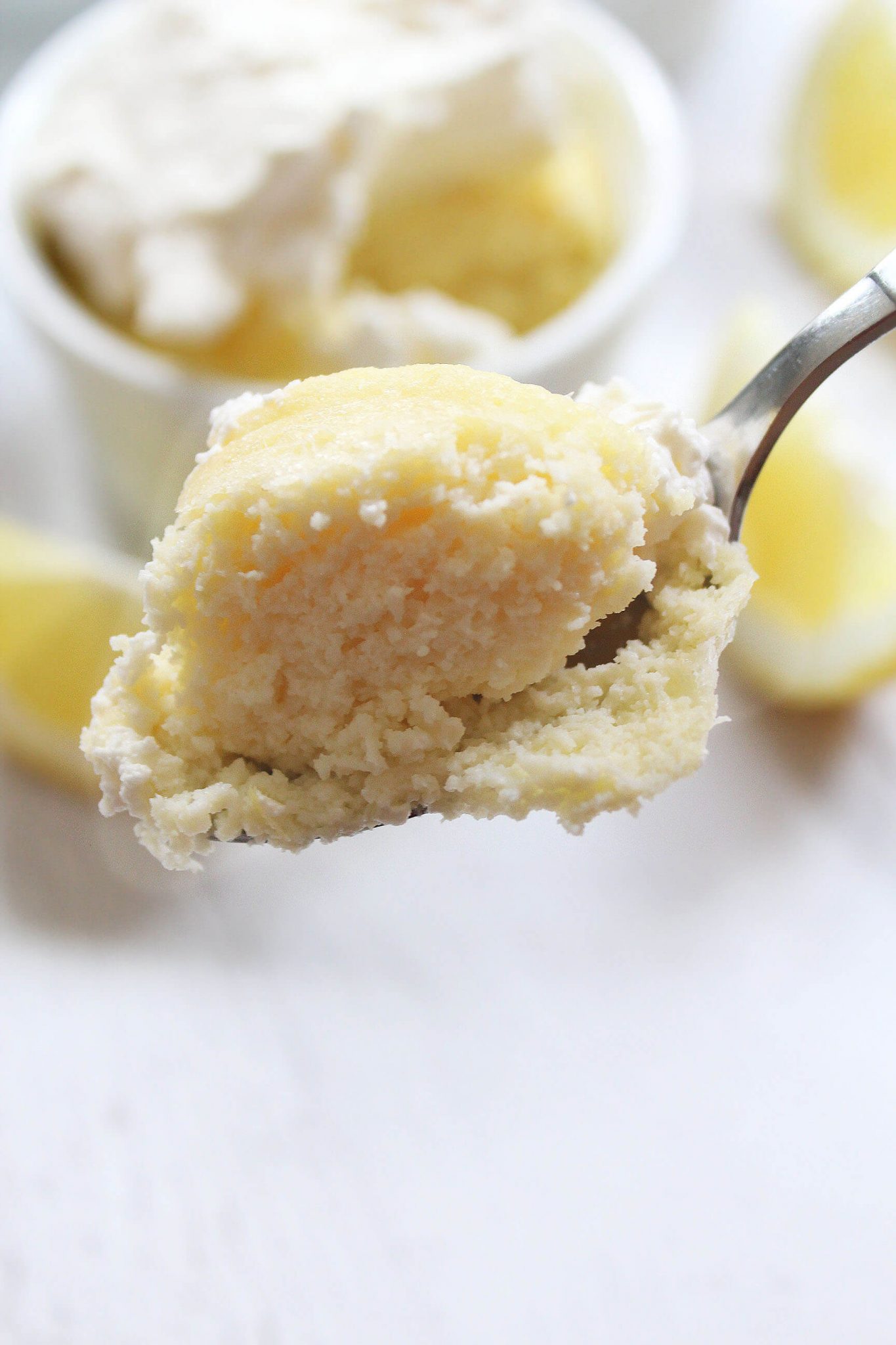 If you'd like to make a small batch of cupcakes, this recipe will fit into 6 cupcake liners.  After they have cooled, pop them in the freezer and your GAPS kiddo (or yourself) can bring them along to classroom celebrations and birthday parties without feeling left out.
My daughter's teacher has already requested I bring half a dozen of these for her to keep in the classroom freezer, which I'm thrilled about!
About the 'cake' consistency
Being low-carb, these cakes are not the exact same consistency as wheat cake made with real sugar and flour.  But they can really satisfy a cake craving and are delicious on their own. These mug cakes are a little more custardy-soft than traditional cake.
Mimicking treats can be a challenge when you are low-carb or allergy-free baking.  Sadly, we cannot make healthy food taste and feel exactly the same as the food that got you sick in the first place, so we make-do with yummy substitutes. But they are just that, substitutes.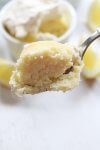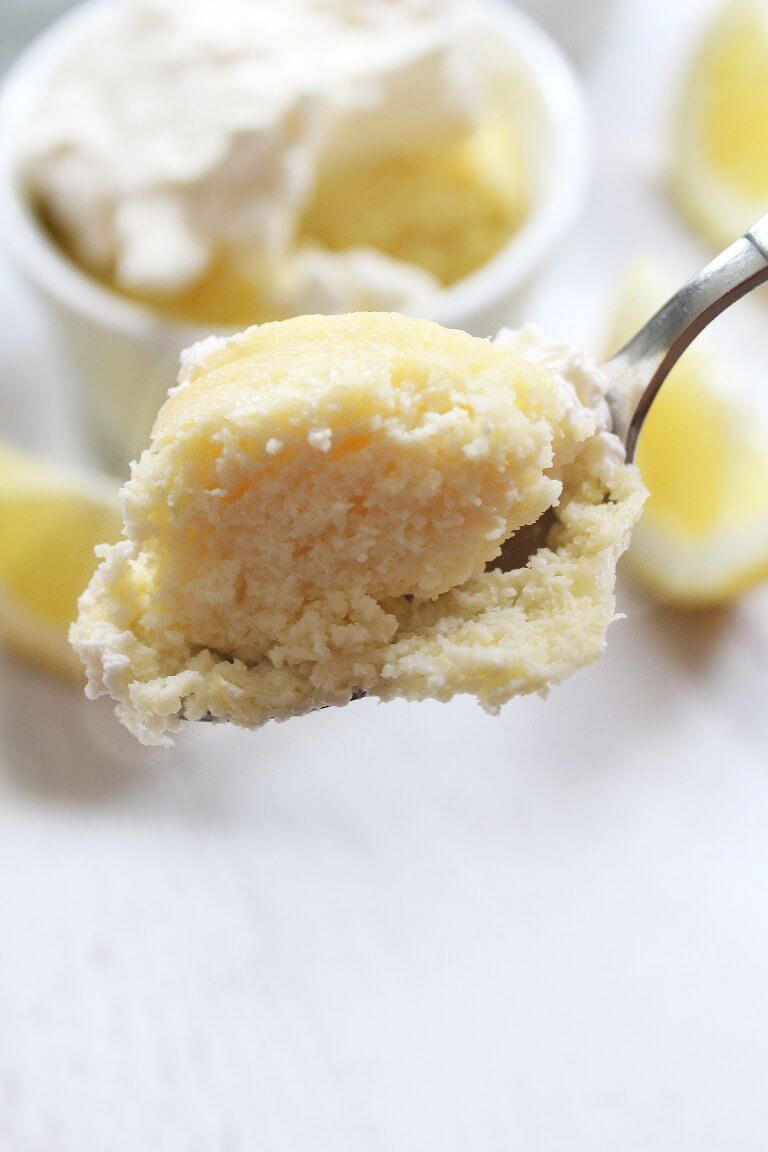 Keto Lemon Mug Cake Recipe
This ketogenic diet-friendly mug cake recipe serves 4, perfect for when you want a sweet treat for the family (or to freezer for yourself for later!) but don't want loads of leftovers.
Print
Instructions
Preheat oven to 375* F

Grease 4 custard cups or ramekins with butter or coconut oil (I use

these

, they are 5 oz but any cup between 4 and 6 oz should work)

Combine eggs, lemon juice, coconut milk or heavy cream, lemon zest, stevia, sea salt, and coconut flour and stir well.

Allow to sit for 5 minutes (this is the trick to getting coconut flour to not be clumpy) and then stir again until completely smooth.

Add in baking soda, and stir again.

Evenly pour batter into 4 custard cups and then place in the oven.

Bake for 20 minutes, or until edges are starting to turn golden brown, 'cake' springs back when you gently press on it, and a knife or toothpick inserted into the middle comes out clean.

Cool, and then top as desired with stevia-sweetened whipped cream, or

whipped coconut cream

to make it dairy-free.
Recipe Notes
To make a single serving of this mug cake, use 1 egg, 2 tablespoons lemon juice, the zest of 1/4 a lemon, 2 tablespoons cream, 2 tablespoons coconut flour, 1 packet stevia, a tiny bit of salt, and tiny bit of baking soda (small pinch of each). Place in a mug or a 6-ounce ramekin. Microwave for 1:30 on high, or bake as directed for the full batch. The nutrition values for the individual cake haven't been calculated.
Nutrition Facts
Keto Lemon Mug Cake Recipe
Amount Per Serving (1 g)
Calories 110
Calories from Fat 63
% Daily Value*
Fat 7g11%
Carbohydrates 5g2%
Protein 6g12%
* Percent Daily Values are based on a 2000 calorie diet.

Hi! I'm Cara and I want to help you get started on the ketogenic diet!
In this FREE workshop we cover the basics of ??? what you can and can't eat on keto, ✔️? the essential role of electrolytes in avoiding the keto flu and boosting your energy and mental clarity, ↘️ how and why you'll see dramatic weight loss results in the first week, ??? what to do about carb cravings and how to get rid of your sweet tooth for good,  ?? and how to get rid of the mental hangups associated with starting and sticking to a way of eating that you know is beneficial to your body.
Start your keto transformation (even those familiar with keto will learn some new tips) by signing up today! ??????
Please follow and like us: