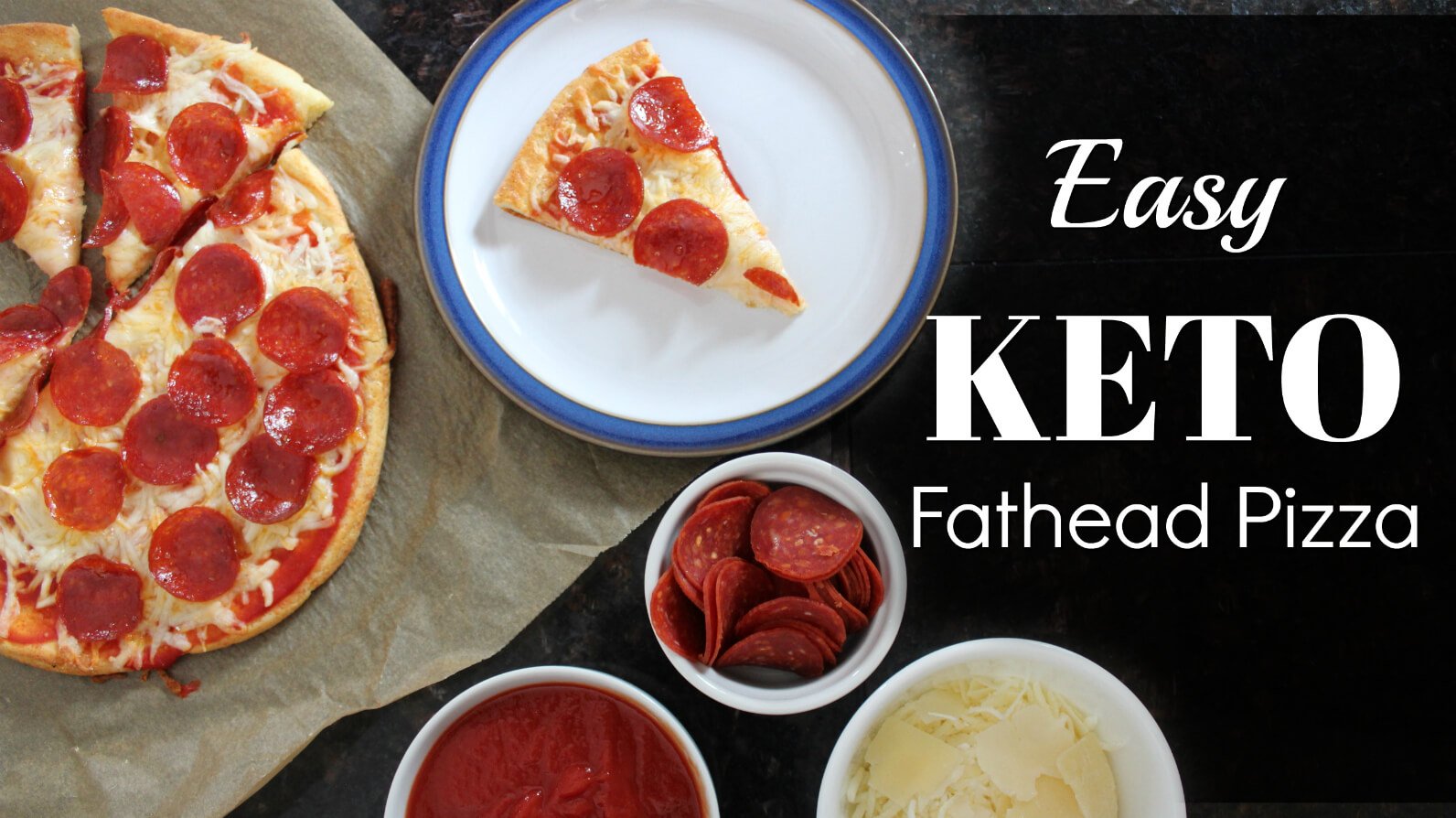 Fathead dough originated from the movie Fathead and is a game-changer for those eating low carb or grain-free! The dough is made unconventionally, by melting cheese and kneading in almond flour and eggs, but it holds together and can make a fantastic ketogenic pizza that even carb-lovers will love!
One of our family traditions is Pizza Friday.  The first few weeks that I enjoyed salad, which the kids enjoyed alongside their pizza as well. And then… I discovered fathead dough! One night of adventurous experimenting (the recipe is weird, which you will see in a minute) led to a week of experimenting with this dough every which way.
Everyone who has tried this fathead dough has loved it and been really surprised that it is low carb.  Today we're not only making pizza dough with it, but also 'pigs in a blanket' made with Applegate hotdogs.
If you don't have Applegate or other organic hotdogs near you, check out US Wellness Meats. They also have great grassfed beef hotdogs!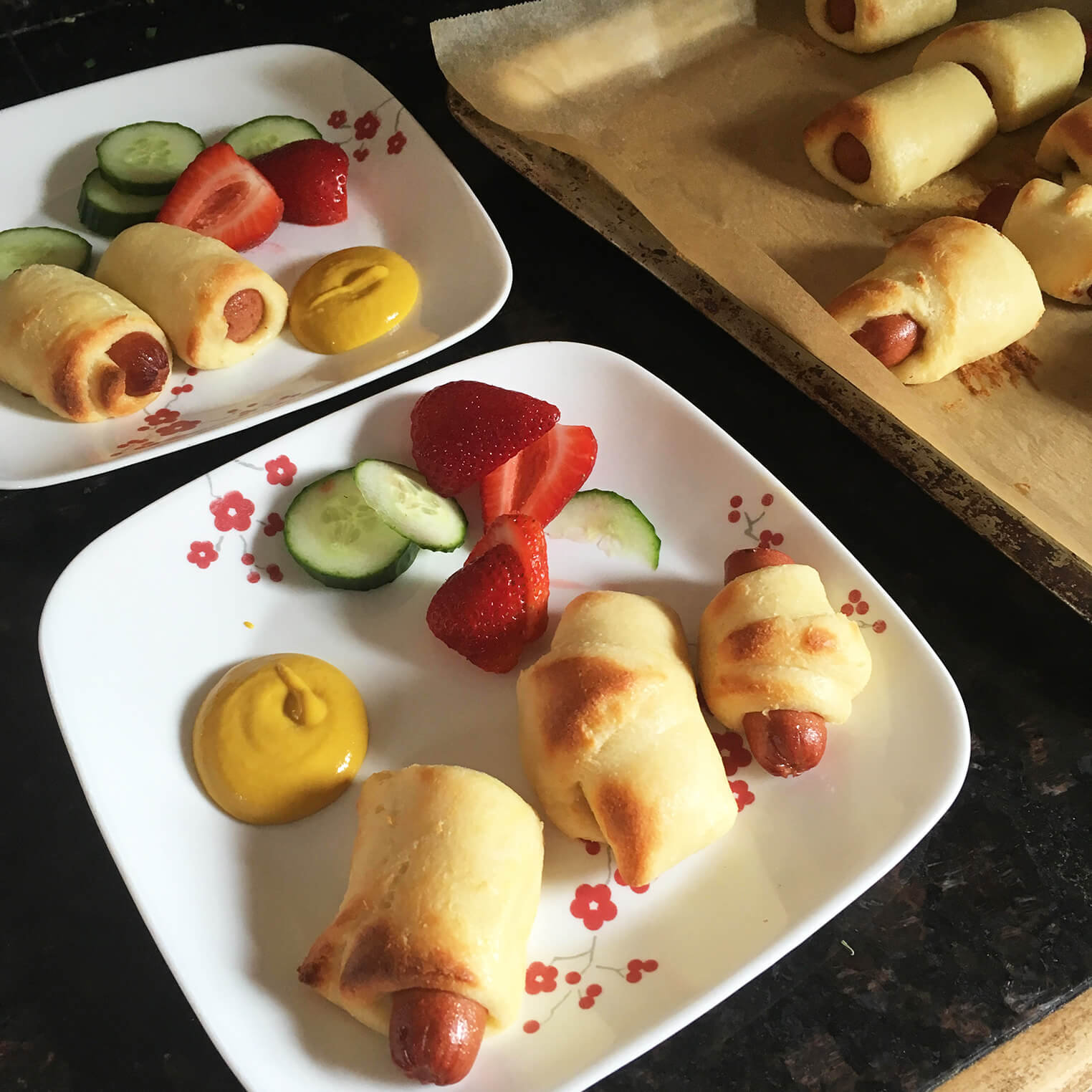 GAPS/SCD Notes:
Technically mozzarella cheese is not allowed on GAPS or SCD.  This recipe does work with white cheddar too, but it's a little more dry.    I do use mozzarella on GAPS personally, I just don't use the fresh (delicious) mozzarella that is available in brine in some stores.  I believe the low-moisture mozzarella is aged, but I'm not sure of the specifics. It did work for us to use low moisture mozzarella.
You DO want to be careful of ingredients in pre-grated mozzarella. Potato starch and other fillers can be added, which can derail your progress on the GAPS Diet.  To be safe, grate your own from a big block.  This can be done quickly with a food processor grating attachment.
Microwave notes:
It might surprise you, but I DO use a microwave in my kitchen. I use it in this recipe as well, to melt the cheese.   I'll try to experiment with oven instructions, but for now I know the microwave works. If you experiment with something other than the microwave, I'd love to hear your results!
Hotdogs, Microwaves, and Pizza… I'm full of surprises today, aren't I? :)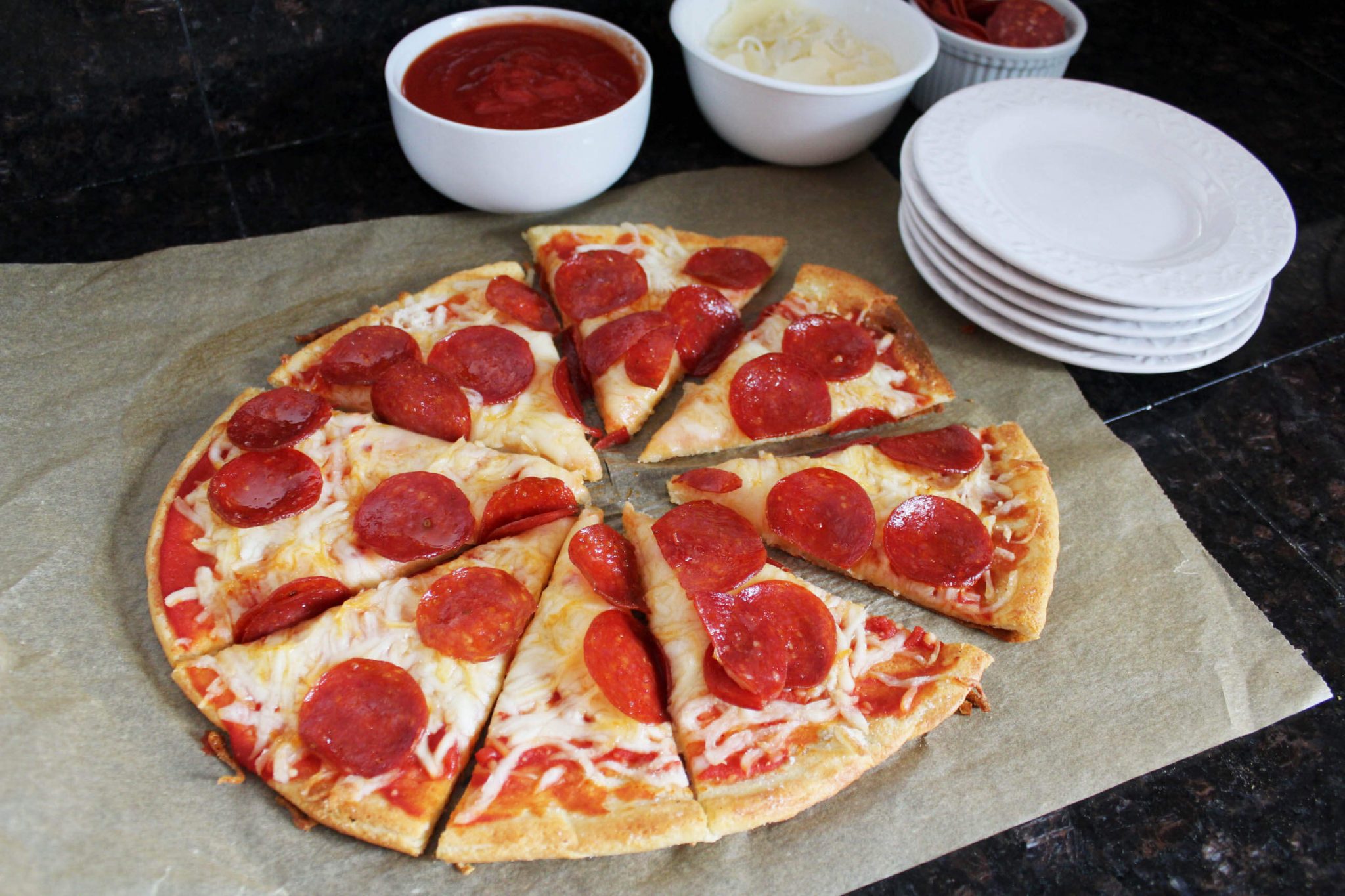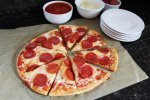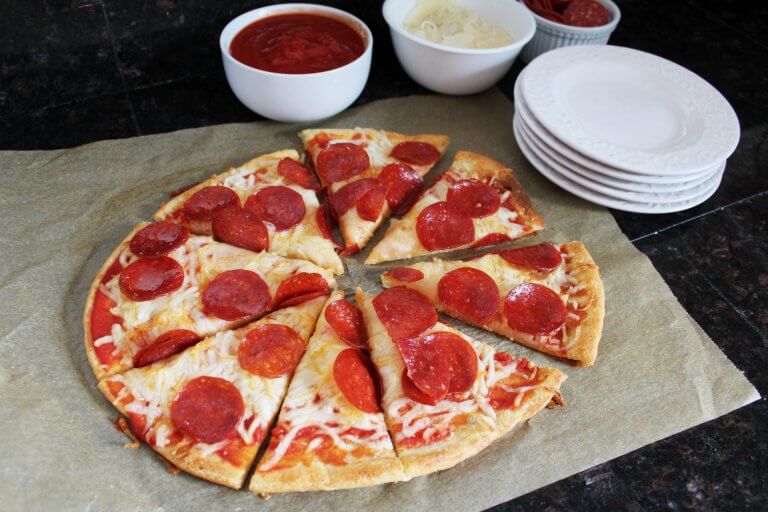 Keto Fathead Pizza and Pigs in a Blanket (GAPS too!)
This low carb cheese-based dough is perfect for pizza, pigs in a blanket, and even delicious on its own!
Print
Instructions
Pre-heat oven to 400* F.

In a medium microwave-safe bowl, place the shredded mozzarella, almond flour, and cream cheese. No need to mix yet.

Microwave on high for 1 minute, stir to start combining and eliminate any hot spots (it'll come together more in later steps) and microwave for an additional 60-90 seconds.

Stir again for a few seconds, and as soon as the dough isn't scalding hot, crack the egg into it. Mix immediately, kneading like bread dough. Watch the video at 1:00 to see this part, this step can be kind of weird sounding, so the video will help!

Once the egg is completely mixed in, the dough should be elastic, like wheat dough.
For Pizza:
Roll into desired shape for pizza between two sheets of parchment paper. Remove top sheet and place pizza dough (keeping it on the bottom sheet of parchment) onto a baking sheet.

Bake for 20 minutes.

Once the pizza is baked, flip over (this helps the crust to hold its shape under the toppings) and top as desired.

Return to oven for another 5-10 minutes to melt the cheese.

Enjoy!

For Pigs in a Blanket
Cut grassfed hotdogs in half, or leave whole if desired.

Roll the fathead dough into a circle about 1/4-1/2" thick.

Cut into the amount of triangles needed (one per hotdog piece)

Starting with the wide end of the triangles and working your way toward the narrow tip of the triangle, roll hotdogs up. Gently secure dough around the edges if needed, but they probably will stay on your hotdog just fine.

Place your wrapped hotdogs on parchment an inch apart. Bake for 15 minutes, or until dough is golden brown and starting to turn brown at parts. The cook time will depend on the thickness of your dough.

Enjoy! These are great re-heated the next day as well.
Recipe Notes
Don't forget to watch the recipe video below! As I said, the directions are unlike anything I had done before, but the process really is very easy and forgiving!
Nutrition Facts
Keto Fathead Pizza and Pigs in a Blanket (GAPS too!)
Amount Per Serving (1 serving)
Calories 286
Calories from Fat 207
% Daily Value*
Fat 23g35%
Cholesterol 82mg27%
Sodium 305mg13%
Potassium 57mg2%
Carbohydrates 5g2%
Protein 15g30%
Vitamin A 445IU9%
Calcium 272mg27%
Iron 1.2mg7%
* Percent Daily Values are based on a 2000 calorie diet.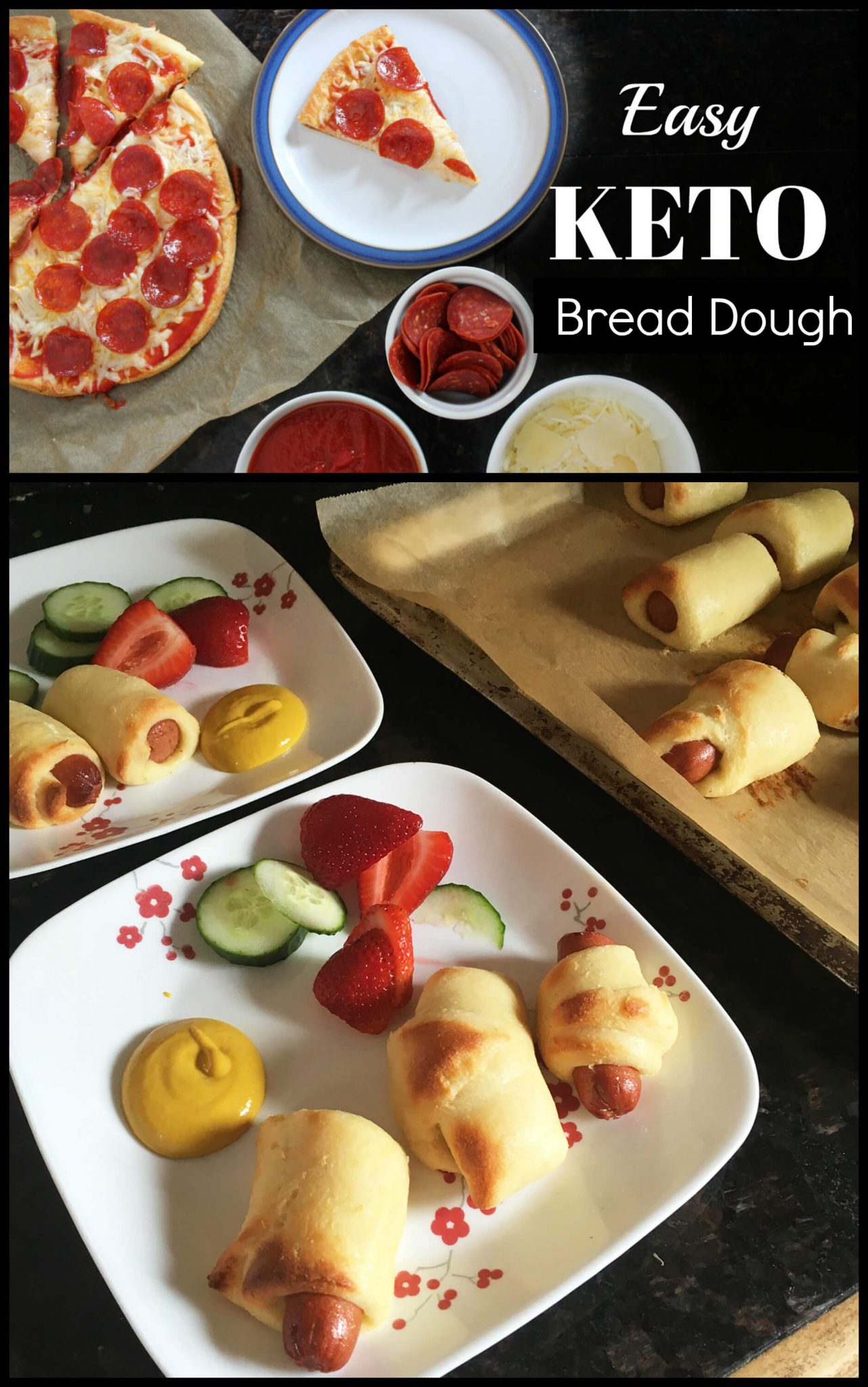 Please follow and like us: