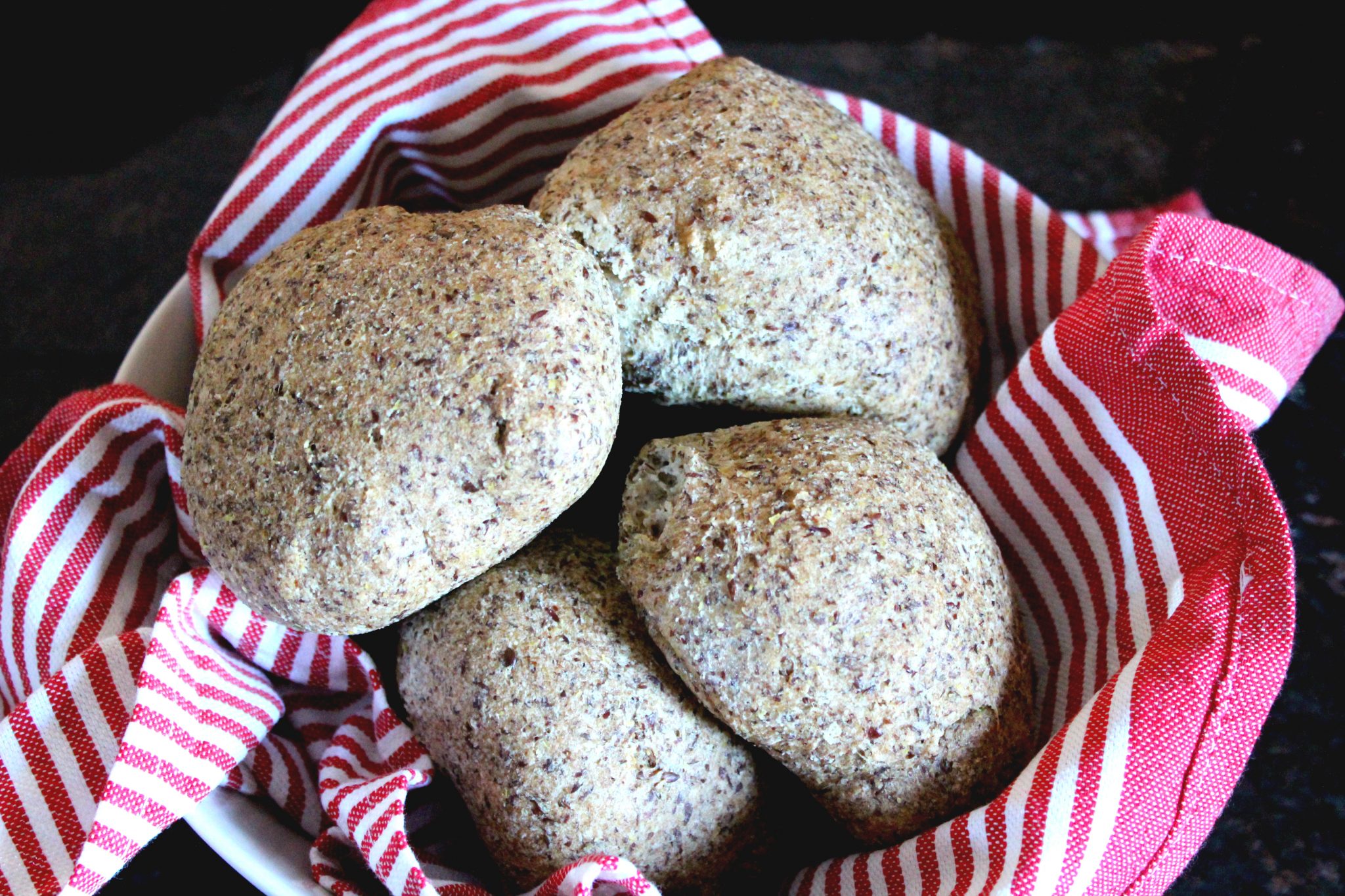 It's hard to believe that there is no wheat, dairy, eggs, or yeast in these fluffy low-carb dinner rolls! The magic of high-fiber flax and psyllium husk powder creates an elastic dough that is combined with almond flour, baking powder, salt, and water to make easy and delicious keto-friendly rolls.
The process to make these keto rolls is easy, but different than most quick bread. You'll want to read the directions carefully to make sure your dough comes together nicely and your rolls turn out.
How is this recipe low carb?
Fiber is not digestible, and so it does not impact blood glucose, insulin, or your overall 'carb count' for a keto diet. Though each of these dairy-free and egg-free keto bread rolls has 20 grams of carbohydrate total, 16 of those grams are non-digestible fiber. When you subtract fiber from overall carbohydrates, you get each roll having 4 grams of net carbs.
Read more: How to Start the Ketogenic Diet & What You Can Eat on Keto
Are these keto rolls allowed on the GAPS diet?
While psyllium husk is not specifically indicated on either the 'allowed' or 'not allowed' GAPS diet food list, it is not allowed on SCD because of the carbohydrates that make it up. Psyllium husk is considered a prebiotic. Prebiotics feed the bacteria in the digestive tract. In GAPS and SCD, we are trying to starve out those bacteria, so when you are on the temporary GAPS diet, this recipe is not recommended.
If you can have dairy, fathead dough is recommended to make rolls. If you can have eggs, almond flour bread is recommended for GAPS.
Read more: Everything You Need to Know About The GAPS Diet
What can these keto dinner rolls be used for?
These keto bread rolls are beautiful buns for burgers, terrific alongside keto soups, and amazing for sandwich fillings! I bet if you make a batch you'll find that you reach for them again and again!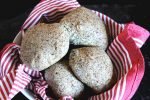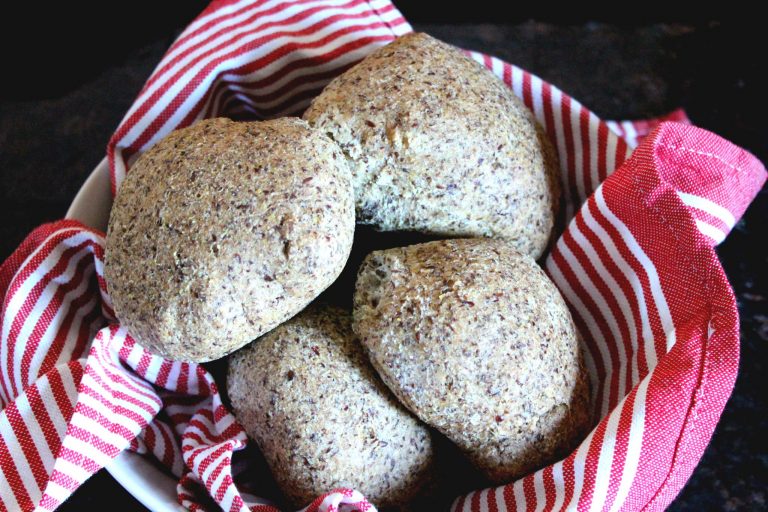 Dairy-Free and Egg-Free Keto Bread Rolls
Use this allergy-friendly keto bread as a side for soups, or to fill with your favorite sandwich fillings. These rolls are delicious, and a welcome addition to a low-carb diet. The dough to make these allergy-friendly bread rolls is delightfully elastic (a plus for those of us who used to LOVE working with wheat bread dough) and can be sprinkled with sesame seeds or even Everything But The Bagel Seasoning before baking.
Print
Instructions
To make the flax egg, to a small bowl, add flax seeds and water and whisk together. Allow to rest for 5 minutes

In a medium bowl, add the almond flour, ground flax seeds, psyllium husk powder, salt, and baking powder and whisk together until well combined.

Next add flax egg to the dry ingredients and mix with electric mixer or vigorously with a fork until well-combined.

Heat water. If you heat it over the stove, heat more than you need to allow for evaporation. You need 1-1/4 cups hot water.

Slowly add hot water to the dough mixture, stirring as you add it. Mix until all ingredients are combined.

Let dough rest for 5-10 minutes as the oven preheats to 375 degrees. As the oven preheats, line a baking sheet with parchment paper. If you are usign stoneware, allow the baking sheet to preheat in the oven.

Form dough into 8 equal rolls. This elastic dough works best if you form it by squeezing, in the same way you would make a hamburger patty.

Bake for 45 minutes.

Remove rolls from oven and allow to cool before serving.
Recipe Notes
4 net carbs per roll.
**If you're not egg-free, you can replace the flax egg in the recipe with 3 whole eggs and continue on with the recipe as written.
Nutrition Facts
Dairy-Free and Egg-Free Keto Bread Rolls
Amount Per Serving (1 roll)
Calories 206
Calories from Fat 117
% Daily Value*
Fat 13g20%
Sodium 295mg12%
Potassium 274mg8%
Carbohydrates 20g7%
Protein 5g10%
Calcium 145mg15%
Iron 1.4mg8%
* Percent Daily Values are based on a 2000 calorie diet.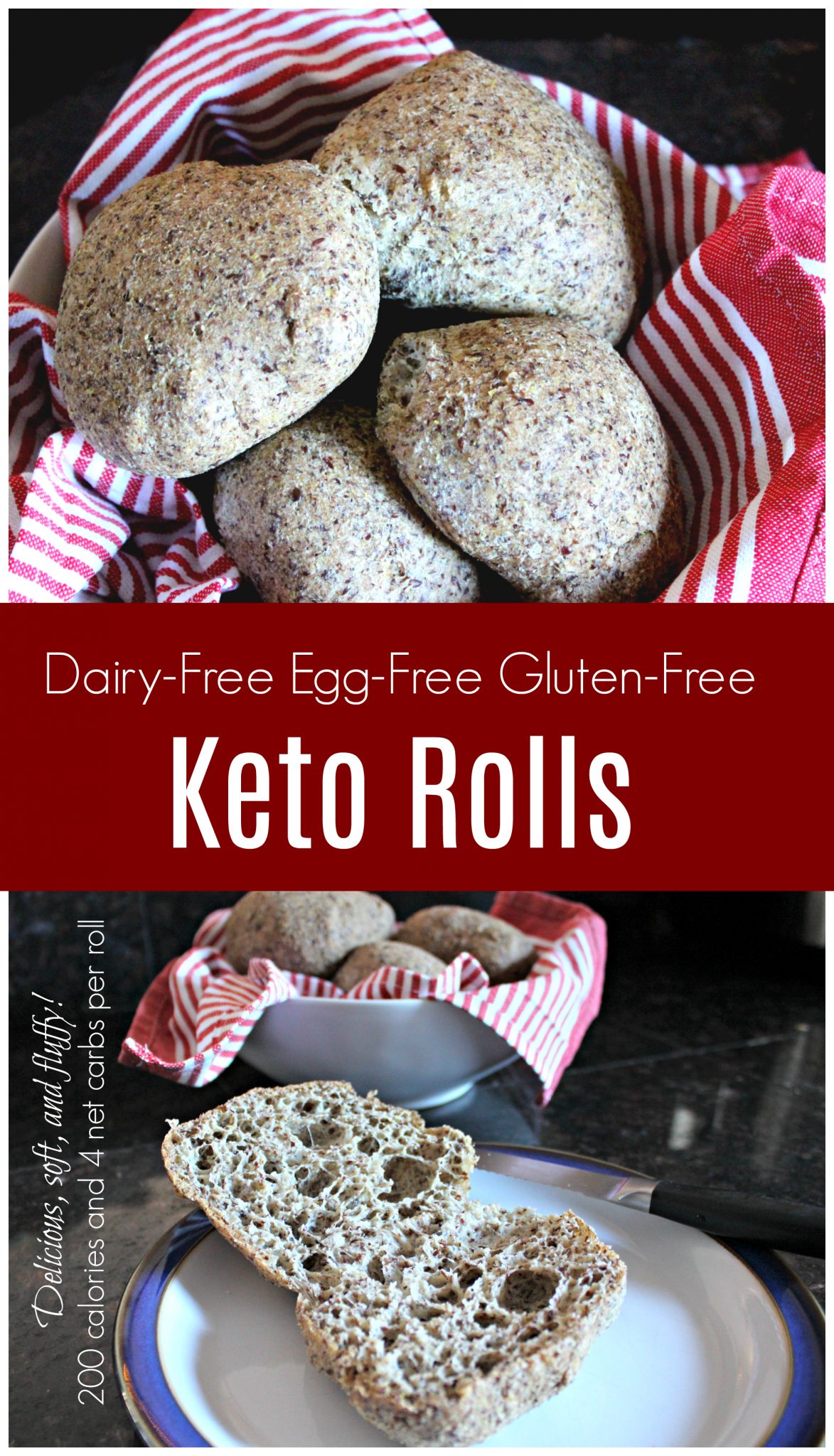 Please follow and like us: