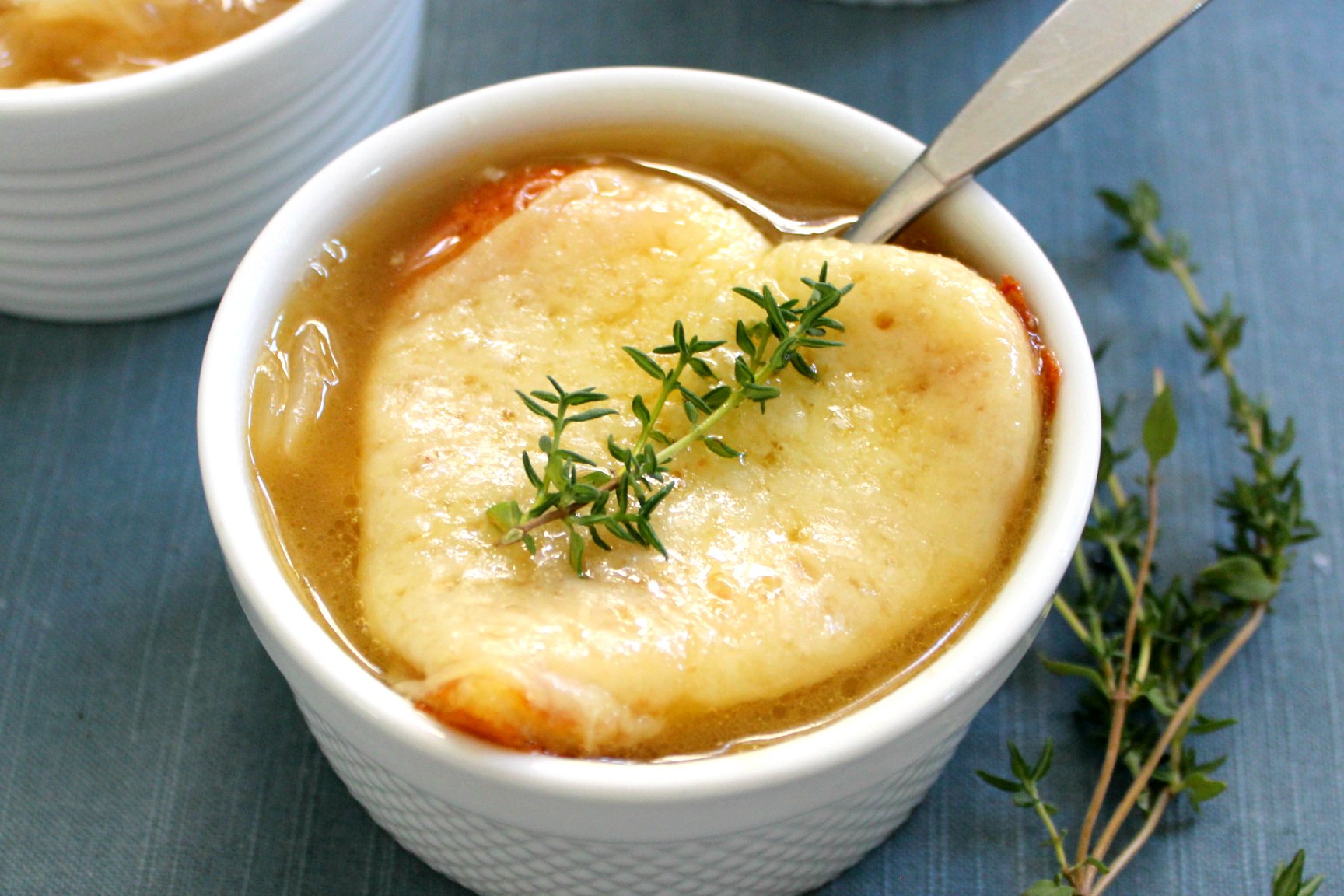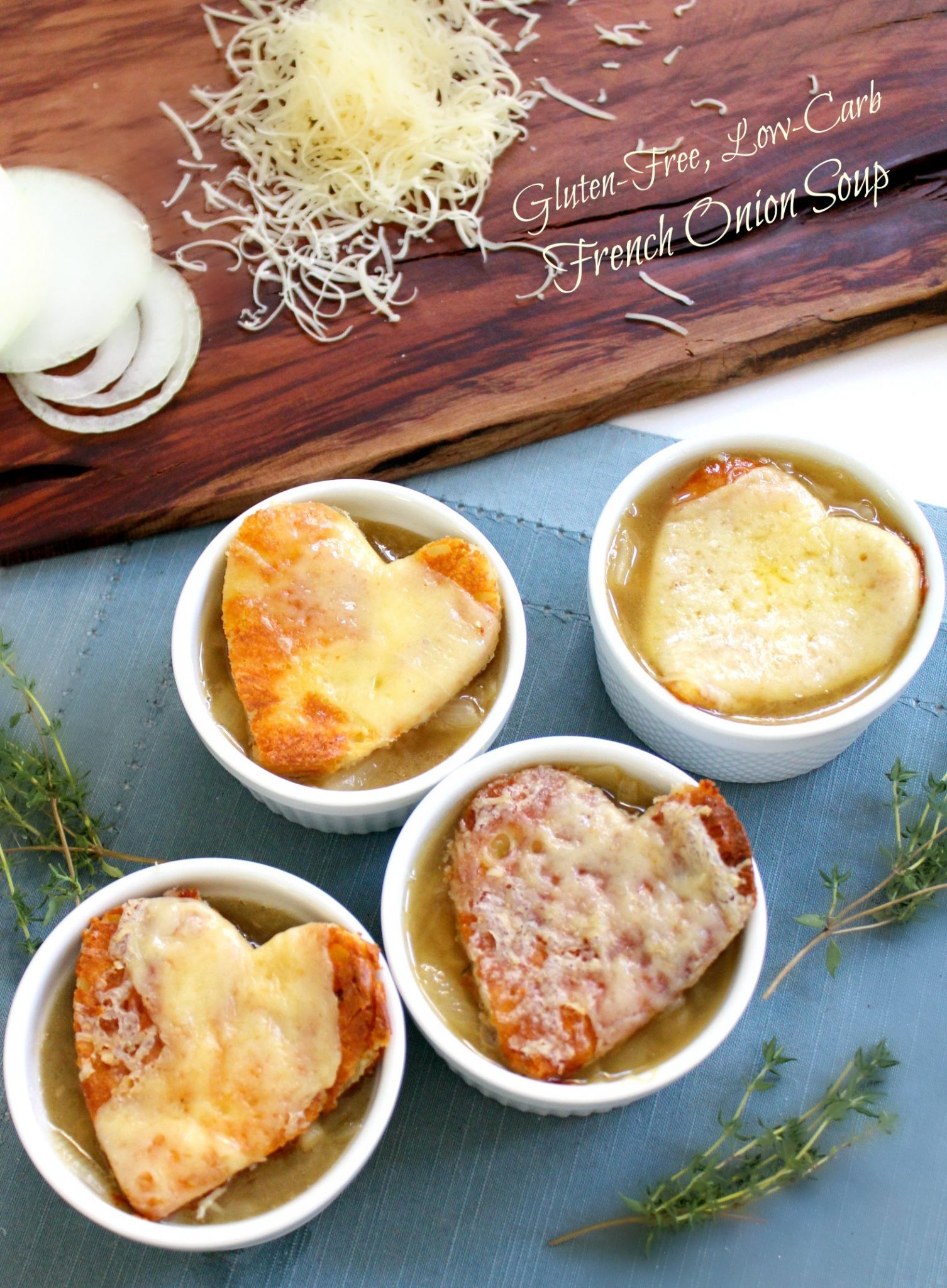 Sometimes when I'm in the mood to cook, but I don't know what to make yet, I go into the kitchen and start chopping onions as I heat a nice big saucepan with butter in it.
Caramelized onions are a perfect start to many recipes, from french onion soup like this one to topping hamburgers to starting the perfect roast. Nobody can ever have too many caramelized onions.  In this recipe, as the onions were caramelizing for french onion soup, I prepared half a batch of Fathead Dough to be used as the topping.
Low carb, adaptable for the GAPS or SCD diets, primal, grain free, and gluten free… mozzarella dough is the perfect topping for this rich and flavorful french onion soup. Next time you do pizza Friday, make an extra bit of the mozzarella dough and elevate your next soup night to a mouthwatering treat!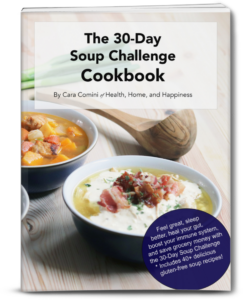 This recipe is in the 30-Day Soup Challenge Cookbook! Thousands have taken my yearly 30-Day Soup Challenge (sign up here) and have requested a cookbook to reference off the computer. We've gotcha covered!
Find over 40 delicious gluten-free (many keto friendly and many GAPS friendly) and boost your immune system, watch your skin glows, sleep better, and slash your grocery bill in the process- just by including homemade soup once a week for a month this fall or winter.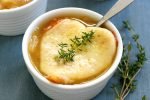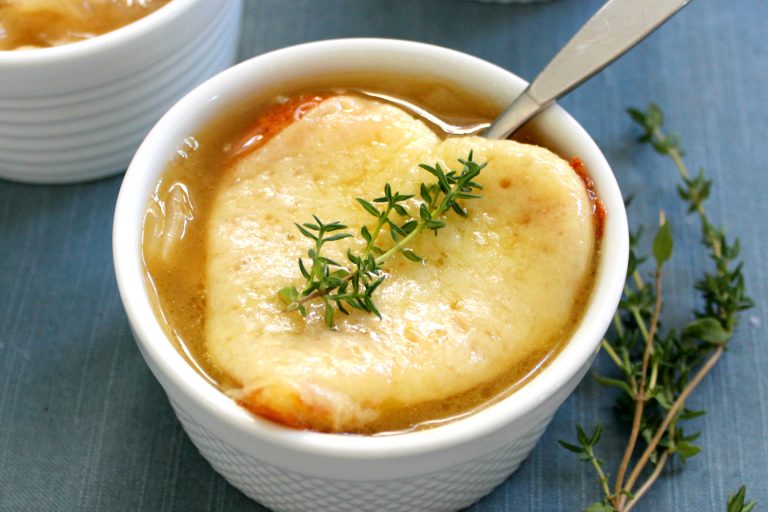 Keto French Onion Soup
Print
Ingredients
1/2

cup

butter

or ghee if dairy-free

4

onions

sliced

2

garlic cloves

chopped or crushed

2

bay leaves

2

fresh thyme sprigs

plus 2 extra for garnish, if desired

1

teaspoon

sea salt + more to taste

1/2

teaspoon

freshly ground black pepper

1

tablespoon

apple cider vinegar

or 1/4 cup red wine

2

quarts

beef broth

1/2

recipe Fathead Dough

2 servings' worth

4

ounces

Gruyere cheese

Or cheddar can be used
Instructions
In a large sauce pan, or a small stock pot, or the instant pot melt butter over medium heat as you chop the onions.

Once butter is melted, add chopped onions (I add them as I chop them) and garlic, bay leaves, 2 thyme sprigs, salt, and pepper. Use a wooden spoon and stir every few minutes until the onions start to turn golden, about 25 minutes.

As your onions caramelize, prepare your fathead dough for the top. This is optional, and to make the recipe dairy-free just omit this step. The soup is still delicious, flavorful and warming without the top layer.

Once onions are caramelized, deglaze the pan by adding in the apple cider vinegar or red wine. Once you add the apple cider vinegar in, use a wooden spoon to scrape off all the browned bits - these are delicious concentrated flavor. This step takes about 1 minute.

Once the pan is deglazed, add in beef stock and simmer on low for at least 10 minutes, or until ready to serve (cover if you will be simmering it for much longer than 30 minutes).

To serve, taste to adjust salt and pepper if needed. Remove bay leaf and thyme sprigs. Ladle into bowls and top with broiled fathead dough, as described in the fathead step. Top with a sprig of thyme if desired as garnish and enjoy!
To make the fathead dough topping for Keto and Gluten Free French Onion Soup
Follow these instructions to make fathead dough. Half a recipe is a perfect amount for 4 servings of soup - to halve your egg (as called for in the recipe) just whisk an egg in a small custard cup, and only add half to the egg step. Or make a full recipe and make extra fathead shapes to use as sandwich bread or whatever you desire :) They do freeze well.

Form your fathead dough (also called mozzarella dough) into squares or desired shapes that are approximately the same size as the bowl you will use to serve the soup.

Pre-bake fathead shapes at 400* for 10 minutes and then reserve until you are ready to serve your soup.

Before serving, preheat broiler to high and move the oven rack to the the top of the oven. Flip over fathead dough, still keeping it on the parchment, and top evenly with grated Gruyere cheese.

Broil for 2 minutes, or until cheese bubbles and starts to brown. Immediately and carefully remove from oven and transfer to the top of your soup-filled bowls.
Recipe Notes
10 g net carbs per serving as recipe is written. Nutrition data assumes fathead topping and cheese are used. 
Lower carb version: Use 2 onions instead of 4; each onion has 8 g net carbs, so by reducing the recipe to 2 onions rather than 4, you cut your net carbs to 6 net carbs. 
Nutrition Facts
Keto French Onion Soup
Amount Per Serving (1 serving)
Calories 558
Calories from Fat 396
% Daily Value*
Fat 44g68%
Cholesterol 92mg31%
Sodium 2644mg110%
Potassium 439mg13%
Carbohydrates 13g4%
Protein 22g44%
Vitamin A 1000IU20%
Vitamin C 9.4mg11%
Calcium 350mg35%
Iron 1.2mg7%
* Percent Daily Values are based on a 2000 calorie diet.
This recipe is part of the Keto Family Class Comfort Food Menu! Click here to learn more.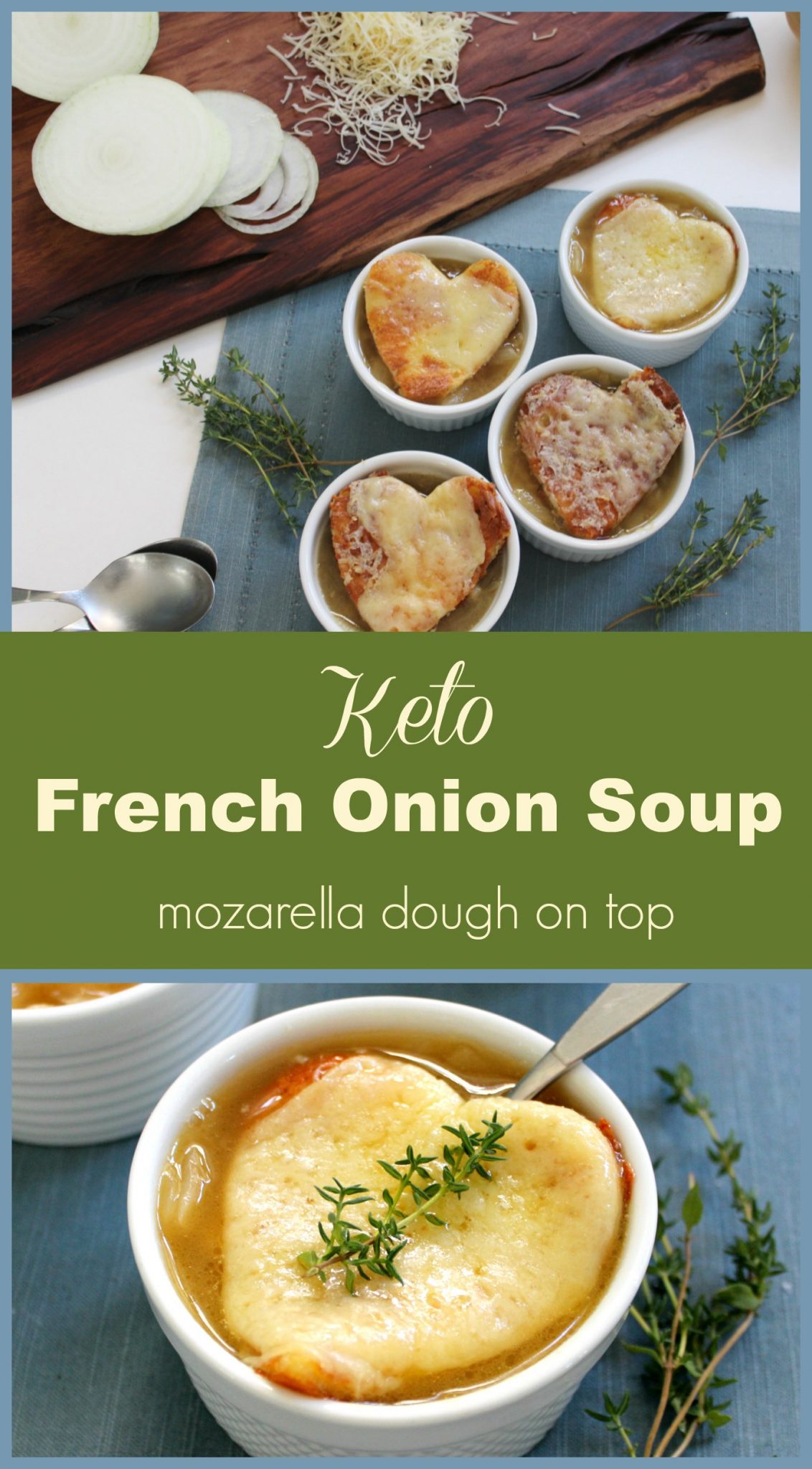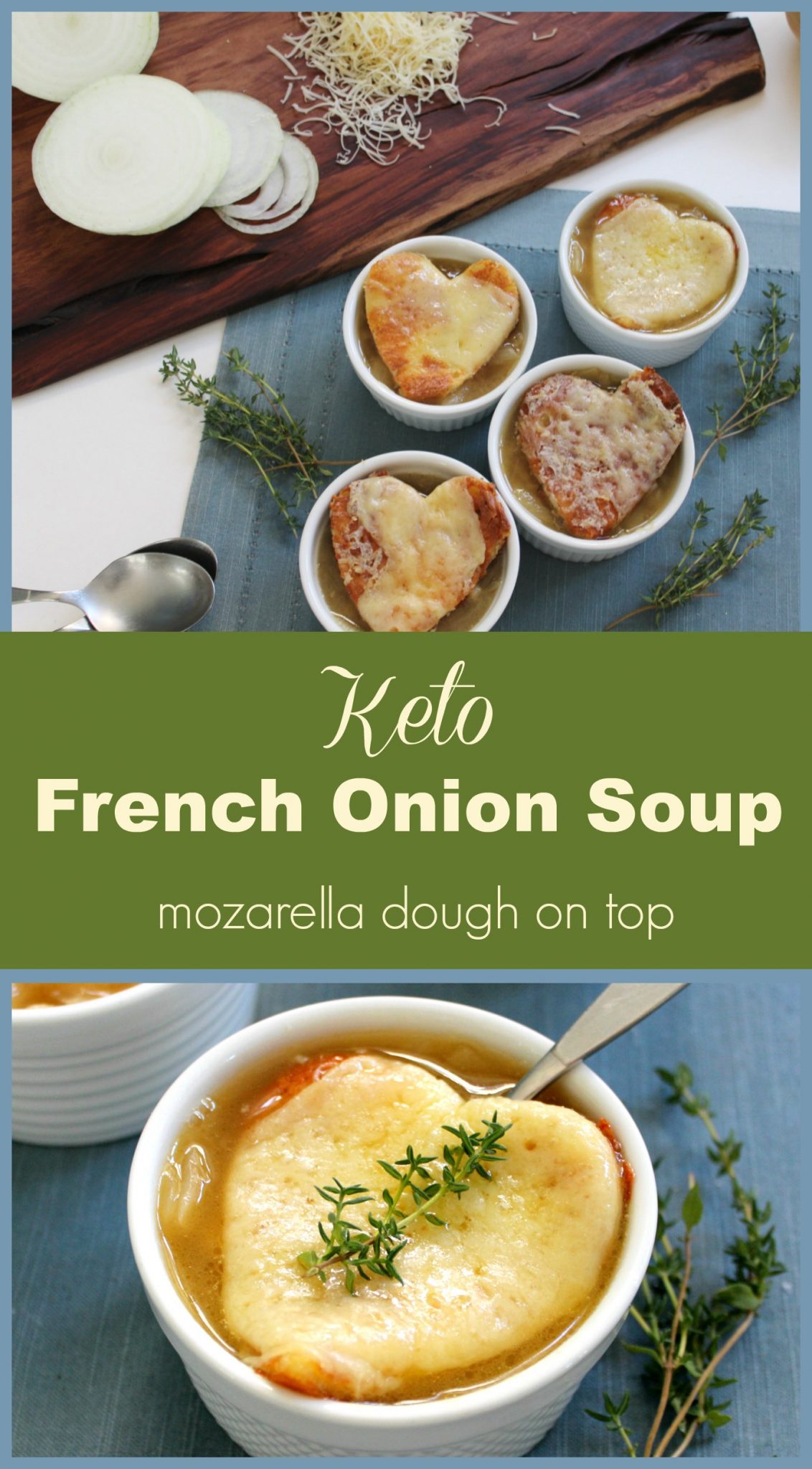 Please follow and like us: