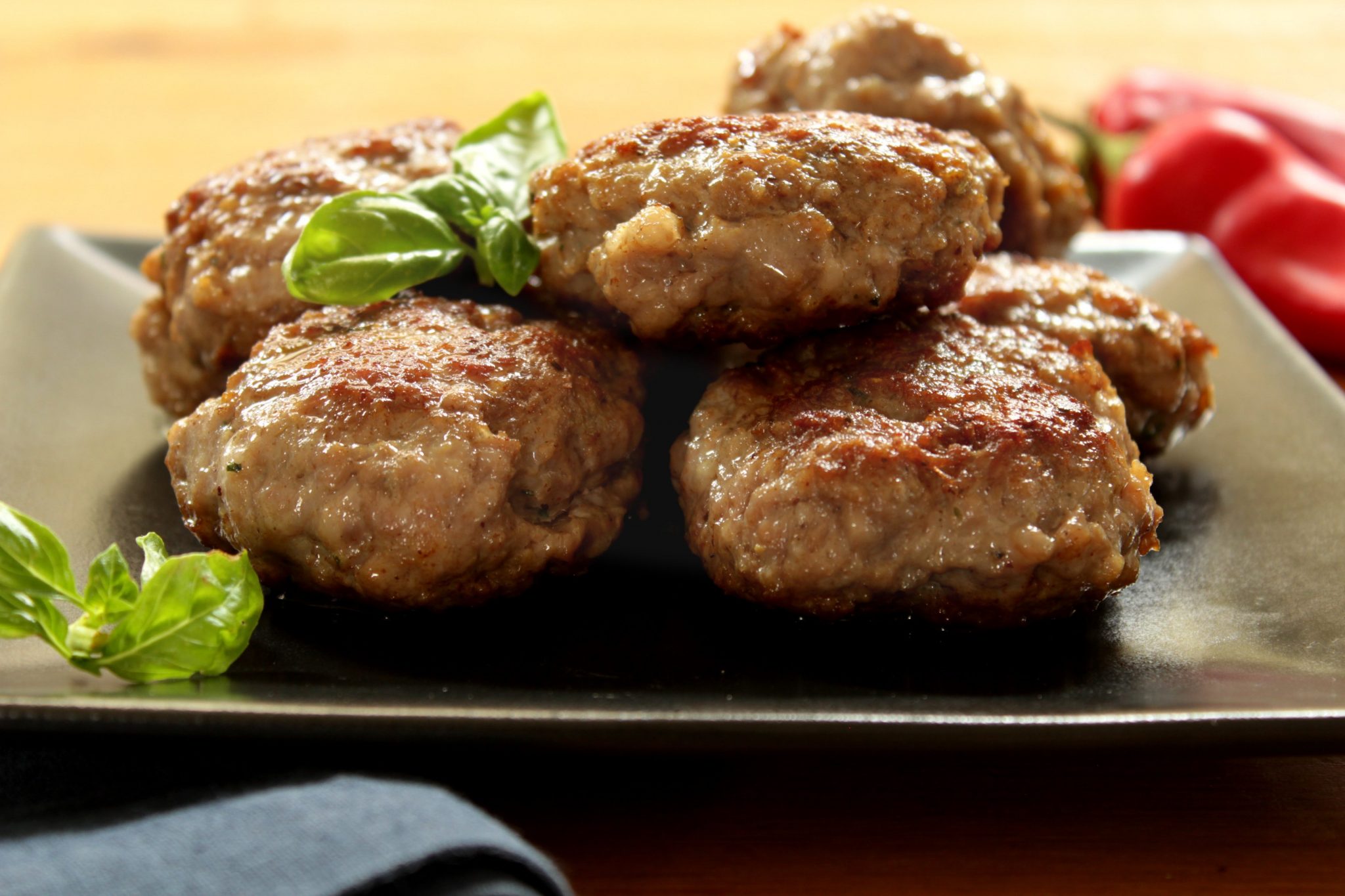 Breakfast sausage is an easy, delicious, and filling breakfast. When you start keto or GAPS, it's likely that you'll eventually get sick of eggs for breakfast. At first the idea of bacon and eggs (and cheese!) every day sounds too good to be true, but soon you'll be looking for more variety.
Looking for sustainably raised healthy meat? Click here
That's where homemade breakfast sausage comes in. You can add variety by changing up the meat in this recipe – lean venison or turkey mixed with more fatty pork or beef, or you can even sneak in some lamb or bison for even more variety.
We make quite a bit at a time because breakfast sausage gets even better when it is frozen. Make half into patties, and brown the other half to use in soups, casseroles, or top your keto pizza with. This recipe is from the Keto Family Class Classic (and dairy-free) Meal Plan.
Recipe: Low Carb Pumpkin Soup with Pork Sausage
Reheat
When we make this in our class (linked above), we slightly undercook the patties so that they don't dry out when we reheat them. To reheat, heat up a skillet to medium heat. Add desired number of patties, and then flip after about 2 minutes, cooking for an additional minute or so on the other side. If your breakfast sausage patties are extra thick, use a lower heat and longer re-heat time.
Because we fry them when making them, there will be enough bacon grease on the outside that there is no need to grease the pan when reheating- saving on cleanup!
Click here to see the pots and pans and other items I use in my kitchen.
Varieties
Change this homemade sausage to be more spicy by adding in extra red pepper flakes.
For Italian sausage, omit the sage and replace it with italian seasoning and add in a few cloves of garlic.
If you're on GAPS (this is a little high carb for keto), you can even make apple sausage by adding in diced apples and a little cinnamon and omitting the red pepper.

Homemade "No Weird Stuff" Breakfast Sausage
A perfect 'breakfast hamburger' as my kids call it, this breakfast sausage has all the flavor and none of the weird stuff that you often find in grocery-store sausage.
Print
Ingredients
3

pounds

ground pork

beef, chicken, turkey, or a combination

3

teaspoon

salt

trouble getting your potassium? Use half lite-salt

1-1/2

teaspoon

dried parsley

1

teaspoon

rubbed dried sage

1

teaspoon

ground black pepper

1/2

teaspoon

fennel seeds

1/2

teaspoon

crushed red pepper

1

teaspoon

ground coriander

1/4

cup

Bacon fat

for frying
Instructions
In a medium mixing bowl, mix meat and all seasonings.

Optional: cover and chill over night to allow all the flavors to meld. This step isn't essential, but really helps the flavors to combine.

Heat a skillet or griddle over medium heat and grease with bacon fat or other cooking fat. Once hot, form meat mixture into patties and fry until no longer pink in the center if eating immediately, or still slightly pink if storing to reheat later.

For crumbled sausage, brown, breaking up chunks with a spatula. and then drain before storing.
To store:
Freeze sausage patties flat on a large metal cookie sheet, then transfer to a zip-top bag or freezer container once frozen (about 6 hours). This is called flash freezing and helps prevent the sausage patties from sticking together when they are frozen.

Freeze browned crumbled sausage in desired portion amounts (1-1/2 cups is a good amount) in freezer bags or freezer-proof containers.

Use within 6 months if frozen, 7 days if refrigerated.
Recipe Notes
More nutrition facts:
Per recipe (pork): 3944 calories, 325 g fat, 5 g carbs, 2 g fiber (3 net carbs), 231 g protein
Per recipe (beef, grassfed): 3246 calories, 241 fat, 5 g carbs, 2 g fiber (3 net carbs), 253 protein
Per recipe (turkey): 2406 calories, 133 fat, 5 g carbs, 2 g fiber (3 net carbs), 253 protein
To get more helpful nutrition calculations on yummy family-friendly no-nonsense food, sign up for the Keto Family Class.
Nutrition Facts
Homemade "No Weird Stuff" Breakfast Sausage
Amount Per Serving (1 serving)
Calories 172
Calories from Fat 126
% Daily Value*
Fat 14g22%
Cholesterol 43mg14%
Sodium 326mg14%
Potassium 165mg5%
Protein 9g18%
Vitamin A 15IU0%
Vitamin C 0.4mg0%
Calcium 10mg1%
Iron 0.5mg3%
* Percent Daily Values are based on a 2000 calorie diet.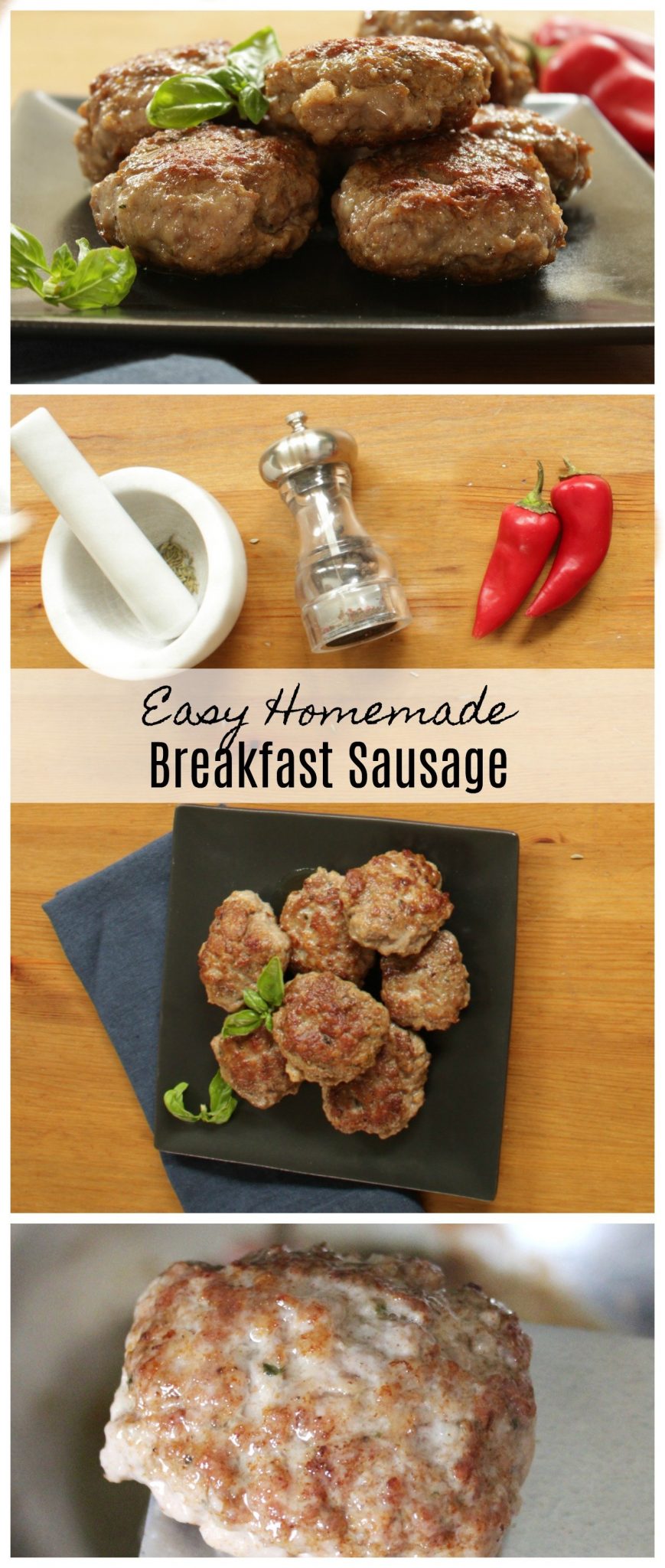 Free Ebook this month only: 20 Grain-Free Breakfast Recipes
20 Delicious Breakfast Recipes suitable for GAPS and Paleo diets!
Please follow and like us: