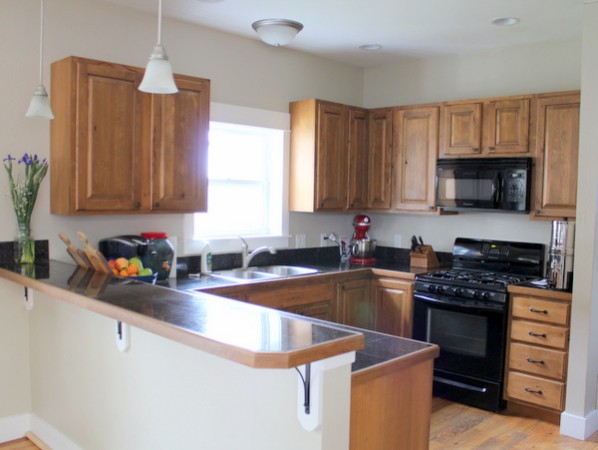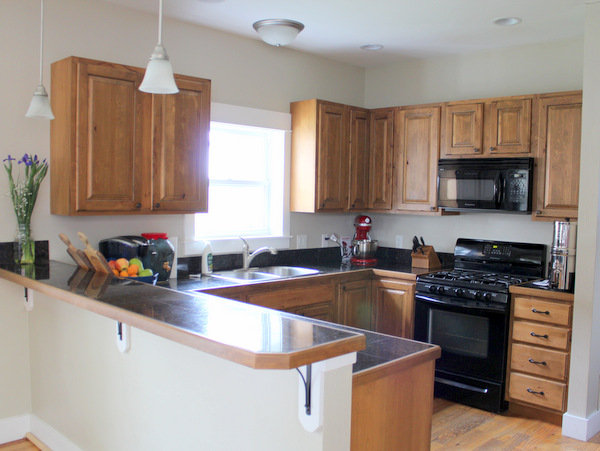 The heart of the home, my kitchen is our favorite spot to hang out, work, and… obviously… cook.  When choosing a house, I knew I needed a kitchen with lots of natural light, that was open to the living area so I could keep an eye on the kids as I cooked, and they could feel involved without always needing to be underfoot.
While I still have a few inexpensive low-quality kitchen items that haven't been replaced yet, whenever possible, I choose quality over quantity.  Most people are surprised at how little I actually have in my kitchen as far as gadgets go – but I would rather have one nice kitchen appliance in place of 3 or 5 specialty gadgets.
View and read below, to see what I'm using in my day-to-day cooking.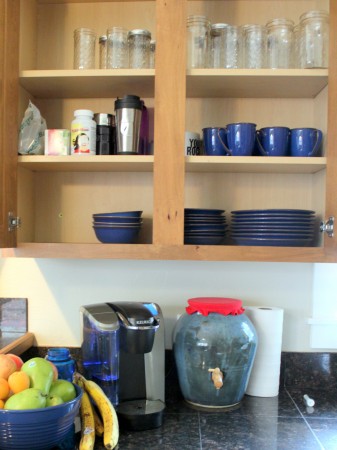 For our dinnerware we have Denby dinnerware in blue and white, and then half a dozen Corelle (chip resistant) custard cups and dinner plates. Denby is made in England and is chip resistant, it's really well made heavy duty dinnerware.
Above our cups we store less frequently used mason jars in half gallon and quart sizes. We keep our water bottles and sippie cups here too, we prefer to drink out of glass when we're home though, the weight of a glass encourages careful handling and there are less spills due to accidentally knocking them over.  The water filter is re-filled every night, and if we have guests, after every meal.
For flatware I have stainless Onieda, like dishes, substantial silverware makes serving and eating food much more enjoyable. Choose the kind that is made in England, not China, for good quality.
My cutting boards are hand made by my dad, but this is a comparable style.  I love this size, it's small enough for easy use, but not so little that things slip off.
A set of quality knives chops, dices, and slices. I have an extra paring knife since that's the one I use most often.
In front of my knife block sits my Berkey Water filter, 1-1/2 gallons is plenty for our family of 4.  I have the extra fluoride filters as well.  We have been using this water filter for the past 4 years, and it's great!
Our serving platters consist mostly of nice oven-to-table dishes that look nice on the table and don't require washing separately the way other serving plates do. Le Creuset 9×12 in blue, a glass pie dish, stainless pie dish, glass loaf pan, stoneware muffin pan and pizza pan.
Pots and Pans
I've chosen quality over quantity with pots and pans as I've been adding to my collection, I now have a 8 quart stainless steel stock pot with clear lid for stock and apple sauce, 12 inch stainless sauté pan, 2-1/2 quart pot with a lid, and this 10-piece set to round out my cupboard.

Appliances 
My Instant Pot gets near-daily use for everything from oatmeal to chicken stock to mac n cheese.
A red Kitchenaid mixer brightens up the kitchen and creams butter, whips cream, and mixes doughs while the kids and I cook.
A food processor is more utilitarian looking, but makes quick work of dicing, chopping, and grating – especially for when we're freezer cooking or preparing veggies for fermentation.
My 5 tray Excalibur Dehydrator works daily to not only dry fruit, but also preserve herbs, make crunchy veggie chips, and even incubate yogurt!
I use a Vitamix high-powered blender for smoothies, and even mixing up pancake batter! After going through a less-expensive blender every year, I finally bought our Vitamix 2 years back and it's still going strong!
A small immersion blender is a lot less to wash, and is perfect for pureeing soups and applesauce right in the pot.
Our Omega juicer gets a workout when we're doing a gut-health reset, and extracts lots of goodness out of fresh produce.
I have two slow cookers- a mini for little batches of apple sauce, overnight oatmeal, and soup as a side dish, and a larger for chicken stock, large batches of soup, whole chickens, and pot roast.
Sample Bulk Cooking Day
Sign up and I'll send you my grocery list and recipes to turn the groceries above into delicious grain-free meals in ONE afternoon!