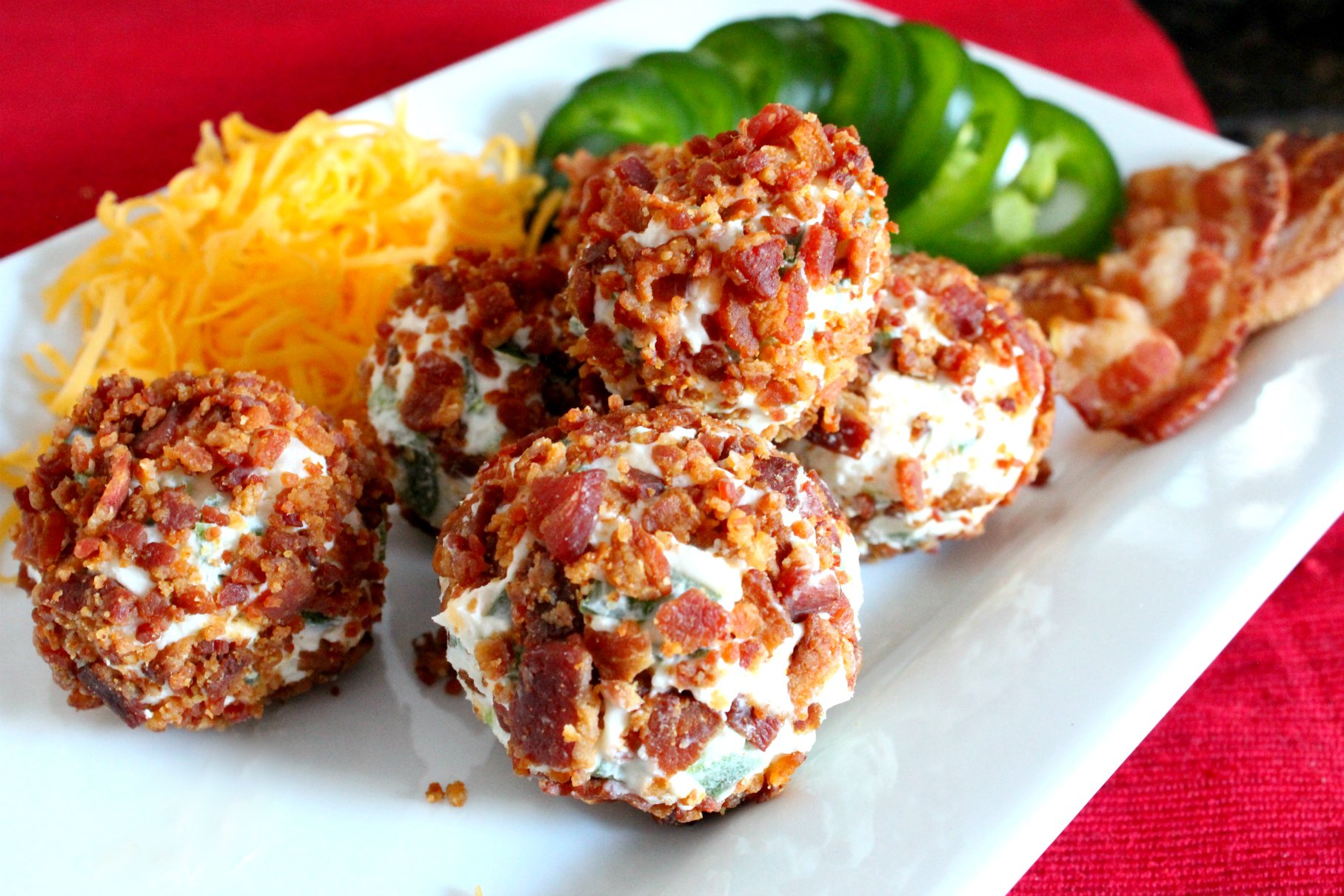 Faster to make than pepper-poppers, and with more fat than our Chicken Pepper Bites these savory fat bombs are a snap to make and a treat to eat.  To increase the healthy probiotics, drip yogurt cheese like we did in the Strawberry Cheesecake Fat Bombs, or use organic cultured cream cheese from the dairy section of your local health food store.
Why Fat Bombs? Click here to read why you want to include more fat in your diet. 
Jalapeno, Cheese & Bacon Bite Fat Bombs (Low carb, Keto, GAPS)
Savory fat bombs for those who need to increase their intake of healthy fat. We use
coconut oil
here because I like including the medium-chain fatty acids in our diets. The pepper and cheese covers the slight coconut taste, but feel free to use butter in its place.
How is this part of a healthy diet?
Read here about how healthy fats create healthy people!
Cuisine:
Low Carb, Keto, Primal, Gluten Free, LCHF
Ingredients
8 ounces (1 cup) full fat cream cheese or dripped yogurt cheese for probiotic benefits (directions here)
4 slices bacon, chopped and cooked, grease reserved (get a free package of sugar-free bacon here)
4 ounces (1/2 cup loosely filled) shredded cheddar cheese
4 jalapeno peppers, stems and seeds removed
3 ounces (1/3 cup plus 1 tablespoon) expeller-pressed coconut oil (find here)
2 ounces (1/3 cup) bacon grease (use more coconut oil if you don't have enough from your bacon)
Directions
Melt coconut oil if it is in solid state.
Cook bacon over medium heat in a medium skillet. Tip: You can make 'bacon crackers' by cutting bacon into squares and then cooking- the fat bombs can then be served on top of these, or between these.
Dice Jalapeno peppers finely after removing stems and rinsing out seeds.
Combine cream cheese, cheddar cheese, diced Jalapeno, bacon grease, and melted coconut oil. Do not include the cooked bacon in this step or it will become soggy.
Press cream cheese mixture into a parchment-lined loaf pan and chill for 2-3 hours.
Set bacon pieces aside for serving.
Once cream cheese mixture is firm, remove from loaf pan and cut into 18 equal pieces.
Gently roll into balls and roll balls into crumbled bacon as desired.
Enjoy immediately or store before covering in bacon in the fridge for 5 days or in the freezer for up to 4 weeks.
Notes
Using a food scale to measure weight rather than volume of ingredients can save time and dirty dishes, and makes it easy to calculate exact nutrition data if needed.
This is the food scale that I use.
Nutrition data uses packaged cream cheese as homemade yogurt cheese will vary based on the kind of milk used and other factors. Nutrition data uses weight measurements, volume measurements are approximate.
Nutrition Information
Serving size:
1
Calories:
134
Fat:
13 g
Saturated fat:
9 g
Trans fat:
0 g
Carbohydrates:
1 g
Sugar:
1 g
Sodium:
107 mg
Fiber:
0 g
Protein:
3 g
21 Easy and Delicious Grain-Free Meals
Curious about eating grain-free? I want to show you how easy and delicious it can be!
Try our best-selling meal plans... for free!
Just enter your information and I'll email it to you right away.