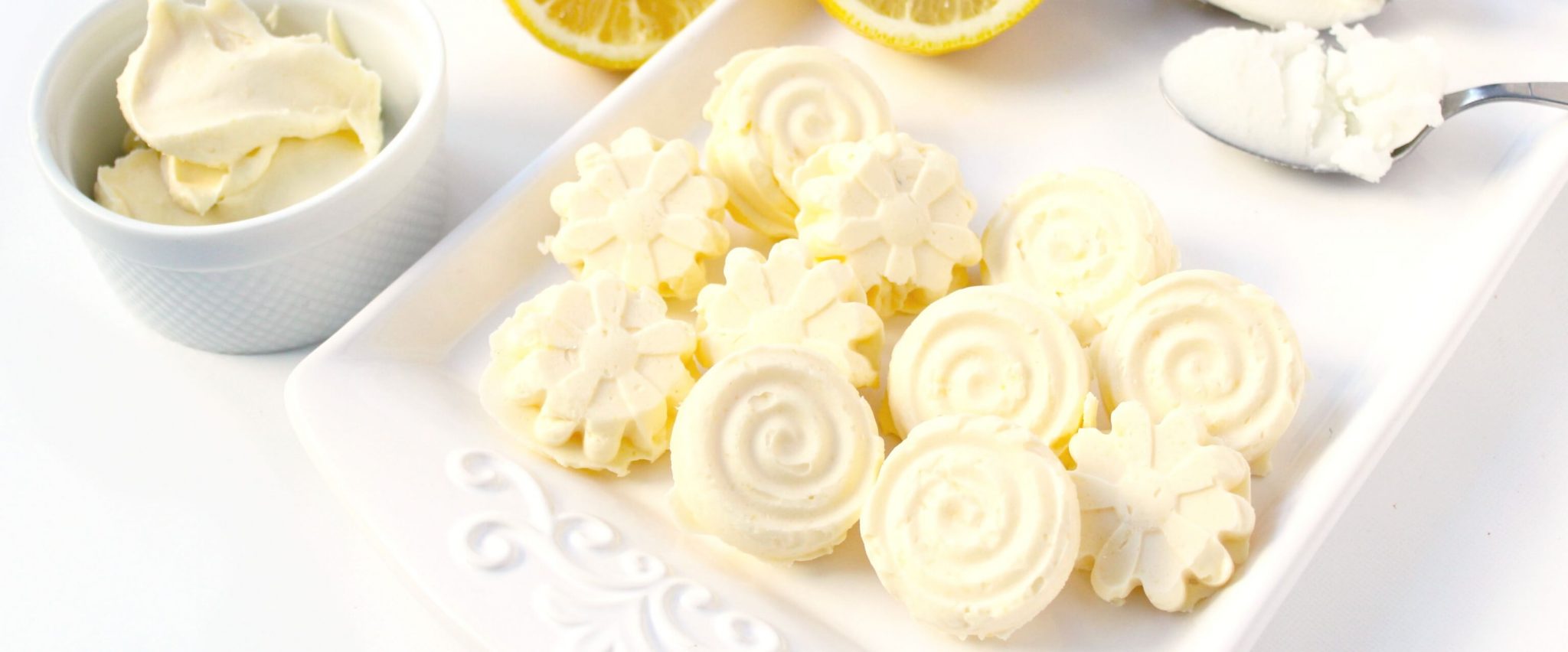 Fresh, light, tangy, and slightly sweet – these fat bombs are a hit with everyone who tries them. They taste like lemon cheesecake, and have tons of nourishing fats and probiotics in them. Fat Bombs are used in healing diets when people find they are not getting enough fat or calories, or for an easy-to-eat treat that doesn't have sugar.
Read more about fat bombs here.
These lemon cheesecake fat bombs use cultured cream cheese, real lemon juice and zest, and nourishing coconut oil. Kerrygold butter delivers a beautiful yellow color and deep flavor and nourishment. To keep them low carb, we sweeten with stevia – a natural zero-calorie sweetener that goes well with lemon. A pinch of salt and dash of vanilla balances out the sweetness.
Keto Notes
The ketogenic diet (also called low carb/high fat) can be done for weight loss, or for health issues like blood sugar control, epilepsy, and more. The goal of a ketogenic diet is to have your body running off of fat, and not carbohydrates.
To keep the body in this ketogenic state, it is important to limit carbohydrates, and to a lesser extent protein, and eat primarily fat. Fat bombs are perfect for rounding out the diet, and a delicious treat as well!
Learn more about the ketogenic diet here.
Get the Bacon and Butter bestselling ketogenic cookbook here.
GAPS Notes
If you are on the GAPS Diet, you need to make yogurt cheese to use in place of the cream cheese. Directions for that can be found here.
If you have been on GAPS for a while, you may be able to use use store-bought cultured cream cheese, like Nancy's brand. The problem with store-bought cultured cream cheese is that we don't know if it has been cultured long enough to use up all the lactose, so there maybe some lactose left in the cream cheese. Lactose is a milk-sugar molecule that is digested further down the GI tract, something we are avoiding with the GAPS Diet. After the initial healing of the GAPS Diet, lactose is one of the first 'more complex' carbohydrates that people can digest, provided they tolerate dairy.
We talk about how it can be hard to get enough calories when you're on the GAPS Diet in the GAPS Troubleshooting article, and these fat bombs will help a lot! For little kids, you will want to use little molds like these.
If you aren't avoiding carbohydrates, use 3-4 tablespoons of raw honey in place of the stevia for extra calories.
Equipment
Fat bombs are delightfully simple to make and don't take any special equipment. I used fun silicone molds (actually lollipop molds – I just didn't fill the 'stick' part) to make these, but they can just as easily be dolloped onto parchment paper and frozen.
Use a fork to blend ingredients together, or toss them all into a food processor to mix with extra speed.
If you love lemon like I do, a nice lemon zester makes quick work of zesting all that delicious lemon peel to give a fresh flavor to your meals and treats.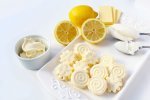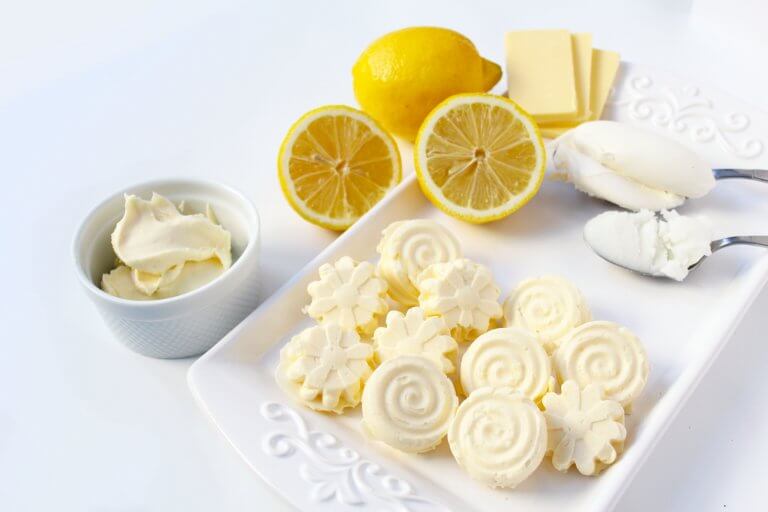 Decadent Lemon Cheesecake Fat Bombs - Low Carb, Keto, GAPS
These lemony treats are a delicious way to get extra fat in!
Print
Instructions
Leave butter and cream cheese out for a couple hours to soften. If needed, heat coconut oil to melt. Do not melt butter and cream cheese or your fat bombs will separate.

In a small bowl, combine softened coconut oil, butter, cultured cream cheese, lemon juice and zest, stevia, sea salt, and vanilla. Mix until completely combined.

Dollop fat bomb mixture into 18 equal portions, using silicone molds or just placing on parchment paper.

Freeze for 4 hours, remove from molds or parchment paper, and then store in the freezer in an airtight container for up to 3 months.

To enjoy, remove from the freezer and allow to sit out for a few minutes to soften a little.
Recipe Notes
If you aren't carefully tracking calories and other nutrient values, 1/2 cup each coconut oil, butter, and cream cheese can be used instead of weights.
Nutrition was calculated using MyFitnessPal.
Using a food scale to measure weight rather than volume of ingredients can save time and dirty dishes, and makes it easy to calculate exact nutrition data if needed. This is the food scale that I use.
Nutrition data uses packaged cream cheese as homemade yogurt cheese will vary based on the kind of milk used and other factors.
Nutrition Facts
Decadent Lemon Cheesecake Fat Bombs - Low Carb, Keto, GAPS
Amount Per Serving (1 g)
Calories 121
Calories from Fat 117
% Daily Value*
Fat 13g20%
Carbohydrates 1g0%
* Percent Daily Values are based on a 2000 calorie diet.
More high fat/low carbohydrate recipes
This month's ebook!
Sign up to get the 20 Cool Treats sent to your email right away!
Please follow and like us: