Print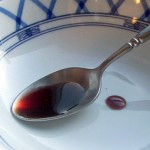 Elderberry Syrup
The syrup recipe is easily added to based on flavors you prefer, and adaptable to the ingredients you have on hand. In fact, the only mandatory ingredients in the syrup are elderberries and water! The other ingredients serve purposes of flavoring (vanilla), antiviral (cinnamon, ginger, and cloves), vitamin C (rose hips), and sweetening (honey) so they're helpful, but not necessary in the homemade elderberry syrup.
Over medium-low heat simmer the elderberries, rose hips, cinnamon sticks, cloves, ginger, vanilla bean and water.  Simmer for 20-30 minutes, or until liquid is thick and syrupy and reduced by half.   While the mixture is still warm (or the elderberries will absorb all of your syrup!) strain the syrup through a sieve.  Combine with honey and store in an airtight container (I use a mason jar) in the refrigerator.
1-2 teaspoons a day is recommended to help prevent illness.  Honey is not recommended for children under 1 year of age, due to the very small risk of botulism.