Black elderberries grow commonly in the wild in many parts of the world, and they are inexpensive to order online as well.  Elderberry (Sambucus Nigra) has been studied in the medical literature, and when compared to placebos or other immunity treatments, it has been shown to be very helpful! We make elderberry gummies most often, but you can get elderberry in syrup, pre-made gummies, or even cook it into foods from dried berries.
Take as prevention
Elderberry isn't something like antibiotics that you can build up a tolerance to, and studies are shown that it works both acutely (taken during an illness such as influenza) and preventatively (taken prior to air travel, where many people get sick).
We find elderberry to be most helpful in preventing illness, and if we do get it, allowing us to fight it off quickly. I try to have all of us take elderberry every day during the school year, and in my n=4 study (ie studying the 4 people in my house ;) ) it helps tremendously!
Where to buy:
Elderberry in Medical Literature
In the abstract of these studies (done by medical professionals), it is stated over and over again that elderberry is well-known for its antiviral properties.
It is so encouraging that there is so much literature to support this natural remedy!
Flu Vaccine vs Elderberry
I try to avoid most of the vaccine debate, but it is worth addressing briefly. It is no secret that the flu vaccine is not very effective (Source: Immune History of Influenza Vaccine Effectiveness), and it is shown that the more often that you get the flu vaccine, the less effective it becomes.
Whether or not you choose to get the flu vaccine, elderberry IS shown over and over again to be very effective against many varieties of both viruses and bacterial infections and is worthwhile to add to your preventive medicine cabinet.
The reason elderberry works where the flu vaccine doesn't is because it naturally stimulates your own immune system, allowing you to respond to whatever is thrown your way – not just specific strains. Elderberry also is made in nature and is so much more complex than something made in a lab, allowing it to have anti-viral and anti-bacterial properties against many many many different pathogens (things that make us sick!).
GAPS and Elderberries
In the Gut and Psychology Syndrome book Dr Natasha Campbell-McBride talks about the immunity boosting properties of Elderberries:
Medicinal properties of this plant have been appreciated for centuries. Its flowers, berries, leaves, and bark were traditionally used for treating colds, pneumonia, flu, sore throat… and many other ailments. Black Elderberry has got strong immune-stimulating properties and it is one of the most powerful anti-viral remedies known to man. You do not have to be an experienced herbalist to use this plant.
Juicing Elderberries
Dr Campbell-McBride goes on to recommend juicing the berries with the daily juicing on the GAPS protocol (she recommends 1 teaspoon of fresh berries juiced per person per day), we don't always do daily juicing so I've been finding other ways to get elderberries into our diets.

Elderberry Gummies
Elderberry syrup is good, the kids love the gummies though, and they can double as bribes when needed.  I keep them in the fridge, these don't have as much gelatin in them as other gummie recipes, they're more like a very firm gelatin than a fruit snack.  Easy for little mouths to chew.
These are also easy to portion out into lunchboxes, as I tend to pack a few days' worth of lunches at a time.
Get the recipe for elderberry gummies here. 
Elderberry Syrup
Elderberry syrup is easily poured onto pancakes, mixed with hot water as tea, or stirred into yogurt.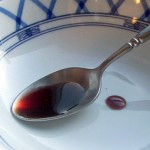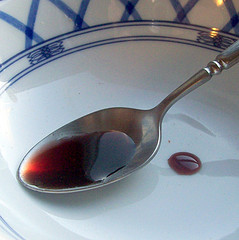 Elderberry Syrup
The syrup recipe is easily added to based on flavors you prefer, and adaptable to the ingredients you have on hand. In fact, the only mandatory ingredients in the syrup are elderberries and water! The other ingredients serve purposes of flavoring (vanilla), antiviral (cinnamon, ginger, and cloves), vitamin C (rose hips), and sweetening (honey) so they're helpful, but not necessary in the homemade elderberry syrup.
Print
Instructions
Over medium-low heat simmer the elderberries, rose hips, cinnamon sticks, cloves, ginger, vanilla bean and water.  Simmer for 20-30 minutes, or until liquid is thick and syrupy and reduced by half.   While the mixture is still warm (or the elderberries will absorb all of your syrup!) strain the syrup through a sieve.  Combine with honey and store in an airtight container (I use a mason jar) in the refrigerator.
Recipe Notes
1-2 teaspoons a day is recommended to help prevent illness.  Honey is not recommended for children under 1 year of age, due to the very small risk of botulism.
Adding Dried Elderberries to Applesauce
I made my apple sauce in the crockpot, which can be further reduced to make apple butter if desired.
To make elderberry applesauce, simply core and slice 8-12 apples, place in the crockpot with 1/2 cup of water.  Add 1 tablespoon dried elderberries.  Cover, and cook on low overnight.
Add honey if needed to sweeten and blend the entire pot with an immersion blender to puree the skins and berries into the applesauce.
Enjoy warm or cool!  The berries do at a slight berry flavor to the apple sauce, and the tiny seeds are just barely noticeable.  Our family enjoys this version of apple sauce!
About Immunity Boosting Herbs
I believe herbs and other natural remedies, like cinnamon and honey for colds, can be very helpful for supporting our immune system, and promoting a healthy body.
But, I don't want to overlook the fact that in order for our body, including our immune system, to work properly we need to make sure we're feeding it nourishing health building foods such as good quality food; egg yolks from pastured hens, cream and butter and meat from grassfed animals, wild healthy seafood, fresh vegetables and fruits, properly prepared whole grains for those who eat grains, etc.
Without these basic building blocks to work with, the resulting malnourished body will constantly be run down and difficult to keep healthy through the cold and flu season! But when that foundation is in place, herbal and other natural remedies can be a wonderful addition to our medicine cabinet.
Other home remedies I use and have had success with:
Please follow and like us: