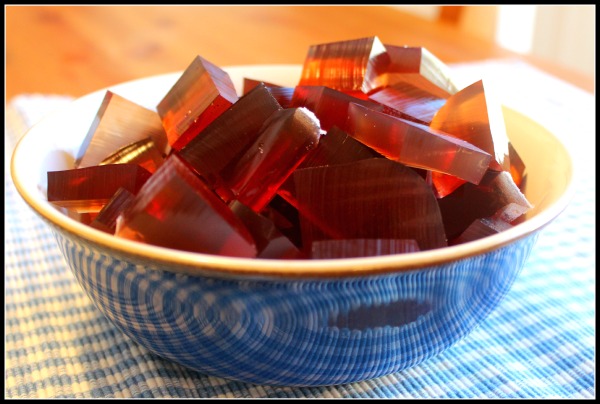 Until this week, I swore that we never got sick if we took elderberry daily. It really does work well as an immunity booster for our family, but a couple late nights and cold season combined, my daughter came down with the sniffles despite my purple concoction. Anyway, my son and I haven't gotten sick, which I think still shows that elderberry does something!
We were using elderberry syrup, but I went ahead and simplified the recipe and turned it into gummies to easily get a serving in each day.  The syrup is good, the kids love the gummies though, and they can double as bribes when needed.  I keep them in the fridge, these don't have as much gelatin in them as other gummie recipes, they're more like a very firm gelatin than a fruit snack.  Easy for little mouths to chew.
Some notes: Honey is not recommended for children under 1 year of age due to the very small risk of botulism. Nursing mothers may wish to take these to boost their own immunity, but would want to speak with a trusted healthcare professional first.  Check with your healthcare professional before using any herbs or supplements.  I'm not a medical professional, I'm a mom. This works for me and my family, but not everyone.
Recipe:
2-1/2 cups filtered water (click here for berkey water filters)
1/3 cup dried elderberries (buy dried elderberries here)
1/2 cup honey (buy honey here)
1 teaspoon vanilla, optional (buy real vanilla here)
1/2 cup gelatin (buy grassfed beef gelatin here)
Directions:
Make a tea out of the elderberries: Bring water to a boil, then add elderberries and simmer for 5 minutes, or until dark in color.
Drain, reserving the liquid. You should have about 2 cups.
Add in honey and vanilla and allow to cool.
Stir in gelatin (it's easier to stir into room temp liquid) until all clumps are out and mixture is uniform.
Heat in a saucepan over medium-low until gelatin is all dissolved.
Pour into a glass container to set.
Allow to set in the fridge.
Cut into approx 1/2 inch by 1 inch cubes, or as desired.
Take one or more daily, as desired.
Store in the fridge.
** PS, the sniffles were really mild, we hit them hard with Plant Therapy's Germ Fighter and Respir-aid roll on and they were gone within a week – I strongly dislike getting sick!
5 Delicious Keto FatBombs
Sign up to get my 5 Best Keto Fatbomb Recipes sent right to your inbox! Plus a bonus pizza recipe :)
Please follow and like us: