Print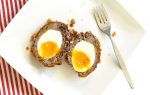 Low Carb Gluten-Free Scotch Eggs in the Air Fryer
These scotch eggs are so fun to make, and are a perfectly portable and filling take-along meal. Traditionally a picnic food from London, the scotch egg served with mustard, these are also delicious with a mixture of horseradish and yogurt, or on their own.
Cook your eggs to desired doneness. For runny yolks as pictured:
Cook eggs on a trivet or in a steamer basket in the Instant Pot for 2 minutes on high pressure, then quick release and plunge into a large bowl of ice cold water to cool immediately.

Cook eggs on the stovetop by placing in a saucepan covered with cold water to the top. Bring to a boil over high heat, and once the water comes to a boil, boil for 2 minutes. Immediately plunge cooked eggs into a large bowl of ice cold water after the 2 minutes.
Assemble and Cook Scotch Eggs
Peel cooked eggs and chill, uncovered, for at least an hour in the refrigerator. This helps the exterior to dry out so the sausage will stick without needing a starch to bind.

As the eggs chill, crush pork rinds by placing in a heavy duty zip-top bag and crushing well with a rolling pin. This can also be done in a mortar and pestle.

After the eggs have chilled, divide pork sausage into 8 even pieces. To cover each egg, carefully flatten one piece of the divided pork sausage into a round about the size of your palm. Do the same with a second piece of pork sausage. Place one round in the palm of your hand, then place the egg in the middle. Place the second round on top, and gently press the two rounds together until well covering every part of the egg, making sure to firmly but gently press together all seams.

Repeat with the remaining eggs and sausage.

Place crushed pork rinds in a soup bowl or shallow dish and roll sausage-covered eggs in the pork rinds. Again, with your hands, firmly but carefully press pork rinds into the sausage mixture, so it evenly coats the egg.
Cook in the Air Fryer
Preheat the airfryer to 375* F. Line the bottom under the basket with foil if desired to make cleanup easier. Once the airfryer has preheated, place 2-3 eggs in the basket and air fry for 15 minutes. When done, the outside of the scotch egg will be starting to darken and the pork sausage will no longer be pink next to the hard-cooked egg. Repeat with the remaining eggs. Serve immediately.
Zero Carb, GAPS, and Allergen Friendly Notes:
You can use plain ground (minced) pork in place of the sausage. If you eat seasonings, but want to avoid additives in commercially made sausage, this is a fantastic recipe for breakfast sausage that tastes amazing!  
Most pork rinds are GAPS and allergen friendly, Epic Brand Sea Salt flavor are used in the Scotch Eggs pictured here. 
Nutrition Facts
Low Carb Gluten-Free Scotch Eggs in the Air Fryer
Amount Per Serving (1 egg)
Calories 483
Calories from Fat 342
% Daily Value*
Fat 38g58%
Cholesterol 258mg86%
Sodium 1041mg43%
Potassium 341mg10%
Protein 31g62%
Vitamin A 325IU7%
Vitamin C 0.8mg1%
Calcium 39mg4%
Iron 2.2mg12%
* Percent Daily Values are based on a 2000 calorie diet.