Print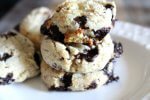 Honey-Sweetened Chocolate Chip Cookies (GAPS, Paleo)
Yummy chocolate chip cookies! We love this classic without refined sugar. Make use of your homemade chocolate chips in these delicious treats.
Preheat oven to 350* and line a baking sheet with parchment paper.

Mix the almond flour, coconut flour, baking soda, and sea salt until coconut flour is evenly distributed.

Add in the egg and honey. Mix with a fork. Batter will be stiff.

Scoop teaspoons of dough onto cookie sheet 1 inch apart. Flatten slightly before baking.

Bake for 10-12 minutes, or until sides start to turn golden brown.

Enjoy! Keep extras in an airtight container.