Print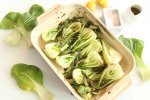 Oven-Roasted Baby Bok Choy
Adorable, easy, and delicious- this baby bok choy recipe is sure to be a hit!
Preheat oven to 425 degrees F.

Rinse baby bok choy under cool running water until all dirt is removed.

Trim bottom if needed.

Place half the olive oil in the bottom of the dish, to coat.

Cut bok choy in half lengthwise and place cut-side down on a shallow baking dish. Bok choy can be touching, but not overlapping.

Drizzle with olive oil, optional lemon juice, and then sprinkle with sea salt.

Bake for 10-15 minutes, flip, and then continue baking 2-3 more minutes on the second side.

Roasted baby bok choy are done when the outside leaves are starting to dry and the white part is tender.

Sprinkle with optional lemon juice if desired.

Serve hot or room temperature.
Can't find baby bok choy? You can use full-sized bok choy, simply cut into steaks like we did with the cabbage steak recipeand then proceed. The darker green leaves may need to be removed before the white and lighter green parts are done, so watch for that.