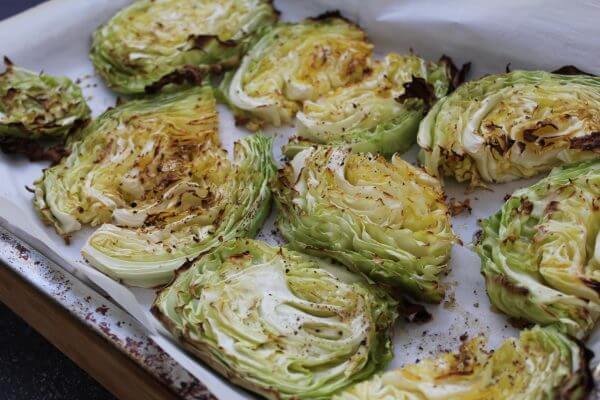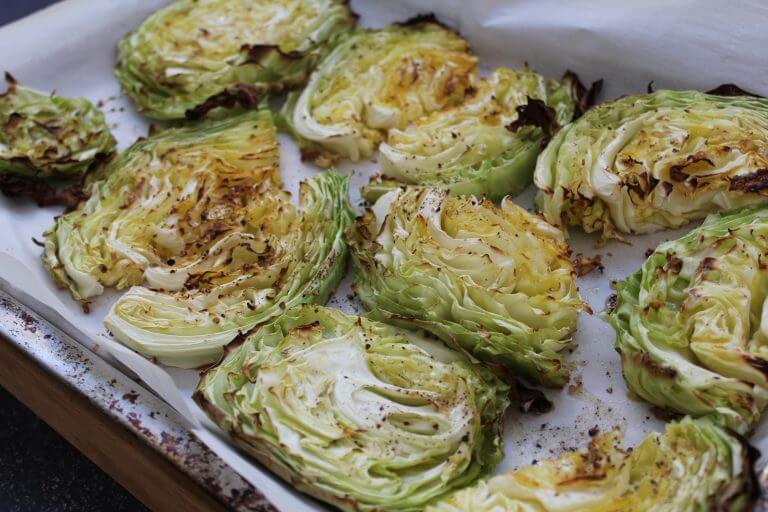 Cabbage is a beautiful winter vegetable that can be served raw as part of a slaw (see my favorite cabbage/apple slaw with simple yogurt dressing here), or cooked as a simple side dish.  When I have extra room in my oven and a head of cabbage in the fridge, I like to quickly put together this simple and unexpected dinner accompaniment.
Roasting cabbage isn't particular, go ahead and add it to whatever temperature your oven is already at.  This cabbage was cooked alongside our Paleo Stuffed Beef Pinwheels at 375*.

Easy Salt & Pepper Roasted Cabbage Steaks
Roasted cabbage is a beautiful and easy side dish.
Cuisine:
paleo, gaps, scd, vegetarian
Ingredients
1 head cabbage
2 tablespoons fresh-pressed olive oil (click here to claim your free bottle!)
1 teaspoon sea salt
½ teaspoon freshly-ground black pepper
1 teaspoon Italian seasonings (optional)
Directions
Preheat oven to 375* F.
Line a baking sheet with parchment paper.
Use a chef's knife to cut cabbage into 2-inch rounds.
Use a paring knife or tip of the chef's knife to cut out core, cutting larger cabbage rounds in half while doing this if desired.
Lay cabbage on parchment paper, keeping in a single layer and taking care to keep the cabbage 'steaks' together.
Drizzle with olive oil and then sprinkle with salt, pepper, and optional Italian seasonings.
Bake for 25 minutes, or until edges of cabbage start to brown.
Cool for 5 minutes and serve onto plates with a spatula to preserve the delicate design.
Store leftovers covered in the fridge and enjoy warm or cool.

21 Easy and Delicious Grain-Free Meals
Curious about eating grain-free? I want to show you how easy and delicious it can be!
Try our best-selling meal plans... for free!
Just enter your information and I'll email it to you right away.