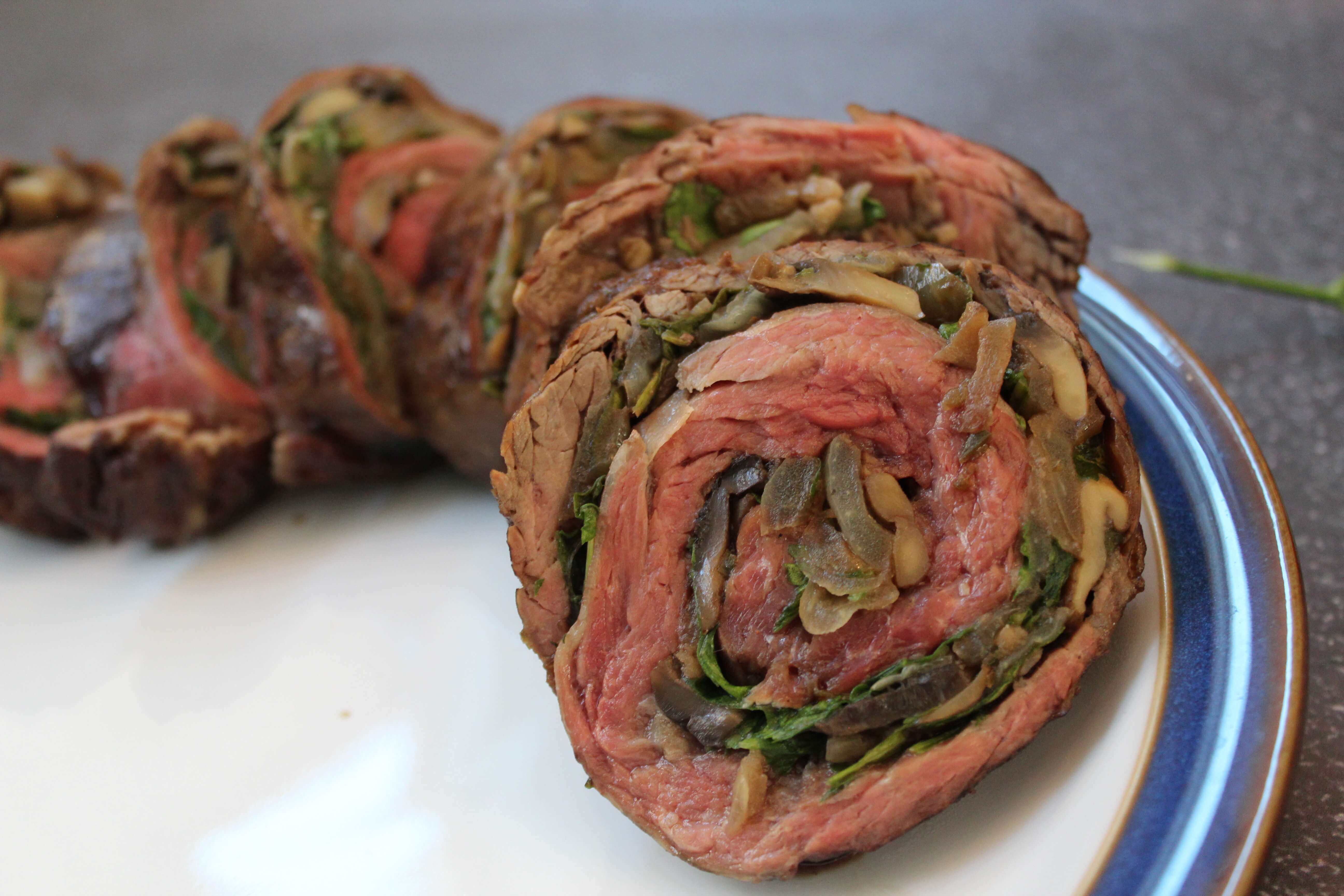 Valentines Day is my favorite holiday to celebrate because it's smack-dab in the middle of nothing-else-going-on February.  The Thanksgiving/Christmas holiday season always feels hectic to me, but Valentine's is simple and sweet, with a focus on love, hearts, and the knowledge that winter is almost done.
The focus doesn't need to be on a specific day, with many families celebrating the weekend that falls closest to the 14th.  This stuffed steak uses just one pound of flank or skirt steak, and though it looks fancy it is relatively simple to put together. You can even put it together that morning, and brown and bake it when you get the kids down for the night.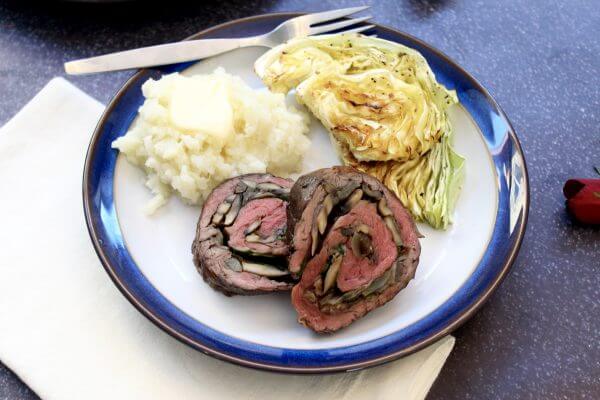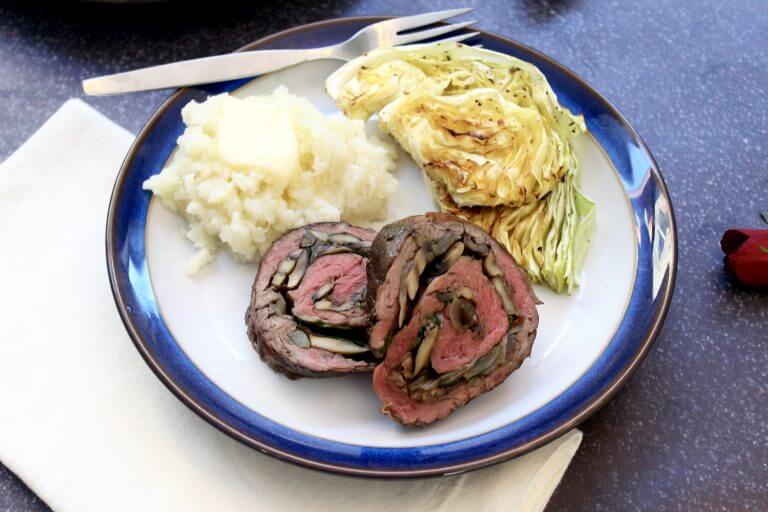 Serve with mashed cauliflower, roasted cabbage steaks, and a chocolate ganache tart for a delicious allergy-friendly & paleo holiday meal that will be well remembered.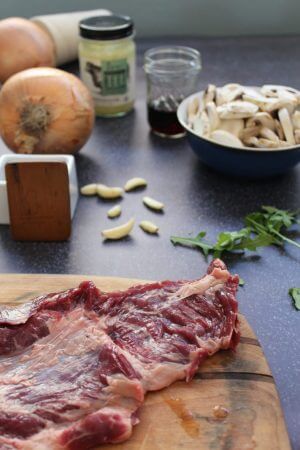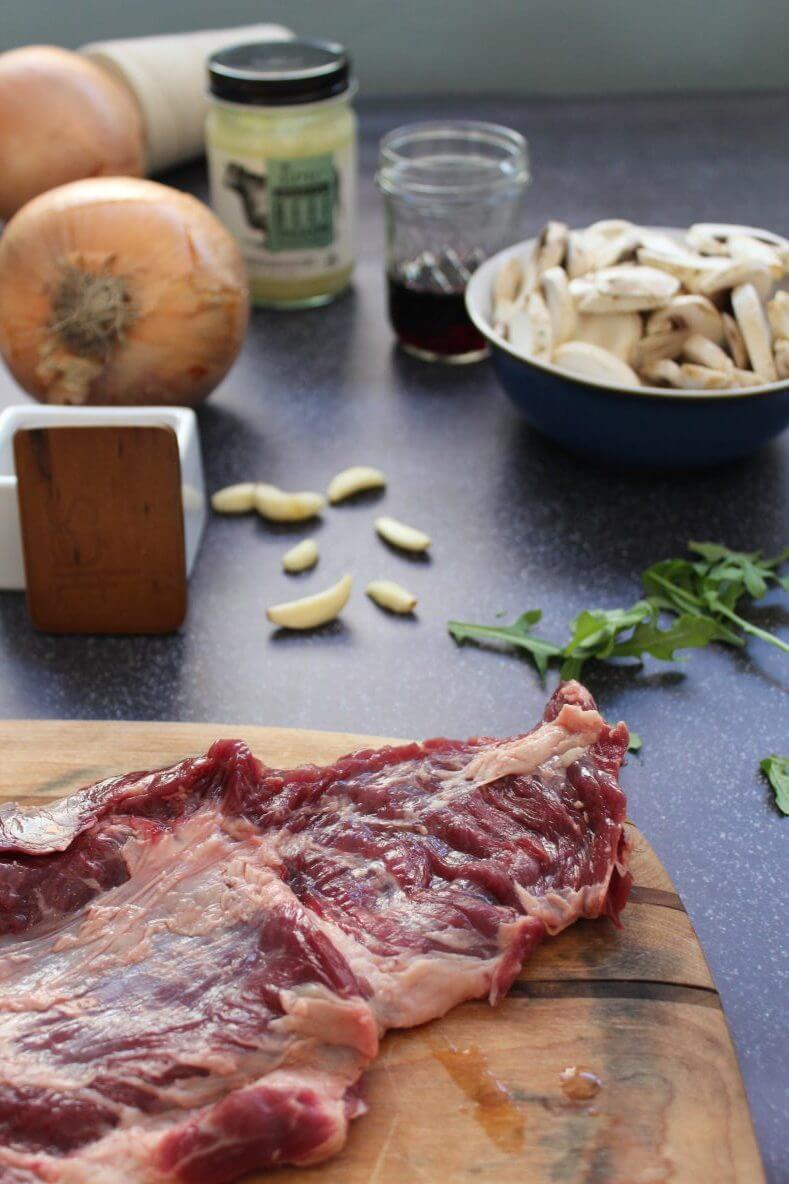 The only tricky part to this recipe is cutting the steak in half to make one flat sheet of beef.  Make sure you have a very sharp knife, and a few minutes to concentrate and it really isn't hard as you'd think.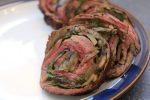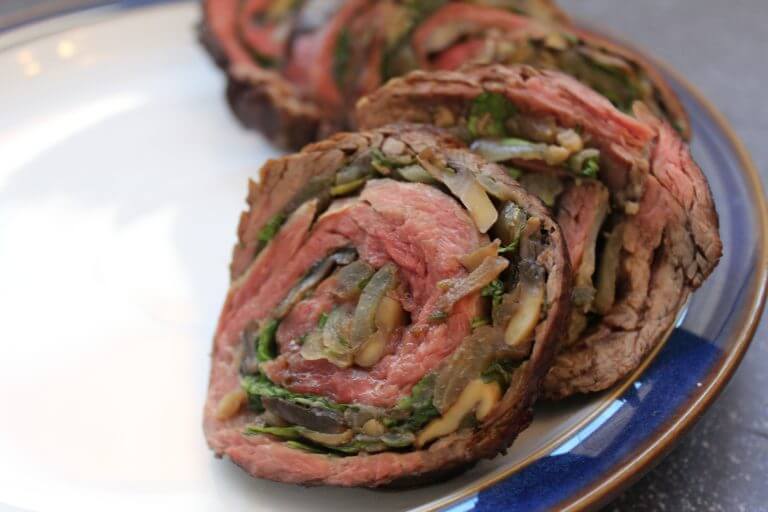 Paleo Stuffed Flank Steak with Caramelized Onions, Arugula, and Red Wine
This stuffed steak is fancy enough for a special night but is easy enough to make successfully your first time. Enjoy for your next special occasion.
Print
Ingredients
Skirt or Flank Steak

approx 1 pound (find grassfed beef here)

2

tablespoons

red wine

1

teaspoon

unrefined sea salt

find sea salt here

1/2

teaspoon

freshly ground black pepper

4-8

cloves

garlic

crushed

2

tablespoons

tallow

coconut oil, or other cooking fat of choice (divided) (find grassfed tallow here)

6-8

ounces

mushrooms

sliced

1

large onion

sliced

2

cups

arugula or chopped spinach

Kitchen twine

find here
Instructions
Melt 1 tablespoon tallow in the bottom of a large skillet (cast iron is my preference) over medium heat.

Once tallow is melted, add onions and mushrooms and sauté, stirring every few minutes for a total of 20 minutes or until onions are caramelized.

As the mushrooms and onions cook, butterfly steak by laying it flat on a cutting board, and using a sharp, thin knife to open up the steak. by cutting it crosswise so that when you are done it is twice as wide and half as thick. This makes a nice rectangle for you to roll up.

Once opened up, sprinkle beef evenly with red wine, garlic, sea salt, and pepper, and allow to rest.

When onions are golden, remove from heat and allow to cool slightly.

Top beef with arugula evenly, and then with onion/mushroom mixture.

Starting from the bottom (narrow end of the beef), tightly roll up the beef/arugula/onion layers.

Once rolled, turn so the seam side is down and the weight of the beef holds it together.

Wrap and tie kitchen twine 3-4 times around the beef roll firmly to hold it together.

Wipe out cast iron pan and melt the remaining 1 tablespoon tallow over medium-high heat.

Preheat oven to 375* F.

Sear beef roll on 3 sides for 2 minutes each once the skillet is hot again.

Turn to the 4th (unseared) side down and then cook in the oven for 30 minutes, or until an internal temperature reaches 130*

Remove from heat and cover with foil and allow to rest for 15 minutes before serving.

To serve, snip string and gently remove.

Use a sharp knife to cut into 1-inch pinwheels.

Please follow and like us: