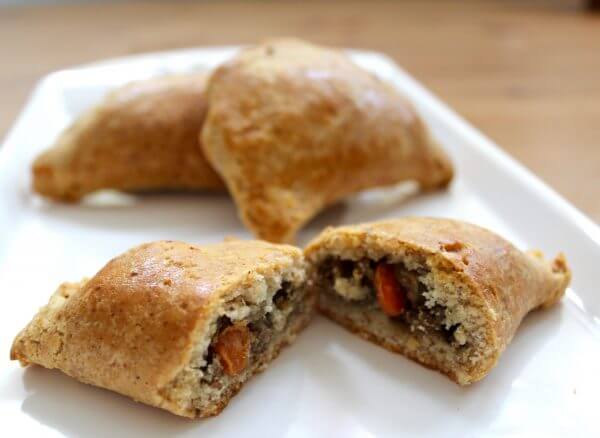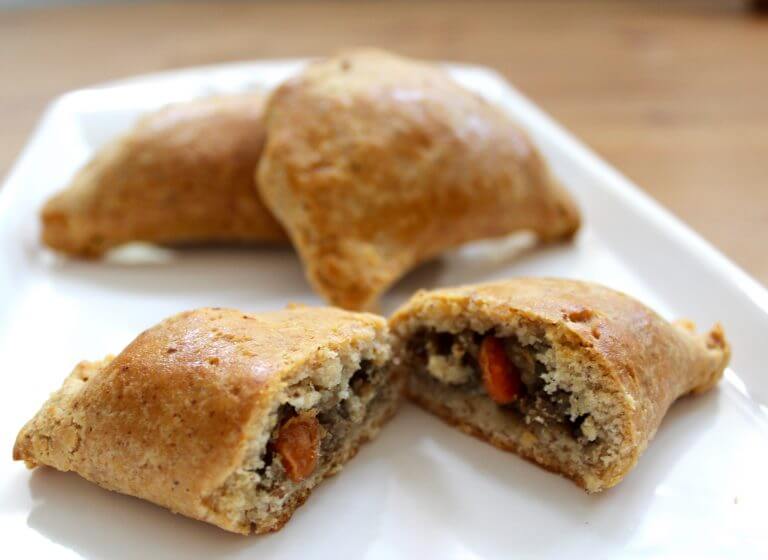 It's St. Paddy's Day, everyone is Irish tonight! Celebrate St. Patrick's day with these gluten-free Irish Pasties, or enjoy any time you'd like an old-fashioned comfort food that's as fun to make as it is to eat.
 What is a pastie?
It's a meat and vegetable combination tucked inside a pastry crust and made into individual servings.  Traditionally filled with leftover stew and packed in lunchboxes for miners, the fillings can be varied to suit what you have available and your own tastes.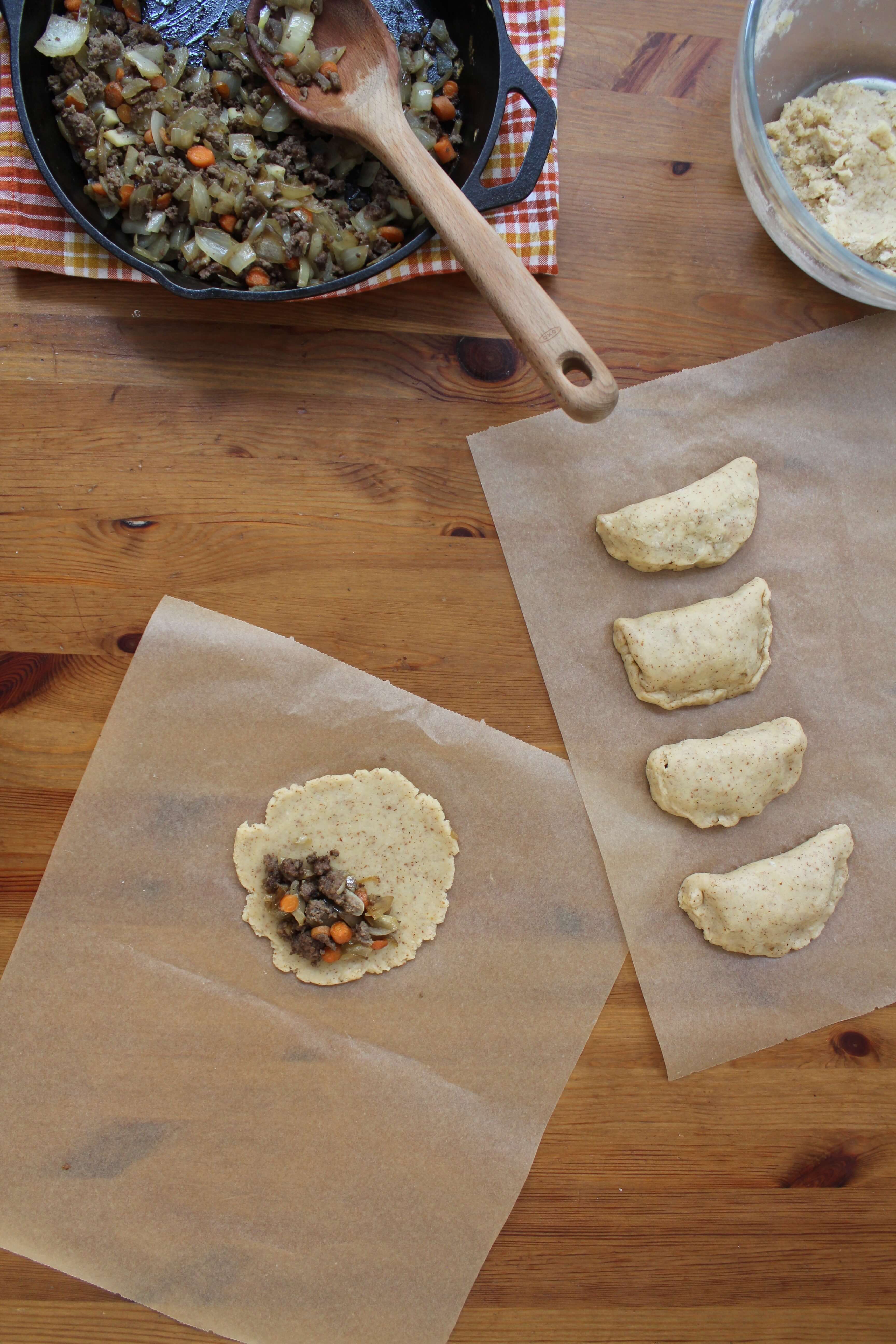 The pastry flour uses a gluten-free flour mix, and bacon grease left over from making baked bacon.  Pay close attention to the instructions for the pastry, it's easier than what you're used to with wheat flour, we melt the fat and then stir it into the dough rather than cutting it in.  We also don't have to worry about the mixture getting tough if we over work it like we do with wheat flour.  This makes it even better for children to practice on.
GAPS Instructions
Most of my recipes are suitable for the GAPS diet, but this is not one of them. If you are on GAPS but have others in your family that use some gluten-free flour, I would suggest making extra of the filling and eating the filling topped with mustard, it's delicious.
Tips
These pasties work best when baked on a stoneware baking pan.  I use parchment paper throughout the recipe to simplify cleanup and make forming the pasties easy- the dough is a little soft and can stick to the counter and rolling pin.  You can find the stoneware baking dish here and unbleached parchment paper here.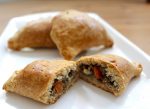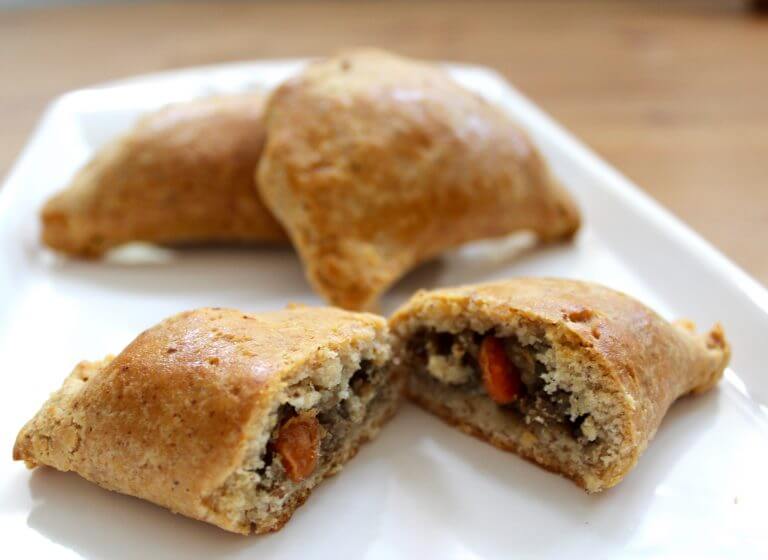 Gluten-Free Meat and Vegetable Hand Pies
These delicious Irish Pasties are fun to make and delicious to eat! Vary the filling based on what you have on hand, and pack any leftovers in lunchboxes for a delicious meal the next day.
Print
Ingredients


For the Filling: 1 tablespoon bacon fat leftover from baked bacon or tallow, coconut oil, or butter

1

medium yellow onion

diced

1/2

pound

ground beef buy here

1

carrot

diced

1/2

teaspoon

dried thyme

1/2

teaspoon

sea salt

or to taste



For the Pastry

4

tablespoons

bacon grease

butter, or coconut oil (or 50g)

1/2

cup

hot water

2

cups

+ 2 tablespoons

or 300 g Gluten-Free Baking and Pancake Mix (I use this one)

1

teaspoon

xantham gum

buy here

1

teaspoon

sea salt

2

eggs: One for the pastry

and one mixed to brush on top of the finished hand pies prior to baking.
Instructions
Start caramelizing the onions

In a large skillet over medium heat, melt the 1 tablespoon bacon fat or other fat for the filling.

Once fat is melted, add onions and allow to cook for 20 minutes, stirring occasionally, until they start to turn gold.

As the onions cook, make pastry

Place the bacon grease into the hot water to melt.

As the bacon grease melts into the water, combine the Gluten-Free Baking Mix, xanthan gum, salt, and egg in a medium bowl.

While you stir, add in the hot water mixture until a dough forms.

If needed, add up to 2 more tablespoons hot water or 1/4 cup baking mix if the mixture is too dry or too wet to make a dough that holds together.

Allow the pastry dough to rest in the bowl, uncovered, as you complete the rest of the filling.

For the Filling

Add 1/2 pound ground beef to the caremalized onions and brown, breaking into small pieces with a metal spatula or wooden spoon as it browns.

Once the ground beef starts to brown, add the diced carrots, sea salt, and thyme. Continue cooking until beef is browned, approx 10 more minutes.

Remove from heat.

To assemble the hand pies

Preheat oven to 375*

Remove a golf-ball sized piece of dough and roll between parchment paper into a circle that is approximately 1/4 inch thick and 4 inches across.

Place 2 tablespoons filling as shown, on one side of the circle of dough, leaving space around the edge to pinch closed.

Fold empty pastry half over the filling, then use your fingers or a fork to pinch closed.

Repeat for remaining pastry and filling, placing 1 inch apart on baking sheet that has been covered in parchment paper.

Once all pasties are complete, mix 1 egg in a small bowl and brush lightly over the top of the pasties. This gives them the shiny finish.

Bake in preheated oven for 35-40 minutes, or until golden brown.

Serve and enjoy! We like to serve with mustard to dip.
Recipe Notes
Serving suggestion: Mustard is great for dipping, and Roasted Cabbage Steaks can complete this Irish-themed meal.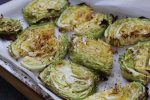 You'll notice that I included weight measurements for the pastry. A food scalecan make very accurate measuring easy- simply 'tare' between each addition of ingredients and there is no need to dirty a bunch of measuring cups.

Please follow and like us: