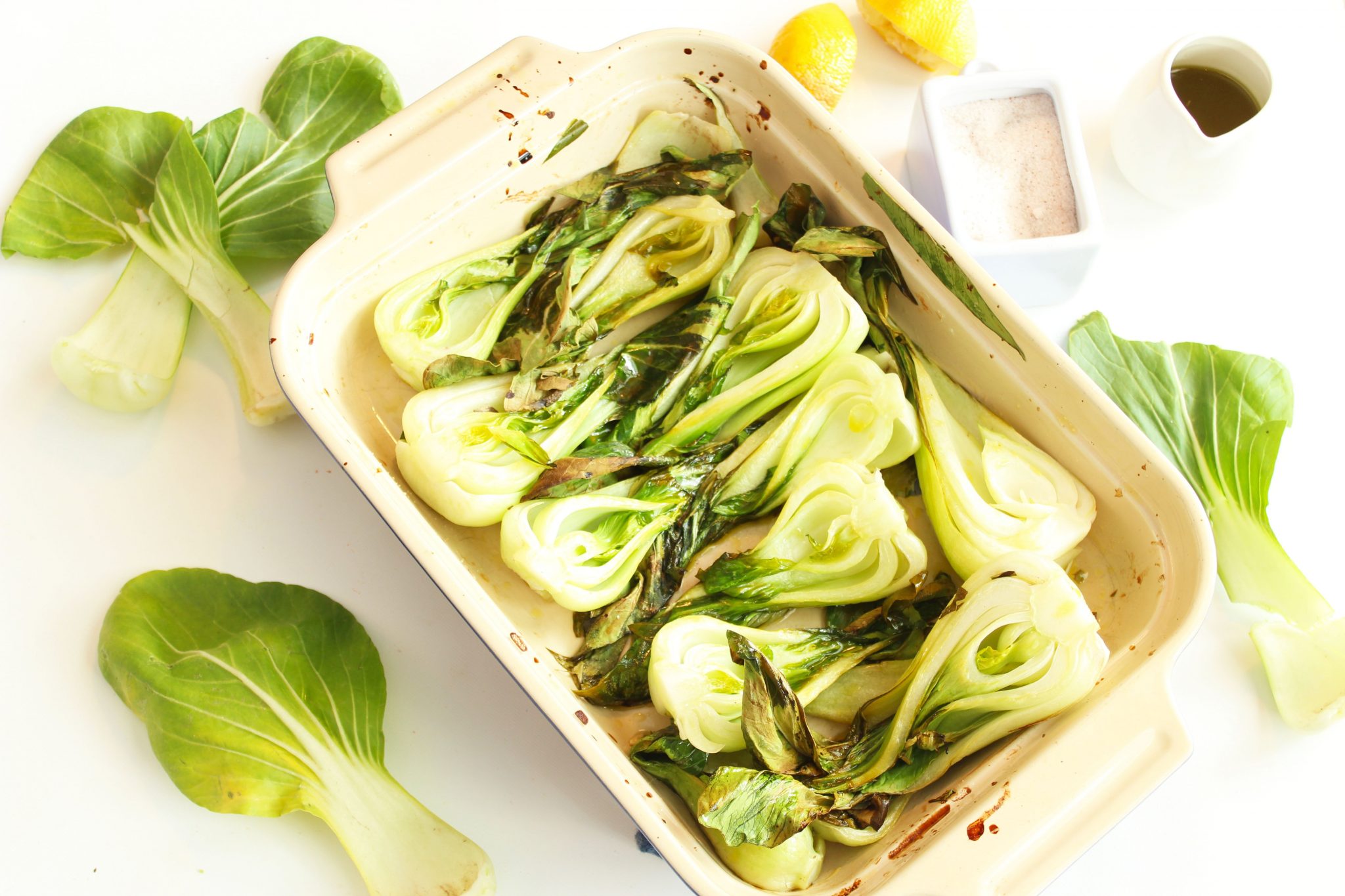 Cutest. Vegetable. Ever.  Baby Bok Choy are the impulse purchase from the vegetable isle, but you can't tell how cute they are if you chop them up.  That's why this recipe is so fun, they get to keep their adorable shape as they are roasted to bring out their sweet, slightly cabbagy, flavor.
Typically their big brother (full-sized bok choy) is used in soups and stir fries, and baby bok choy works in those applications as well. But if you want to preserve all the cuteness, while bringing out the sweet mellow flavor, you have got to try roasted baby bok choy.
Looking for more vegetable recipes? Click here!
Simple to Roast
To roast baby bok choy we simply rinse the whole bok choy head, cut in half lengthwise, and season all while it's on the baking pan. Like Roasted Cabbage Steaks, Roasted Baby Bok Choy is not particular about the oven temperature.  Go ahead and roast it at whatever temperature your oven already is at and remove once the outside leaves start to dry. The dark green leaves will be crunchy like kale chips and the white and light green will be tender and sweeter.
We use olive oil here, and I love trying the fresh seasonal flavors that come from the Fresh Pressed Olive Oil Club. Click here and they will send you your first bottle free so that you can give it a try as well.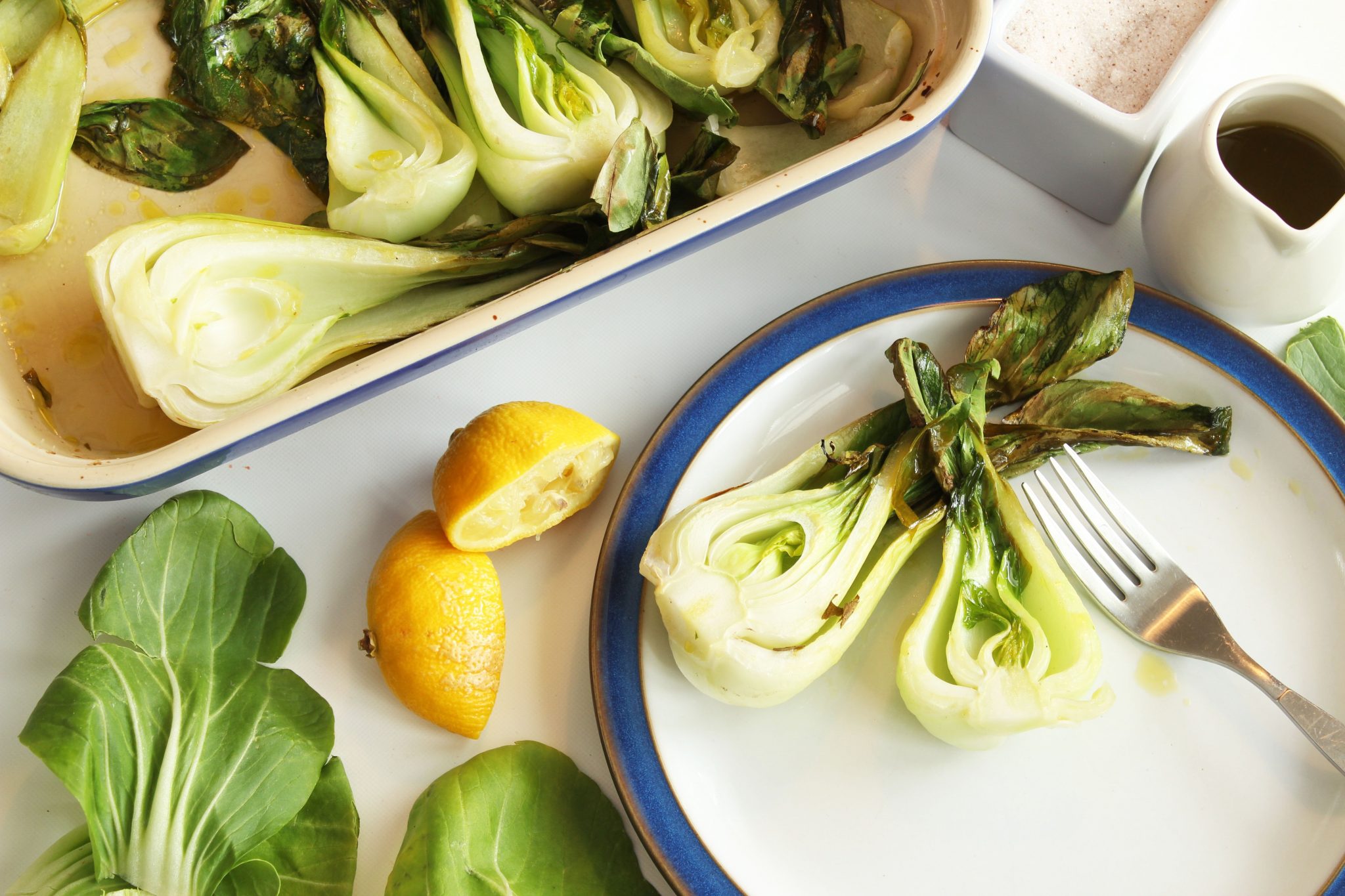 To Serve
Serve this adorable side dish alongside any kind of meat or other protein.  Leftovers can be enjoyed on their own, or added to soups or stir fries.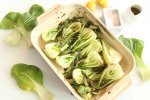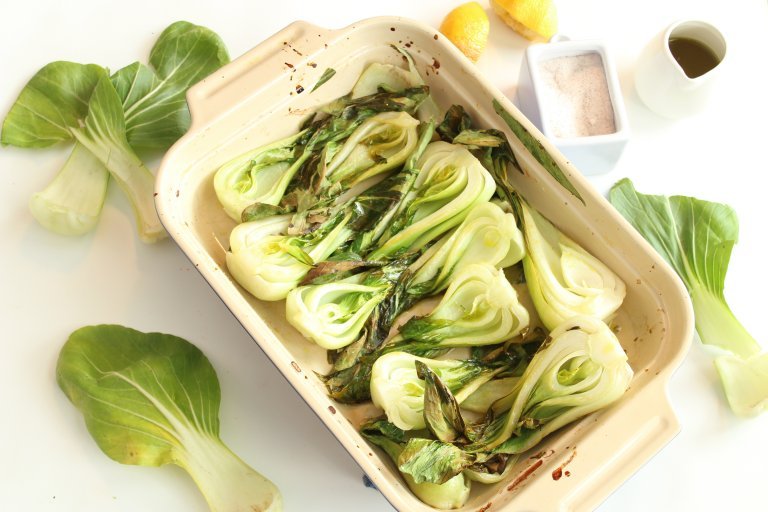 Oven-Roasted Baby Bok Choy
Adorable, easy, and delicious- this baby bok choy recipe is sure to be a hit!
Print
Ingredients
5

baby bok choy

2

tablespoons

Fresh-Pressed Olive Oil

purchase here

1/2

teaspoon

sea salt

Optional: Juice of one lemon
Instructions
Preheat oven to 425 degrees F.

Rinse baby bok choy under cool running water until all dirt is removed.

Trim bottom if needed.

Place half the olive oil in the bottom of the dish, to coat.

Cut bok choy in half lengthwise and place cut-side down on a shallow baking dish. Bok choy can be touching, but not overlapping.

Drizzle with olive oil, optional lemon juice, and then sprinkle with sea salt.

Bake for 10-15 minutes, flip, and then continue baking 2-3 more minutes on the second side.

Roasted baby bok choy are done when the outside leaves are starting to dry and the white part is tender.

Sprinkle with optional lemon juice if desired.

Serve hot or room temperature.
Recipe Notes
Can't find baby bok choy? You can use full-sized bok choy, simply cut into steaks like we did with the cabbage steak recipeand then proceed. The darker green leaves may need to be removed before the white and lighter green parts are done, so watch for that.