Print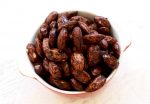 Honey-Cocoa Roasted Almonds (GAPS, Paleo)
Salty, crunchy, and a hint of chocolate. These are fantastic appetizers, or have a handful for dessert after a lovely meal.
In a small saucepan, combine water, honey, and cocoa powder and bring to a simmer at medium-high heat.

Add almonds and stir until thick and syrupy.

Spread on a parchment-covered baking sheet- depending on how dry they are at this point, you may wan to skip the baking step that comes next and simply sprinkle with sea salt.

If almonds are very tacky, bake at 400* for 15 minutes.

Sprinkle with sea salt.

Allow to dry for 1-2 hours.

Enjoy, store leftovers in a covered container.