Print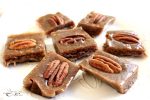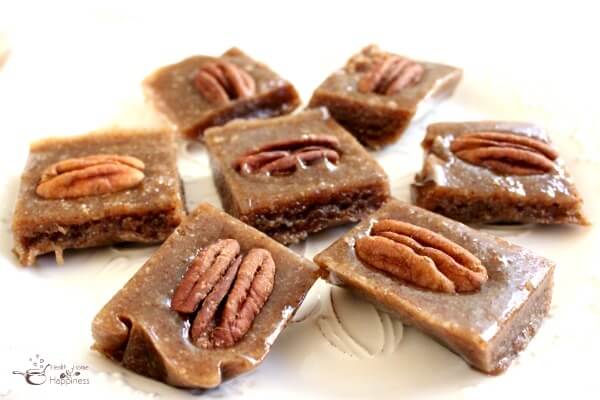 Devine Pecan Pie Candy (GAPS, Paleo)
With just a few simple ingredients, this pecan pie candy is sure to steal the show at your holiday dessert table.
In a food processor, process 2-3 cups of pecans with a large metal chopping blade, on high for 5 minutes or until pecan butter forms and is very smooth. Larger food processors will require a larger amount of pecans to start with.

Line a loaf pan with

parchment paper,

or grease

silicone candy molds

with butter or coconut oil.

In a saucepan, combine 2/3 cups pecan butter, 1/3 cup honey, and 1/2 teaspoon sea salt.

Over medium heat, bring pecan butter mixture to a simmer, and then set a timer and allow to boil for 3 minutes, stirring every minute or so with a wooden spoon. Mixture is done when it starts to pull away from the sides of the saucepan.

Pour into prepared loaf pan or candy molds.

Decoratively press additional pecan halves into the candy if desired.

Chill in the refrigerator over night or in the freezer 2 hours before cutting into squares or removing from candy molds.

Enjoy this smooth buttery pecan-rich treat!
You can see the kitchen equipment I use, including the food processor used to make the pecan butter, on my resources page.