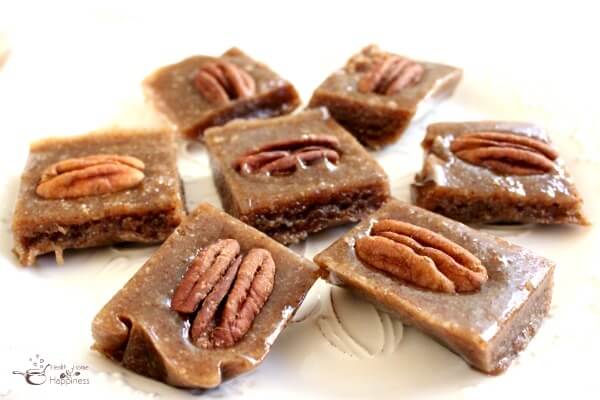 This pecan pie candy uses smooth pecan butter, crispy pecans, and just enough sea salt to cut the intense sweetness of the honey and bring out the buttery pecan goodness.  This candy is held together by boiling for a few minutes on the stove, then chilling in the fridge before being cut into pieces.
You can easily make your own pecan butter if you have a food processor, or you can purchase smooth pecan butter here.
During the holidays I soak and dehydrate 2 pounds of pecans at a time, and use in pecan pie, sprinkle in salads and stuffings, and enjoy on their own.  When we soak pecans (or any nut) in salt water, we break down the phytic acid that is bound to the minerals in nuts and seeds, and we're better able to absorb the nutrients of these delicious nuts.  After we soak them overnight in salt water, we dehydrate them in a food dehydrator overnight, which results in nuts that no longer contain the subtle bitterness, and now are lighter in texture and contain a delicate salty taste.  You can read more about this process here. 
This fudge should be stored in the refrigerator, covered, but it can sit out on a dessert table for a few hours just fine.  You'll love the smooth buttery pecan pie flavor in this chewy treat.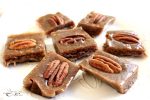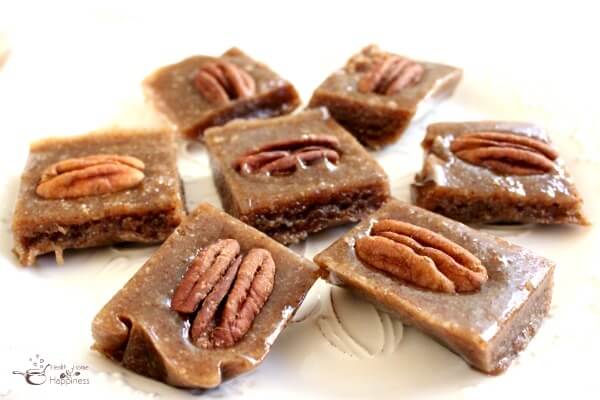 Devine Pecan Pie Candy (GAPS, Paleo)
With just a few simple ingredients, this pecan pie candy is sure to steal the show at your holiday dessert table.
Print
Instructions
In a food processor, process 2-3 cups of pecans with a large metal chopping blade, on high for 5 minutes or until pecan butter forms and is very smooth. Larger food processors will require a larger amount of pecans to start with.

In a saucepan, combine 2/3 cups pecan butter, 1/3 cup honey, and 1/2 teaspoon sea salt.

Over medium heat, bring pecan butter mixture to a simmer, and then set a timer and allow to boil for 3 minutes, stirring every minute or so with a wooden spoon. Mixture is done when it starts to pull away from the sides of the saucepan.

Pour into prepared loaf pan or candy molds.

Decoratively press additional pecan halves into the candy if desired.

Chill in the refrigerator over night or in the freezer 2 hours before cutting into squares or removing from candy molds.

Enjoy this smooth buttery pecan-rich treat!
Recipe Notes
You can see the kitchen equipment I use, including the food processor used to make the pecan butter, on my resources page.

Grain-Free Holiday Desserts, Breakfasts, and Side Dishes
Candied Butternut Squash, Zesty Lime Custard, Honey-Sweetened Pecan Pie, Slow Cooker Cranberry Sauce, and 10 more holiday recipes that you'll love for the way they taste and the way they make you feel.
Please follow and like us: