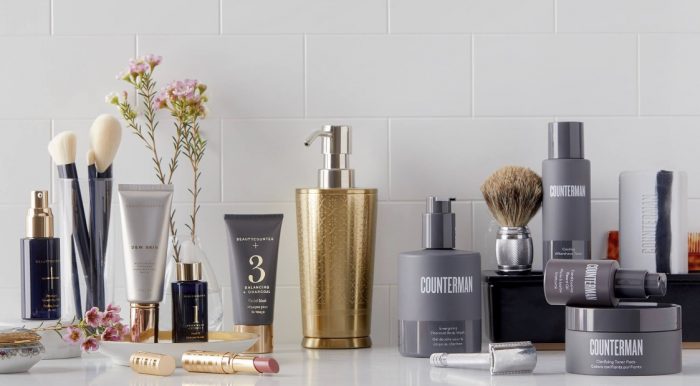 If you're like me, you love the idea of safer skincare, but you need stuff that really works!  I switched over to BeautyCounter for everything from gentle cleansing balm to eye shadow to soap years ago, and I can't go back. The products are just too good! They work so well that you don't need much, and the quality is so awesome that you'll probably find yourself using just a few key things for clean, radiant, glowing skin, with natural-looking makeup if you wish.
What I use from BeautyCounter:
I don't use a ton of products, so I'll show you what I purchased to replace my everyday makeup and skin care.  I've loved everything I've tried, but if you're a little apprehensive, it's good to know that BeautyCounter has a fantastic return policy – whether you get the wrong color of a makeup, or you don't absolutely love any of the products just hop on a call with their customer service and you can return anything that you don't love.
The Basics from BeautyCounter: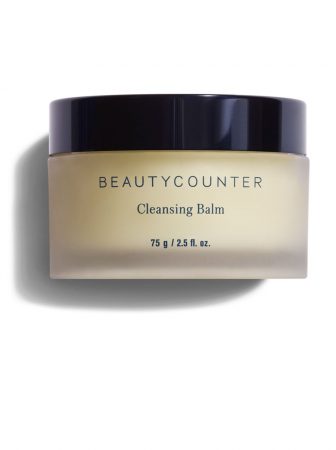 Cleansing Balm:
It's a cleanser and it's a moisturizer, it smells delicious, and it lasts a LONG time.  This cleansing balm gently dissolves dirt, makeup, and excess oils for cleaning your face without making it excessively dry.  Then leave a thin layer on your face overnight and wake up to smooth hydrated skin in the morning.
I use this with my daughter and it balances her teenage-hormone acne within a few days.  It's also easier for her to use, since it just needs to be wiped off with a damp cloth, not necessarily rinsed like soap products do.

The CounterTime collection is an all-in-one anti-aging skincare regimen without retinol (retinol is counterindicated in pregnancy and may be linked to cancer).  It moisturizes and reduces the appearance of fine lines as well as discoloration that comes as we age!  If you want to start taking of your skin in a way that gives you that youthful glow and radiance well into life, CounterTime is a must-have.
Buy the CounterTime collection here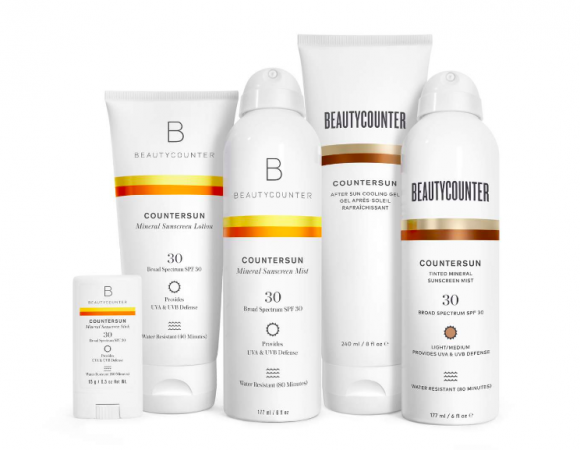 Sun Protection
Safe sunscreen, both for ourselves and the environment, is the #1 reason why people try BeautyCounter.  Sunscreen that isn't full of endocrine disruptors and fragrances that irritate, yet is easy to apply, is super important! For my family, I want them to get as much sun as they can tolerate, but as we transition from freezing temperatures into those first bright days of screen, sunscreen is a must until our skin builds its own protection. And then for my little ones, and the resident gingers in the house, they need sunscreen more often.
Sunscreen that is easy to apply is a must, and BeautyCounter has everything to meet your needs.
We use the sticks for covering noses, cheeks, and ears, especially while skiing in the sun.  The spray is for all-over coverage when clothing is limited. Lotion is perfect for shoulders and necks on people who don't like spray near their face.  I noticed sun spots starting on my face last year, so during the sunny months I wear Dew Skin light coverage with SPF as my facial moisturizer (I use color #2).
Flawless in Five is the safer makeup set that has everything you need to get made up and glowing- in just 5 minutes!  Once you choose a skin tone for your foundation, BeautyCounter suggests the rest of the color palate for you. They're the experts, and I just took their suggestions, but if you have something else in mind you can substitute.  When you buy these cosmetics as this set, you save a bundle!
Included in BeautyCounter's Flawless in Five is a cream concealer to hide blemishes or dark under eyes. From there you dot on cream foundation, apply blush, fill in your eyebrows with eyebrow pencil, cover your lips in a nourishing nude shade, and apply mascara for bright eyes. Total time: Under 5 minutes!
The Flawless in Five helps you look polished and rosy in just 5 minutes (or less!)  I have a video showing how easy this is, even for this beauty-challenged mama.
Eyeliner pencil in black: If you think of heavy bold eyeliner when you think of eyeliner, you might be surprised to know that I wear eyeliner nearly every day, and nobody can really tell.  If I'm only going to put on one thing, it's eyeliner, and I smudge it when I'm done, and only do a very thin line where my eyelashes are, so it never looks unnatural (unless I want it to!).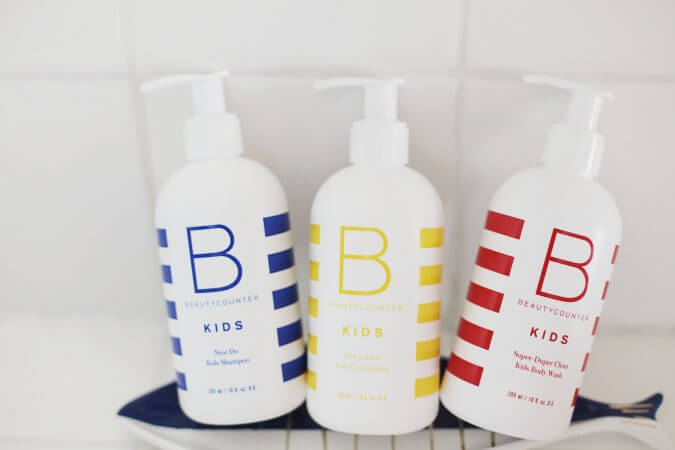 Kids Bath Set: Safe and effective products, BeautyCounter nailed this set!  Plus I love the minimalist, yet fun, design of the bottles.
All three of my kids love this body wash/shampoo/conditioner set!  The orange-vanilla scent is sweet and fresh, and best of all it works super well!  A huge bonus: The pump bottles only pump out the perfect amount, which helps children who are learning to shower on their own to only use the amount of shampoo that they need.
Extras from BeautyCounter:
I have these, and love them, but if I could only buy a few items at a time I'd wait on these items. If you sign up for Band of Beauty these are perfect to use your store credit for after holiday gift giving! Or if you're a consultant these are a perfect addition to your collection after your first commissions come in or you get the Start Counting Bonus.
Overnight Resurfacing Peel: Ok, I really love this. It feels a little tingly going on, but my skin is so smooth the next day! I use this one a week, on my face, neck, and on the backs of my hands.  I hit 35 last year, and especially the skin on my hands and face was showing my age. One application of the resurfacing peel and age spots started fading and my skin became super soft again.
Illuminating Cream highlighter: On YouTube ever since I got this I've been told I'm 'glowing'.  Yes, healthy fats and collagen has been great for my skin, but this cream highlighter may be mostly responsible for the 'glow'.  I love how easy it goes on, right where I want it.  Use it on your cheekbones and then smudge it into your blush below, and give your collar bones and/or shoulders a swipe to highlight those areas.  I use "Pearl".
All the lip glosses: Watch for lip gloss packages around the holidays and then stock up.  You can pick your first color in Flawless in Five (above) and then add to your collection later. I love all the nudes – some are a little more brown, some more pink, some sparkly, some pearl.  I let my daughter wear these to school, and I only allow very minimal makeup outside of the house right now. And I haven't found a shade or gloss that I don't love! These feel really moisturizing too, as well as being a little more pretty than plain chapstick. Quick, easy, toxin-free, and pretty- you'll love whatever color you choose!
All the eyeshadows: Eyeshadow is something I rarely put on – I'm a 5-minute makeup girl, but when I do I'm amazed at how different neutral colors can bring out different colors from my eyes.  Whether you only use eyeshadow for date night, or you're an every-day eye makeup woman, you'll love this set of vibrant, but safe, colors.
Eye Makeup Remover: Even if I'm just wearing mascara, BeautyCounter eye makeup remover works SO much better than the baby wipes I was using before.  Until you get this, you can use the Cleansing Balm + a cloth or baby wipe, but the eye makeup remover is a really nice upgrade.
How to get discounts & Make Money with BeautyCounter:
If you're looking to buy more than 3 items, you're going to want to be a Band of Beauty Member.  Don't worry, there isn't any autoship or minimum order, just 10% product credit for each purchase and free shipping over $100! Plus you can get a special welcome gift bonuses when you sign up and place an order over $50 (just stock up on sunscreen when you enroll is my recommendation!).
That product credit from being a Band of Beauty Member is really fun to use in January as you're cleaning out your bathroom and making room for a new and healthier year!
Plus if you decide that you're rather be a consultant (below) later on, your Band of Beauty Member fee is subtracted from your consultant package fee when you sign up as a consultant, so you haven't lost anything!
Save 25% on BeautyCounter & Make An Income as a Consultant
If you're buying everything – makeup, sunscreen, moisturizers, gifts, signing up as a consultant (25% discount) makes sense. It drops the products down to a cost that is close to what you can get for inferior (and toxic!) products from big box stores.
When you're a consultant, you not only get the discount, but you can also sign up your friends and family – I've found that once I give BeautyCounter as gifts, especially the new baby set to new moms, they are HOOKED and want to buy more. This is a great low-key low-selling ways to make a little extra cash.  See below for easy conversation ideas.
Start Counting Bonus Program
Even if you're just buying for yourself, you're eligible to do the Start Counting fast action bonus where you can earn product credit, cash bonuses, and more! You can email me (cara at healthhomehappy dot com or reply to any of my newsletters) and I'll tell you more about Start Counting… It's super easy to get $100 in product credit your first month by just purchasing safer basics that you'd need to buy anyway!
Be a giver and a teacher
My favorite ways to get people talking about BeautyCounter is low-stress. I never push, I just wait until it comes up naturally in conversation.  If people are talking about allergies to makeup, chemicals in sunscreens, natural-looking makeup for pre-teens who are interested, moisturizers for our harsh Montana winters, or products for new babies… BeautyCounter has so many great things that I use every day that it's easy to share. I never want to be 'that friend' who invites people over to a party only to turn it into a pitch, but I find that conversations turn to safer products so often that I never have any trouble sharing.
Here are some ways that I share about BeautyCounter:
Sunscreen is #1! I'm pretty well known for being fussy about what I put on my children, so if we're out at the park, pool, or lake and someone sees me spraying my child with sunscreen, they'll usually ask about it. And I'm always happy to share! When you're a consultant for BeautyCounter you can order samples of everything from eyeshadow to sunscreen and pass them out. Be a giver first, the asking for the sale can come later.
Teachers don't want another mug, and they wash their hands alllll the time. Holiday and end-of-year gifts of hand soap and hand cream are perfect, and they'll often be left in the classroom where other teachers will try them as well. Give your teacher the gift of a mini-spa with each hand wash, a less toxic classroom, and you've also spread the news that you're a BeautyCounter consultant.
The new baby sets are so sweet and such a perfect gift for new moms who are looking for safer products for their little ones.  BeautyCounter has different bundles and a super classy (and functional) diaper bag for all the new mom's needs. Once you try BeautyCounter baby products, it's really hard to go back to putting icky chemicals on your baby or using products that don't really work.
So you can see, you can sell BeautyCounter without being pushy at all – that's why I sell it. I just let friends and family (most top BeautyCounter sellers don't even have a blog!) know how much we love it, sprinkle my words with enthusiasm and lots of samples, and the sales follow.
Click here to sign up as a BeautyCounter Consultant with me and start saving 25% on your purchases right away, + enjoy your new income opportunity with no monthly minimums.
*be sure to read the terms and conditions as you sign up, but I do love that they don't require monthly orders*