If you're like me, you love the idea of safer skincare, but you need stuff that really works!  I've just switched over to BeautyCounter and I think you'll love it too.
Since I needed to replace all my makeup, I signed up as a member to get a discount (don't worry, there isn't any autoship or minimum order, just 15% product credit for each purchase and free shipping over $100).  I'll be giving the gift of safer high-quality skincare to everyone on my list that I know would appreciate taking a little extra time out for themselves this year too- so the membership was worth it for me.
I don't use a ton of products, so I'll show you what I purchased to replace my everyday makeup and toxic hair care.
Here's what I use: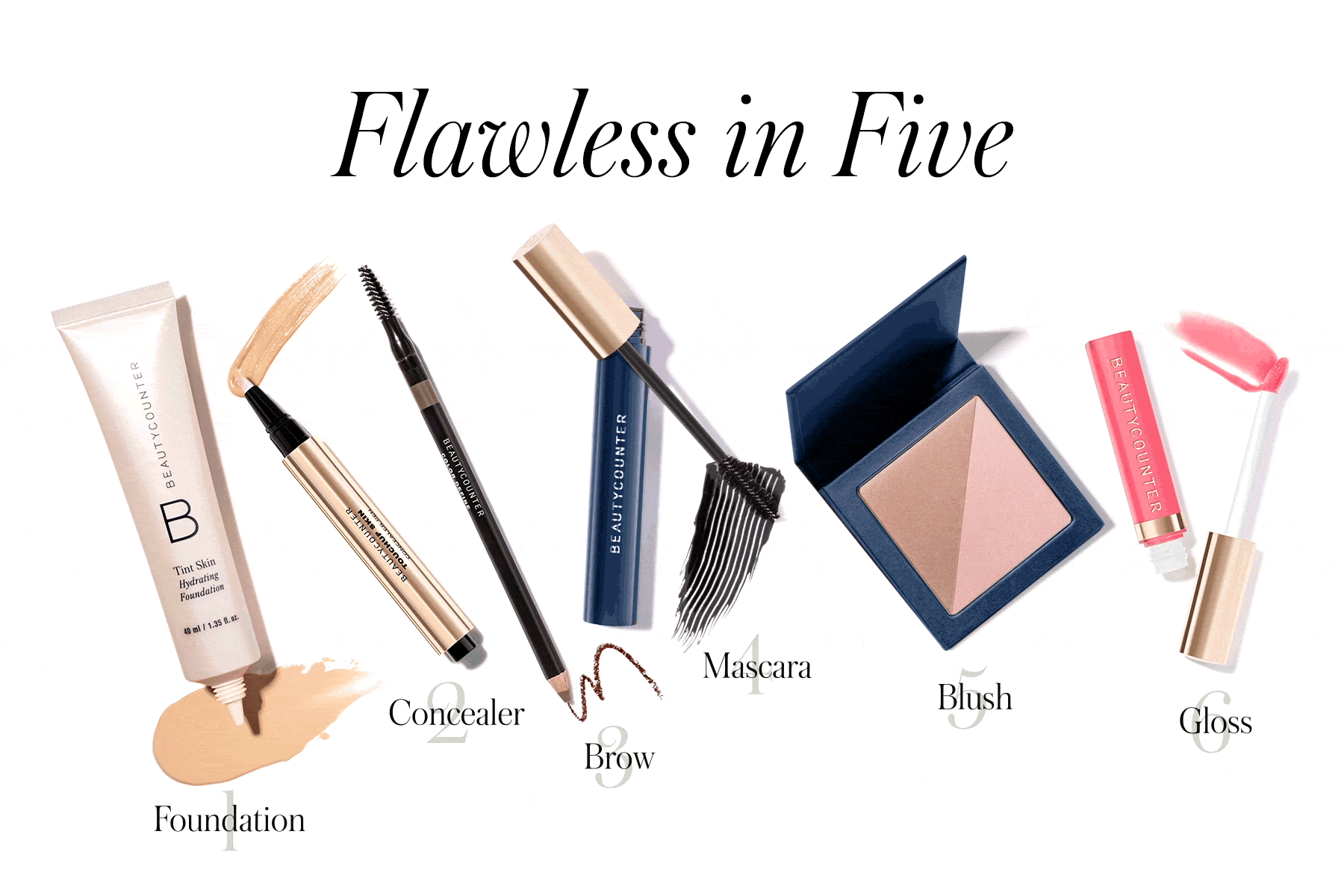 Flawless in Five has everything you need to get made up and glowing- in just 5 minutes!  Once you choose a skin tone for your foundation, it suggests the rest of the color palate for you. They're the experts, and I just took their suggestions.  When you buy these cosmetics as this set, you save even more on top of your discount for being a member or consultant.
Included is a cream concealer to hide blemishes or dark under eyes. From there you dot on cream foundation, apply blush, fill in your eyebrows with eyebrow pencil, cover your lips in a nourishing nude shade, and apply mascara for bright eyes. Total time: Under 5 minutes!
The Flawless in Five helps you look polished and rosy in just 5 minutes (or less!)  If you join the Facebook group you can see a video of me showing you how I use this set too.
Want to look fancy for evening or special occasion? Just add in an eyeshadow and a darker lipstick!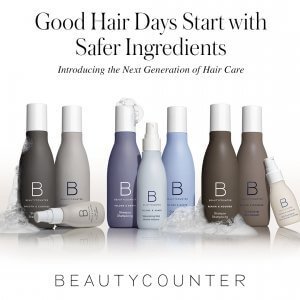 Hair Care Set: Since hair care is one of my biggest needs, I tried their hair care set (I think it might not be available all the time).   It's one of each of the shampoo/conditioner/serums that they offer. I've been using shampoo, conditioner, and other products that I really know aren't safe, but they worked…
Cosmetics are fun, but healthy hair care is really what I needed. I'm absolutely in love with these products!  I've used both the repair and nourish and smooth and control.
In the past, more natural shampoos just haven't cut it for making my hair look shiny and clean, so I either used conventional products and got nice hair, or natural products and just dealt with not having hair that I loved.  With BeautyCounter you don't have to make the sacrifice either way- they take care to only use safe ingredients (and they're listed on the box, so you can check them yourself- total transparency!) AND their products really work.  And let's talk about the bottles too- these are cute on my counter or in my shower, a definite plus to making the bathroom a spa-like environment.
I have to tell you that the Repair and Nourish Split End Serum is ah-mazzzing! It comes in a little pump bottle that pumps out like 2 drops- I work those drops into my ends and it literally erases my split ends!  Any mom who has gone longer than she would prefer between hair trims, will understand. My hair gets hit by chlorine pretty often since I'm a swimmer, which is just awful for hair. I'm excited that these products work so well and they're gentle enough I'm totally happy to use them on my kids too.
Eyeliner pencil in black: If you think of heavy bold eyeliner when you think of eyeliner, you might be surprised to know that I wear eyeliner nearly every day, and nobody can really tell.  If I'm only going to put on one thing, it's eyeliner, and I smudge it when I'm done, and only do a very thin line where my eyelashes are, so it never looks unnatural (unless I want it to!).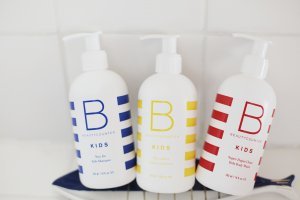 Kids Bath Set: Another huge win here! All three of my kids love this body wash/shampoo/conditioner set!  The orange-vanilla scent is sweet and fresh, and best of all it works super well!  A huge bonus: The pump bottles only pump out the perfect amount, which helps children who are learning to shower on their own to only use the amount of shampoo that they need.
Brushes: I use my fingers to do most of my makeup, but I do use a brush like this one for blush.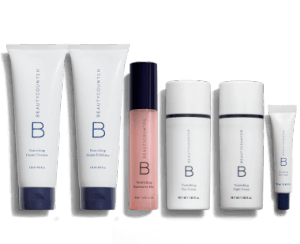 I have a nighttime moisturizer/daytime moisturizer/cleansing set that I'll use up before I order another, but this is what I recommend for starting facial skin care.  Use the nighttime cream after you wash your face at night! It really does make a difference, and it feels so good to go to bed clean and moisturized.