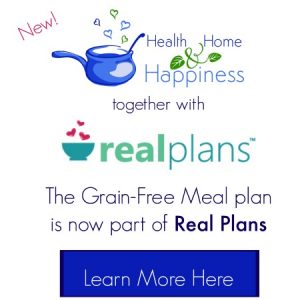 The majority of people on GAPS or SCD are struggling with food allergies beyond what is eliminated on the GAPS protocol.  This is a common problem, and can be overwhelming, depressing, and make it feel like you have very food food options.
While I was able to make a dairy-free version of my meal plans, I just didn't have the ability to make a different meal plan for all the different needs that my readers had- whether it was an egg allergy, dislike of seafood, or even the more obscure sensitivities such as apples, mushrooms, or citrus.
Enter Real Plans…
(already know you want it? Click here to sign up)
Real Plans is an amazing meal planning software that allows you to customize YOUR diet exactly how you want it. And with the addition of 250 of my BEST recipes from the blog and my previous meal plans, you now can easily create a completely customizable (but super fast!) meal plan for your exact needs… even if you're on the GAPS diet.
There's nothing else like this
To make an individualized meal plan and grocery list like this, it would take you hours every week.  And if you asked a nutritionist or other dietary expert to help you come up with a balanced meal plan that suits your dietary needs and preferences… it could easily cost hundreds of dollars!
This amazing service costs much less.. starting at $7/month! (click here to see more)
With Real Plans, you can do this all from your computer or smartphone in just 10 minutes.
Sign up with Real Plans and add my recipes (this link adds them, there aren't enough recipes for GAPS without adding my recipes in too).
Choose from your base diet (GAPS, Paleo, AIP, etc)
Further edit your diet by searching for foods and using one click to remove them.
Apply your diet to your meal plan.  From here, their amazing software will create a delicious, balanced, seasonal meal plan for you in seconds.
Print the custom grocery list, and you're on your way… OR you can continue to customize the meal plan to fit more detailed needs.
Customize even more
Are there days of the week that you want to plan for leftovers? No problem- just adjust the serving amounts of your recipes that you want to make extra of, and Real Plans will instantly adjust your grocery list and recipes to accommodate.
Do you need to add standard items to your grocery list? Just edit your grocery list to include eggs, milk, coffee, tea, etc., every week!
Are you eating meals that you already prepared in my Freezer Cooking Class some days? Simply note them in your weekly overview of the meal plan, and you'll be prompted to add any additional ingredients that you need to serve those dishes right to the grocery list.
Are you on GAPS, but your family also eats gluten-free grains? You can add ANY recipe from the recipe box into your meal plan, even if your diet is set to GAPS.  So go ahead and add a rice dish, or oatmeal for them for breakfast, all in the same program and using the same grocery list.
As you transition off GAPS, the meal plan will continue to accommodate, just go back to 'my diet' and add in foods as you start to tolerate them.
I've made the switch to Real Plans… I'll see you there!
When I saw what the Real Plans team was doing, I knew that they could better serve my community than I could with my PDF meal plans.
That's why I made the switch, discontinued my own menu plans, and put my recipes up within Real Plans.
I use them in my home as well- my kids especially love choosing the recipes that they want to try from the Recipe Box (there are pictures!) and I love that no matter what recipe the kids see there… they're going to be something I'm happy to serve, because Real Plans only has whole foods with healthy ingredients on their site.
Click on over here to give them a try, if you've tried a meal plan service in the past, you will be amazed at how much better Real Plans is over any other service.

Grain-Free Holiday Desserts, Breakfasts, and Side Dishes
Candied Butternut Squash, Zesty Lime Custard, Honey-Sweetened Pecan Pie, Slow Cooker Cranberry Sauce, and 10 more holiday recipes that you'll love for the way they taste and the way they make you feel.