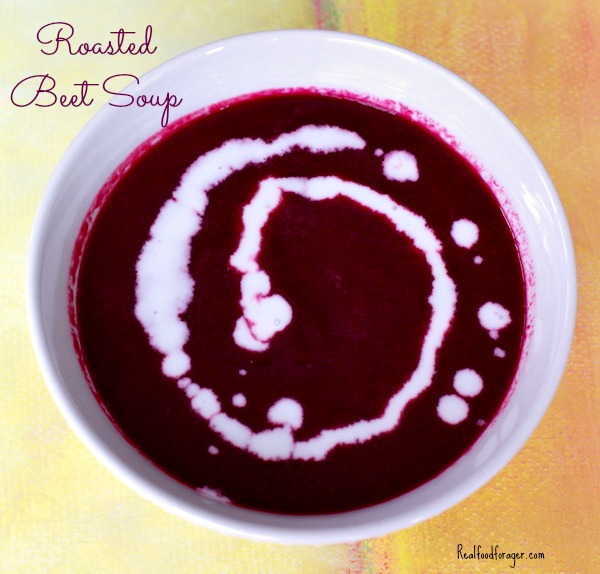 Today Jill of Real Food Forager is sharing a recipe for roasted beet soup out of her cookbook, Beyond Broth (you can see it here). What a timely contribution, as winter has set in and the holidays are over, warm soup with nourishing bone broth and veggies sounds so good on the menu!  Did you know that beets are especially beneficial for detoxifying the liver? That is especially for after the holidays of rich food, and possibly more sugar and alcohol consumption than usual ;)
Roasted Beet Soup
Easy
Prep: 15
Cook: 30 – 38 minutes
Equipment
– fry pan
– 3 – 4 quart pot
– pan for roasting
Ingredients
– 3 medium beets (2 cups chopped)
– 1 medium onion
– 1 medium leek
– 4 large garlic cloves
– 1 quart chicken or beef stock (click here for how to make chicken stock)
– 1 tsp sea salt (find sea salt here)
– Pepper to taste (find organic spices here)
– 1 bay leaf
Instructions
1. Gently heat the chicken stock in the pot
2. Clean the beets and roast the beets and garlic at 400 degrees F for about one hour or until soft
3. In the fry pan sauté the onion, and leek until soft
4. Place the onion, leek in the pot of stock reserving 1/3 aside
5. Season with salt and pepper
6. When the beets are soft let cool and peel and the same for the garlic
7. Add the roasted beets and garlic to the pot
8. With the immersion blender blend the soup
9. Add the chopped vegetables that you reserved, back into the pot
Serve with a dollop of sour cream, heavy cream, or coconut cream
Delicious!
Be sure to check out Jill's blog, Real Food Forager, as well as her e-book Beyond Broth and online cooking class Go Grain Free!
21 Easy and Delicious Grain-Free Meals
Curious about eating grain-free? I want to show you how easy and delicious it can be!
Try our best-selling meal plans... for free!
Just enter your information and I'll email it to you right away.