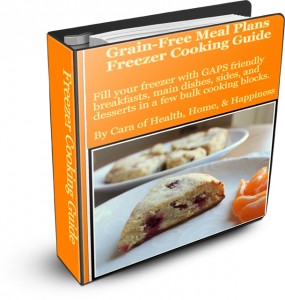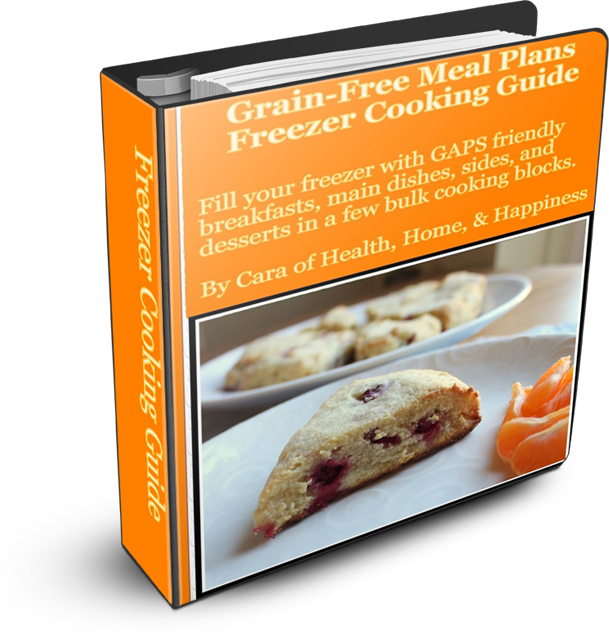 Bulk cooking saves time, energy, and sanity.  Multiple batches of one dish are made with different variations, which saves time grocery shopping, getting out ingredients, organizing the recipes, and washing dishes.  Having a full freezer means that you only need to pull out a dish in the morning, glance at the reheating instructions, and not think about dinner again until that evening.
Having a freezer stocked with nourishing foods will help you to include more wholesome foods in your diet since all the work has been done beforehand.  Freezer cooking is perfect for singles, couples, young families, work at home parents, stay at home parents, work outside the home parents, etc.  Really, anyone can benefit from having a freezer stocked and ready to go.
The e-book gives immediate delivery so you can start right away (once the finished draft is up, that is)! And its printable format is perfect for re-use; check off the recipes as you do them to stay on track.
See a sample HERE (PDF)
If you found my 30 Days on the GAPS Into e-book helpful for getting through intro, you will love this Freezer Cooking book for full GAPS!  It takes the same step-by-step hold-your-hand method to guide you through filling your freezer with nourishing grain free food.
Special features to work with your family
Rather than requiring one long 10-12 hour cooking day, there are 5 sections that take 2-3 hours each so bulk cooking can be spread out over a weekend, a week of nap times, evenings, or however fits in your schedule.  I know as a mother with young children, one with special needs, I do not have 10 hours to dedicate to the kitchen in a single swoop!
Small kitchen friendly.  We have done GAPS in small apartment kitchens, so I take space limitations into account with these instructions.
Clean up tips! I love to cook, but cleaning up notsomuch.  Tips to save dishes are scattered throughout the book.
Print-out re-heating instructions easily attach to your frozen meals to remind anyone how to reheat the meal.
Serving instructions and side dish suggestions are printed on the heating instructions.
Dairy free options for all meals.
Index of recipes included
Shopping list included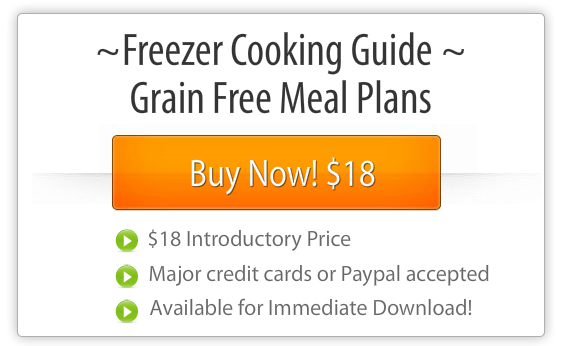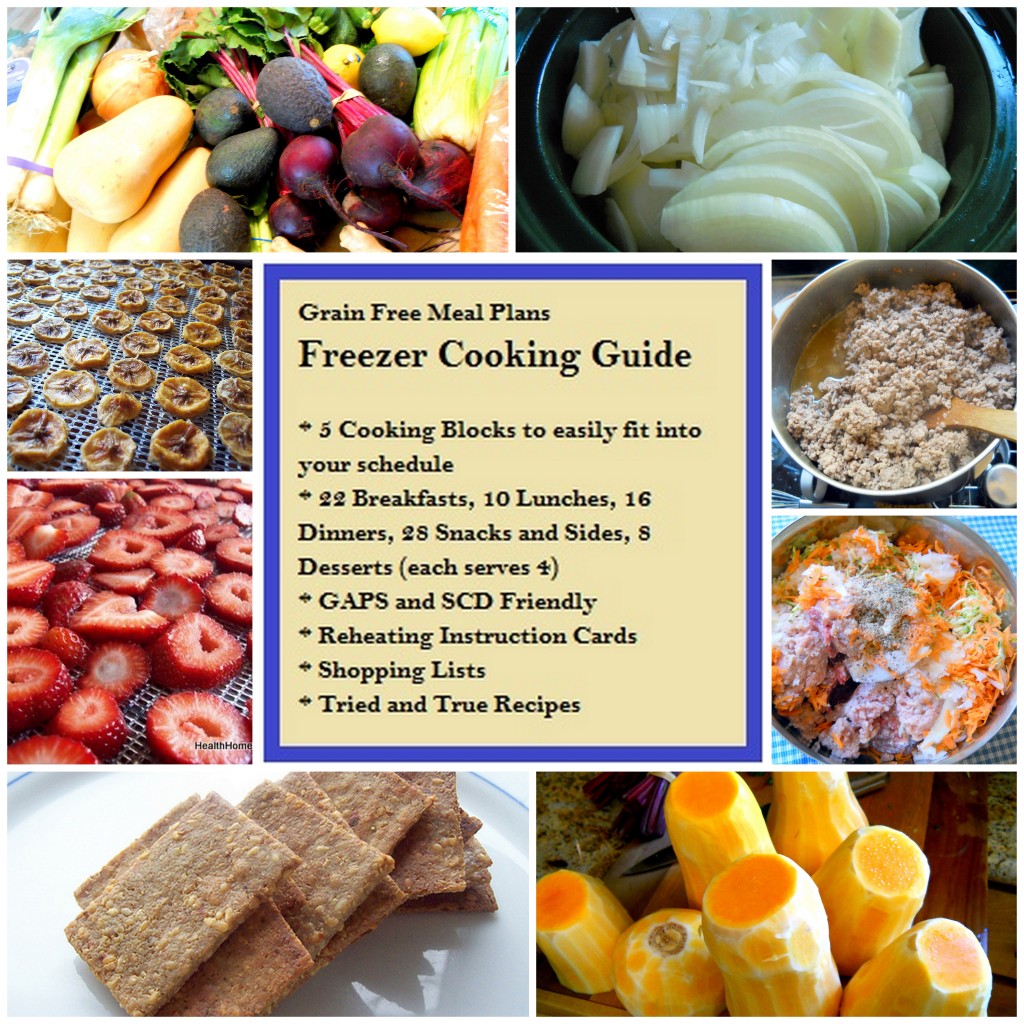 Table of Contents:
Cooking block: Meat
Chicken, roasted or crockpot
Chicken, Stock
Jerky
Ground beef
Taco salad
Bacon
Meatballs
Tritip for soup
Chicken Pepper Poppers
Dehydrating and Condiments
Crispy nuts
Dried fruit
Herbed olive oil
Mayonnaise
Ranch Dressing
Ketchup
Blueberry syrup
Grain free granola
Veggies!
Carmelized onions
Squash fries
Roasted Veggies
Shepard's Pie
Brussels Sprouts Slaw
Guacamole
Broccoli Beef Soup
Quick Mushroom Soup
Butternut Squash Soup
Cold Beet Soup
Baking 1
Sesame Seed Crackers
Yogurt
Crepes
Scones
Pudding
Baking 2
Waffles
Zucchini Muffins
Pumpkin Pie Muffins
Loaded Breakfast Muffins
Nutbutter Brownies
Cowboy Cookies
Biscuits
Grocery Lists
Reheating Instruction Cards
* Bulk Cooking Tips and Dishes Saving Tips noted throughout
Click here for immediate purchase and download! $18.00

30-Day Money Back Guarantee!
Not sure if this is for you? I offer a no-questions-asked money back guarantee for the Freezer Cooking Guide! If this doesn't work out, simply email me within 30 days of purchase and receive your full refund!